Million-dollar medical claims are brewing in a tiny store in Carabanchel without windows. What was the most expensive in Spain until this year passed through there, which cost 5.2 million euros (including costs) in October. Paula's family, who was born with a lack of oxygen due to a mistake by the midwife and gynecologist who attended her, turned to the Patient Ombudsman, an association that has spent 25 years fighting against negligence and health errors in collaboration with a network of law firms throughout Spain.
It all started, precisely, with medical negligence. The son of Carmen Flores, a 74-year-old from Madrid, was 11 at that time. He was diagnosed with syringomyelia, a cyst of fluid in the spinal cord that, detected and treated in time, does not usually give major complications. At the Ramón y Cajal hospital in Madrid they told him that he had to be operated on and he spent almost five years on the waiting list.
The operation came when his son already had a "very twisted" back, just after a complaint in Diary 16. It was then that Flores realized the power of the media to change things. And that's why they have a constant relationship with them. "Not only am I looking for families to be compensated for negligence, but for it to be known so that stories as sad as the ones many of us have experienced are not repeated," he explains in a cafeteria next to the premises.
His son's ordeal did not end there. After eight operations he became a quadriplegic and it has been 12 years since he passed away. It was at the end of 1997, in the middle of this painful experience, when Flores decided to create an association to fight against this type of error, which he named the Patient Advocate. The name, which he had to patent, has caused him many problems. He has won lawsuits against various administrations, including the Community of Madrid, which set up official services with the same name. "They want to confuse people," she says.
Since then, he has dedicated himself full time to the association, and assures that he does not receive any remuneration. The NGO is financed thanks to a single fee that members pay when entering (it has about 20,000) and donations -voluntary, according to Flores- made by the 16 law firms with which they collaborate. "We did not receive a single euro of public aid", the founder is proud. With these means she has hired two people. One is Ramón Prieto, who came to the association almost when it was created to do the service for conscientious objection. There he stayed and there he continues. Like almost all those who collaborate or work with the Patient Advocate (including law firms), there was medical negligence in his life, which caused the death of his father.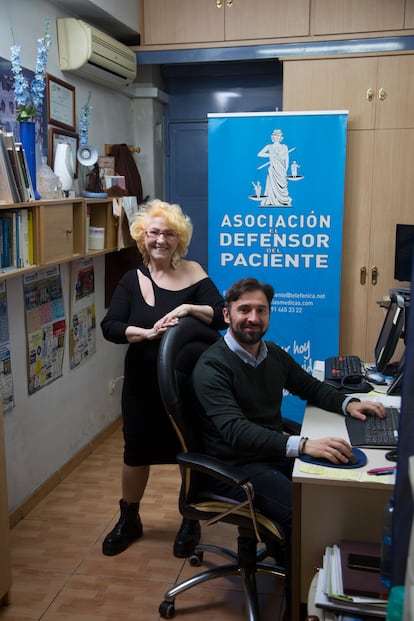 When asked about the cases that have impacted them the most in all these years, they remain thoughtful. "Are so many…". The first that comes to Flores' memory is precisely that of Paula, whose family won the lawsuit in October with the largest compensation in the history of Spain. The 10-year-old girl lives bedridden and requires constant care. She then recounts another, that of a boy who had an obsessive-compulsive disorder that made him constantly wash his hands: "They gave him very expensive electroshock therapy and they burned his brain. He was left very badly and died at the age of six or seven ".
Prieto has in mind the case of a girl who died on the waiting list while waiting for an operation for morbid obesity. "It stuck with me because we had made several claims, I exchanged emails and talked a lot with her. One New Year's Eve her mother wrote to tell me that she had passed away. Perhaps I have it very present because I had a lot of contact with her, "he says.
Although the association's job is often to take on doctors who have made mistakes, Flores says he also understands the terrible pressure they sometimes feel. "I fully understand that they are on strike," she says. But he also calls for more empathy with patients, more conversation: "Many times mistakes are made because they are not listened to enough, or because they trust too much and have the diagnosis before examining the case."
More than 13,600 cases in one year
Dozens of daily calls arrive at the Carabanchel location. In 2022 they received 13,611 cases (455 more than in 2021), of which 699 ended in death (71 more than in 2021). In the association they filter them and advise them whether to make a claim, how, or, in more serious cases, they recommend lawyers to advise them. They work with 16 offices throughout Spain. "Patients can go to them or to those who seem good to them, we only advise," Flores points out.
One of them is that of Carlos Sardinero, who lost his father in 1995 due to a heart attack when he was on the waiting list for heart surgery. It was the first case in Spain that a family won for a death on waiting lists. Since then, he has specialized in Health Law. "Perhaps because you have experienced something similar, when a victim comes to you, you are more sensitized," he reflects.
In his life he has treated dozens of cases. "It still amazes me how some doctors try to defend themselves against obvious negligence. We've seen quite a few who operated on the wrong leg. And they excused themselves saying that the other leg was also wrong. Obviously we won them all ", he affirms. Surgeries are a particularly fertile field in claims. Another one that he does not forget is that of a young man who went to have a phimosis and ended up with a vasectomy. "The doctor claimed that he should have realized what they were doing to him when he was under anesthesia."
In the association they see more and more cases related to cosmetic surgeries. "We are talking about people who are totally healthy and their lives are ruined," Flores protests. His work is not limited to claiming negligence. They also try to lobby to change rules. Now they are on the warpath to regulate aesthetic clinics and that it is not possible for a doctor without a specialty to perform operations.
Through the cases they handle, the lawyers have also achieved far-reaching change. Sardinero made a claim to the Ministry of Justice with which he managed to change part of the civil procedure law. In pre-trial proceedings, when they asked for a patient's medical history, it was usually denied. "We made it mandatory to provide it so we can better prepare cases," he says.
But in these 25 years not everything has been success. Flores has many "thorns stuck in it", such as some in which negligence was not recognized for having prescribed or for not presenting the documentation in a timely manner. "Other times it is impossible to prove some things. We have known of doctors who drank, but since there is no evidence, it comes to nothing, "he laments.
Subscribe to continue reading
Read without limits