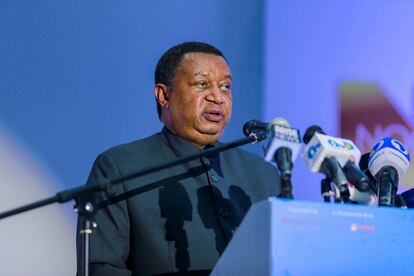 Mohammad Barkindo, during the speech delivered at the Nigeria Oil & Gas 2022 summit in Abuja, on Tuesday. AFOLABI SOTUNDE (REUTERS)
The secretary general of the Organization of Petroleum Exporting Countries (OPEC), the Nigerian Mohammad Barkindo, has died this Tuesday at the age of 63, as reported on Wednesday by Mele Kyari, executive director of the Nigerian national oil company. The cause of death, which occurred just hours after making the keynote speech at the Nigeria Oil & Gas energy conference, has not been released at this time.
"We lost our beloved doctor Muhammad Sanusi Barkindo," Mele Kyari wrote on Twitter. She added that his passing is "a great loss for his family, for the Nigerian National Petroleum Corporation (NNPC), for OPEC and for the entire global energy community."
We lost our esteemed Dr Muhammad Sanusi Barkindo. He died at about 11pm yesterday 5th July 2022. Certainly a great loss to his immediate family, the NNPC, our country Nigeria, the OPEC and the global energy community. Burial arrangements will be announced shortly.

— Mele Kyari (@MKKyari) July 6, 2022
Barkindo ended his six-year term at the head of the oil exporters club at the end of this month and died just hours after meeting Nigerian President Muhammadu Buhari and giving the opening speech at an energy summit in Abuja. He was elected OPEC secretary general on August 1, 2016, elected by consensus by all members of the Vienna-based organization, who reappointed him for a second term three years later. Given that the maximum allowed is two terms, according to the OPEC statutes, the replacement, the Kuwaiti Haitham al-Ghais, had already been appointed.
In the speech, Barkindo noted that the oil and gas industry is facing "enormous challenges on multiple fronts" and is currently "under siege" due to years of underinvestment coupled with growing demand. He added that current shortages resulting from such low investment could be alleviated by allowing Iran and Venezuela, countries targeted by sanctions, to increase production. Among the challenges facing the industry, Barkindo mentioned "the geopolitical developments in Eastern Europe, the war in Ukraine, the covid-19 pandemic and inflationary pressures around the world", which make up a "perfect storm". which is causing significant volatility and uncertainty in the commodity markets and, specifically, in the world of energy".
In the last meetings of the organization, it has been decided to maintain the current production rate, with slight increases in the second half of this year, despite the current high demand due to the economic recovery after the pandemic and with the prices triggered by that lawsuit and the consequences of the Russian invasion of Ukraine.

#OPEC #Secretary #General #Nigerian #Mohammad #Barkindo #dies

Source