The kitchen is one of the rooms in the house where the most dirt is generated, especially when you prepare food and handle ingredients that have fats, for example, which leave everything sticky and it is quite tedious to clean it. Today we show you one ikea bottle which is the perfect solution so that you don't stain yourself with oil or sauces again… you won't be able to live without it!
Ikea offers a wide variety of solutions in its kitchen section so that order, cleanliness and organization are always present, without a doubt essential throughout the home but even more so in the kitchen, where food and poisoning can occur if everything is not clean and hygienic.
The Ikea sauce bottle that will change your life
It's about the GRILLTIDER flexible bottle, a super practical bottle to store oil, vinegar or any sauce, with a very simple application system that keeps everything clean and without the risk of spilling. Without a doubt, it is a fantastic solution to keep everything cleaner and the sauces organized, and the price of the pack of 2 bottles is only €3, so you can buy several and organize this type of product much better.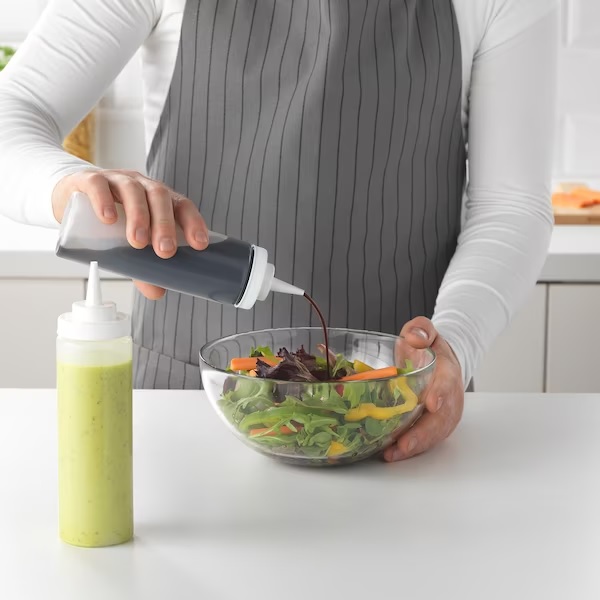 Is Ikea sauce bottle It has a capacity of 330 ml and in it you can put oil, mustard, ketchup, marinades, dressings or any sauce that you make or that you have bought and prefer to have it in this bottle than in its original container. The bottle is flexible, so its handling is very simple whatever the type of sauce you have inside. As for its measurements, they are 20 cm high and 5 cm in diameter.
It is very important that when you buy this bottle wash it very well before using it for the first time, so its use will be completely hygienic. The bottle is made of polyethylene plastic, while the cap is made of polypropylene plastic. It is recommended to wash it by hand every time you finish the sauce, not in the dishwasher, and you can do it with hot water since it resists temperatures of up to 50ºC.
If you usually make sauces and dressings and you want to have them well organized and in a practical and clean container for use, without a doubt this bottle for sauces from Ikea is one of the best options you will find… you will love using it!