The terms Aprilia and 250s bring back memories. Especially olfactory and acoustic, because they revolve around an extreme two-stroke engine that was not at all drivable below 5,000 rpm, just fine from 7,000 rpm and only between 9,000 and 11,000 rpm. A patent for a new 250 from Aprilia awakens these memories. Really by Aprilia this time, because the old RS 250 engine was Suzuki's RGV-V2. And the somewhat sober reality: In China, Aprilia works together with Zongshen, and the new twin doesn't really look like a racing engine.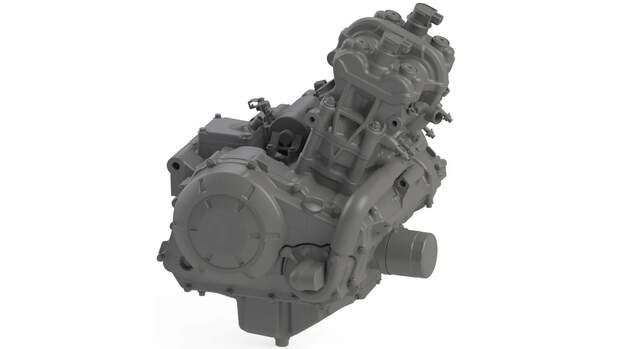 Aprilia
Aprilia 250er-Twin
Looking at the patent drawings, it becomes clear that Aprilia relies on two cylinders. Water cooling, DOHC cylinder head and a cable clutch are clearly visible. However: Aprilia runs the clutch linkage through the transmission housing. The clutch is thus not opened by train, but pressed. Notable advantages: hardly any. But the rumored 250 cubic is only the lowest stage of development of the new twins, because the housing actually seems too big for this displacement.
Central camshaft drive
The idea of ​​a basic engine with several displacement levels is underlined by the unusual, central chain drive of the two camshafts. From a technical point of view, this type of valve train only makes sense with very long camshafts, if engine designers want to keep the line, or: If larger cylinders and cylinder heads are to be used easily without having to laboriously adapt the crankcase.
250 or 400 cubic
The new twin could be the basis for a new engine family from Aprilia, or more precisely from the cooperation between Aprilia's mother Piaggio and the Chinese engine manufacturer Zongshen. With 250 cc and just over 30 hp, motorcycles are in high demand in China, India and other Asian countries. In Europe, this displacement class is hardly present. In this country it takes 350 to 400 cubic, between 40 and 45 hp in a light chassis to record the popular A2 class. Appropriate examples here are clearly the 300cc Yamaha or the 390cc KTM.
opinion poll
Yes, the manufacturers from China have a lot of tailwind and money is not an issue.
Never, passion, history and quality, China doesn't learn overnight.
read more
Conclusion
It is not known whether, when and how this engine drives a supposedly new Aprilia. And whether Piaggio, as the mother of Aprilia, would like to board the A2 class from below in our latitudes is questionable, but not unreasonable. The patent drawings suggest a modular engine that can easily be converted to a larger displacement.
#engine #patented #Aprilia #engine #ready

Source