She woke up "without a skirt, stockings or panties, but with her top and bra in place." Where? "I did not know, I did not know it". Who was it that slept next to her? "I was not very clear, because he had his back turned." How had she gotten there? "No idea". Ana María, who prefers not to give her last name, woke up in an unknown bed with a boy she knew little and with a headache that still makes her temples throb when she remembers it. Almost a decade has passed, that happened in her penultimate year of university. She is now 32 and in the last 10 years she has not gone back to drinking rounds of shots: "She did it almost forced, because if she didn't look like a loser." Did she have sex with her that pre-Christmas night? Yes. Does she remember? No. Did she report her? No. "I didn't even think about it, I felt bad, but I didn't see it that way, what was she going to report? That she had blinded me and didn't know what she had done? The only thing she thought was: 'Fuck, what a shame, how did I end up like this, what a move ". The word consent did not even appear in all the turns that Ana gave to that blackout of hours: "I did not fall into that until 2017, with all the La Manada trial, and one day I realized what had happened, for I had felt bad, it was as if they had suddenly plugged me in with a flashlight on my face".
What he realized was literally "the rape," he says over the phone. No force, no threats, no intimidation: "But clearly I didn't feel or suffer, so I consented… I don't even remember how I got there. They talk about burundanga and ketamine, but neither burundanga nor ketamine or anything, my chemical submission, which I now know is called that, was with a few extra shots and I drank them myself. Matiza: "I don't want to say that it was my fault, now I know that it wasn't, but that no one put anything in my drink, but they did take advantage of what I had drunk."
What Ana María narrates is called opportunistic chemical submission. "You go with two bottles of wine, four shots and I offer you another. When you are already intoxicated and you cannot defend yourself or consent, I take advantage and sexually assault you", explains Lluïsa Garcia-Esteve, psychiatrist and president of the intra-family and gender violence commission of the Hospital Clínic de Barcelona. And that, according to the expert and the available data, is the most common. The proactive one, the one that consists of directly drugging another person to abuse them, "is difficult to identify and accounts for only part of the cases," she adds.
Barely a month ago, Begoña Bravo, head of the Chemistry Service of the National Institute of Toxicology and Forensic Sciences (INTCF), explained in a report in this newspaper the study they had just carried out, one of the largest to date, with a review of almost 300 suspected cases of chemical submission: they only found burundanga in one of these events, 0.3% of the total. The largest study before that, looking at some 150 suspected cases between 2010 and 2013, found no burundanga in any of them.
Alcohol: the most used drug
"The substance most used for chemical submission is alcohol," says Garcia-Esteve, "because this occurs in places of leisure and there is alcohol consumption." Its hospital, the Clínic, has been a pioneer in Spain in collecting data and references for the city of Barcelona since 1998. They have been collecting figures on sexual violence since 2005 and for the last four years they have been communicating them every November 25, the International Day against Violence against Women. Gender—, "with the aim of making it visible".
He believes that more and better information is being collected. At the Clinic those numbers have been growing in recent years: "From around 100 a year at the beginning [víctimas de violencia sexual] to 500 in 2019. Then came the confinement and the trend changed, but what we get is on the rise." In chemical submission, however, what they see in that center remains "stable": "The ones we attend to, classify and label with indicators or suspicion of chemical submission do not increase. They are around 25%-28% of those we serve and some years it rises to 30%".
You go with two bottles of wine, four shots and I'll offer you another. When you are already intoxicated and you cannot defend yourself or consent, I take advantage and sexually assault you"

Lluïsa Garcia-Esteve, psychiatrist
Like last year, in which they found indicators of this method in 30.7% of those attacked. "And in the group of people under 25 years of age, these signs reach 48.3%," he says, although he details that it also has to do with the fact that half of the attacks occur in this age group.
They are data similar to those that the Minister of Justice, Pilar Llop, exposed on 8-M, when she presented the latest advances in sexual violence and chemical submission of the National Institute of Toxicology and Forensic Sciences (INTCF), dependent on Justice. Of the 3,001 sexual assaults verified by the INTCF last year, 994 were tested on suspicion that they might have been committed with the victim under chemical submission and there was a positive result in 72% of cases. The estimate of the institute with the figures of the last five years, is that "approximately 33% of sexual assaults may be of this type, that is, one in three," explained Llop.
Garcia-Esteve, the psychiatrist at the Clinic, believes that the change in the perception of sexual violence as a form of sexist violence, the social awareness of the health problem it entails and the broader collection of data have to do with the figures provided by the Ministry of the Interior —on known criminal offenses of sexual assaults with and without penetration in which the means used have been drugs or pharmaceuticals—, which reflect a rise. There were 28 in 2015, 33 in 2016, 43 in 2017, 50 in 2018 and 59 in 2019. In 2020, and despite lockdowns and restrictions due to the pandemic, there were 39. In 2021, according to the latest available data, which they arrive until September, they register 49.
The tip of the iceberg
This is only what is reliably known. According to professionals and experts, it is impossible to know how many of these attacks occur each year for various reasons. First, because not all the victims go to the emergency room: out of fear, out of shame, because they are not clear about it or because they do not identify it, as happened to Ana María. And later, because not all those who go to the emergency room later report, for the same reasons.
She did not file a complaint, but what she does say, legally, is defined in article 181 of the Penal Code as sexual abuse. Although she "doesn't care what the law says", she feels that it was "a violation". And what Ana says that she feels will be protected by the so-called law of the only yes is yes when it comes into force —the only thing left for her to do is pass through the Senate, after having been approved two weeks ago in Congress—, because in it the crime of sexual abuse and any non-consensual invasion of a woman's body will be classified as assault.
More information
Until now, the difference between abuse and assault is whether there has been violence or intimidation to commit the crime. With the new law, consent will be at the center: free, voluntary and clearly stated. A concept that is at the origin of what led the Government in 2018 —then with Mariano Rajoy as president— to begin a reform of the Penal Code.
It happened during the judicial process of the case of La Manada and because of the social tsunami caused by the first sentences, which saw abuse and not rape in the anal, oral and vaginal penetrations of five men to an 18-year-old woman in a tiny light room in a Pamplona portal, in 2016. Three years later, the Supreme Court sentenced them for a crime of continued rape to 15 years in prison.
"Sexual models vary from generation to generation"
Carmen Sánchez Romero, a clinical psychologist specializing in sexual violence, explains that the perception of violence depends on the times: "The generation to which we belong means that there are totally different readings of what has happened to us, because sexual damage is highly mediated. for sexual beliefs. A victim is seen in society, depending on the culture that surrounds her, and sexual models vary from generation to generation.
Advances in women's rights, recalls the specialist, have made this vision much "more in line" with the society in which we live. This evolution of the criteria regarding sexual violence has also led to chemical submission being included in the new law as an aggravating circumstance in rape crimes. Recognition and legal protection, she adds, "is important" on a psychological level not only for the victims, but for women in general.
More at a time when specialists say that a clash of perspectives is taking place. On the one hand, women, especially adolescents and young women, with a growing and earlier feminist awareness than in previous generations; and on the other hand, men, and especially young people, who face this change without having gone through the same reflective process as women, especially around the affective-sexual issue, as Miguel Lorente explained a few days ago in this Newspaper.
That collision, sometimes, is not even voluntary. As occurs with chemical submission, where there are those who do not perceive it as a crime. A few weeks ago, the streamer El Xokas told that story as a flirting trick used by one of his friends, a "crack", a "fucking pro" who goes out and doesn't drink alcohol waiting for women to do so, and who do it enough that you begin to not fully notice what is going on around you. From situations like these derives the "alone, drunk, I want to get home" that is shouted in feminist demonstrations.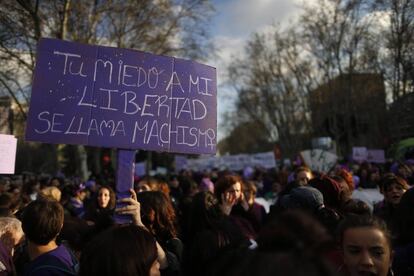 One of the slogans of the posters of the 8-M of 2019 in the Madrid demonstration.Álvaro Garcoa
According to the report Integrated Empirical Analysis and Quantitative Estimate of Violent Sexual Behavior (non-consensual) in Spain, commissioned by the Interior and prepared with data from 2018 and 2019 by the Group for Advanced Studies on Violence of the University of Barcelona, ​​hardly a 2% of all sexual assaults that occur. And they estimate that in Spain there are 400,000 that are produced per year.
In the most serious cases, the assaults, and unlike the still latent legend about the hooded men who assault a woman in a dark alley, the majority are men whom the victim knows. The latest macro-survey on violence against women, from the Ministry of Equality, puts rapes committed by strangers at 18.8%. The rest: friends, neighbors, acquaintances or relatives. And within the couple it also happens. Also by chemical submission.
"The colacaíto of drowsiness"
Marta Asensio, one of the women behind Stop Chemical Submission, with an open petition on change.org, signed by almost 190,000 people so far, says that she went to her house, with her partner, six times in seven years, and it was a proactive submission: "I woke up feeling horrible, I had no underwear or I found semen between my legs. I felt horrible about him, about my body, and I told him, that I felt used as a sexual dump, I was not giving my consent.
He says he grew up in a "very Catholic" family, "turning the other cheek." He asked her several times not to do it anymore, "I hoped it would change." But he did not do it, and Asensio now assures that he "has reoffended with another victim" and had already done it before: "The three of us have declared in the trial against him." To her, this man who had a pub that he named Insomnia, gave her "what he called the colacaíto of drowsiness." He affirms that he has never taken drugs: "I didn't even need to drink, you give me a Lexatin and you knock me down".
It was very difficult for him to "realize", to react: "Neither the clothes, nor the time, nor the place. She was at my house, with my partner, with all the confidence in the world. This generates a chronic mistrust. Sometimes I jump if someone touches me without permission or unexpectedly, I have never accepted a drink from anyone, ever.
What happened to Asensio is not the most common, but the premeditated chemical submission, the proactive one, occurs. Garcia-Esteve, the psychiatrist at the Clinic, remembers it: "It does happen, it's not an urban legend. And the more we know, the better data we have, and the better analysis of that data, the better we can tackle the problem."
Exclusive content for subscribers
read without limits
#burundanga #ketamine #chemical #submission #extra #shots

Source