Stop at an olive and separate the green ones from the purple ones. The companies dedicated to this fruit required time for this process and a lot of personnel available in the campaigns. It was perceived by Simón Van Olmen, Álvaro Soler and Juan Ramón Rufino, three engineers from the Polytechnic University of Valencia on the Alcoy campus. And they streamlined it with Multiscan Technologies: a solution for selecting table olives by color, which handled 1,000 kilos per hour.
They started from home and with few resources and currently have a turnover of 14 million euros. Created in 1999 in the town of Cocentaina (Alicante), it is dedicated to generating technologies for the agri-food industry. Elvira Moreno, responsible for engineering and development, explains that everything started as an idea to solve a problem and ended up unified with production.
There are clients who want to see the degree of maturity and others who want it to look good on the shelf and have a lot of volume
Elvira Moreno, head of engineering and development
In addition, they have expanded to other products such as tomatoes and cherry tomatoes, cherries, macadamia nuts, pecan nuts and pistachios. "We have four business units: fresh fruit, industry, nuts and olives," he summarizes.
To do this, they use vision and X-ray technologies combined in order to solve challenges in food safety and quality control in a single machine. "We do shape analysis and we have developed a software where we integrate new libraries that allow us to make increasingly efficient analytical methods for the detection of the effects associated with rottenness or pests", he describes. In short, they offer a more comprehensive result.
Projects
One of its latest bets has been the Omni (Visum) project, which was created in a year and offers information for precise and individualized labeling of meat and processed meats. X-ray technology, inspection in the visible range, hyperspectral inspection – the obtaining of information throughout the entire electromagnetic spectrum – and thermography are used in the process. "With this, the origin is evaluated, it can be determined if a ham is white or jabugo", continues the company spokeswoman.
Customers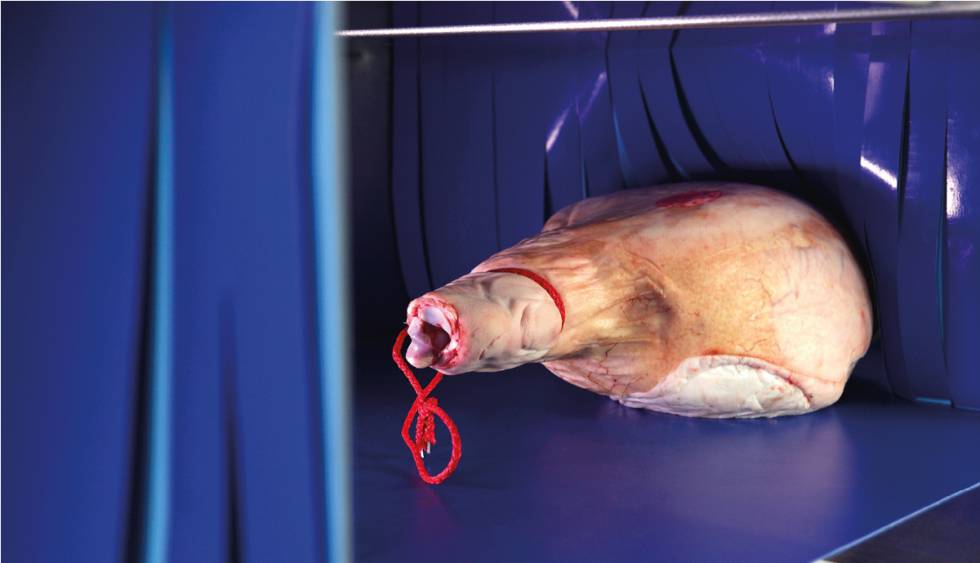 Inspection of a meat product.
Grupo Bimbo. Multiscan has a market focused on niches and, at the same time, diversified. One of its clients is the Mexican multinational Grupo Bimbo, present in 33 countries.
Campofrío and Casa Tarradellas. Another of its clients is the multinational food company, a subsidiary of the Mexican Sigma Foods (based in Alcobendas, but originally from Burgos), Campofrío. And the Barcelona-based Catalan Casa Tarradellas.
With this goal, a unique device is used that allows traceability of animal origin, detection of foreign bodies, measurement of salt content and the percentage and distribution of fat. The CDTI has contributed to the development, with a partially reimbursable aid, co-financed by the European Regional Development Fund (ERDF), through the Pluriregional Operational Program of Spain for 2014-2020.
The CDTI collaborated, among other plans, in financing the development and validation of artificial vision techniques for coffee classification called Coffescan. It is a system specially designed for the selection and inspection of cherry coffee. "With the X-ray machine, we try to characterize the coffee, we go to the cherry that opens and dries," he points out, "then we classify it by degree of maturity associated with color."
Thanks to this process, they offer an increase in the quality of the coffee cup, high efficiency in the selection by color and internal quality, high processing capacity or classification in up to three outputs for special selection needs. In a more practical sense, they ensure that you avoid rework and optimize processes, and offer savings in labor and space required. With this, they discover if the grains are immature, overripe, vain – a very small, rough and low-density grain – or if they are affected by the borer pest.
Consumer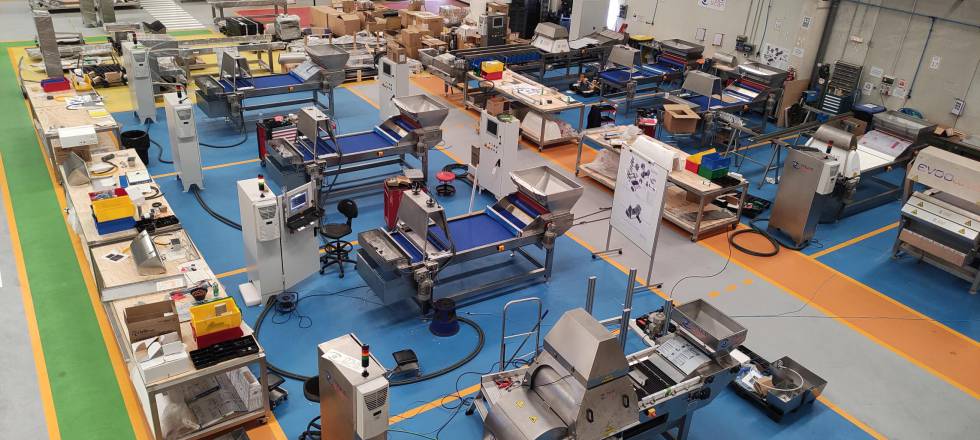 Multiscan Technologies workshop facilities.
The buyer who enters a store deals with a multitude of options and, in the end, what makes him decide is the color, size and shape; from there he extracts the condition of it. When asked if the company has perceived a change in consumption, they reply that there are two types of users: those who want an attractive product at a better price and those who seek quality. For example, in the case of avocado, they have created a solution in which they see external defects. "There are customers who want to see the degree of maturity and others who want it to look good on the shelf and have a lot of volume, they are not looking for such a deep selection."
The client uses these machines to optimize the process as much as possible and to minimize costs by obtaining the largest volume. "Others seek, for example, to certify that their product has a certain maturity index." Throughout all these years, the biggest challenge has been changing processes in the sector. Moreno acknowledges that it is not easy: "You have to change the facilities, you have to make a lot of investment in a modification that you do not know until you try it if it will work for you." However, they have had good results inside and outside the country: the company is mainly developed in Spain – where its sales account for 50% of the total and 76 of its 86 workers are present – ​​and the rest is divided between the United States and Chile.
International relations are essential for them: "We export about 70%," says Moreno. Their big markets are countries like Australia, Mexico or Canada and they have an expansion plan to the whole world, with the exception of India and China.
The strategy and future challenges of the company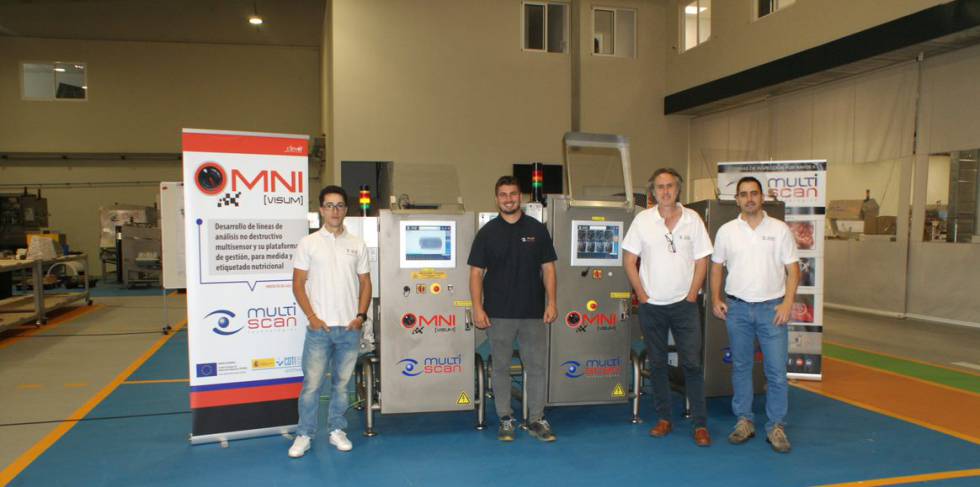 Company workers at the Cocentaina factory in Alicante.
Multiscan Technologies' strategy is built around five pillars: internationalization, innovation, sectoral revitalization of R&D&I, collaboration with public research organizations and excellence in its fields of action. Thus, the economic effort of the company in innovation is around 20% of its annual turnover, and R+D+i is its main hallmark.
Looking to the future, the company is focused on X-ray vision, on being stronger in the meat processing industry, and on expanding to the United States market, where they perceive a strong and less automated food sector, argues Elvira Moreno, responsible for engineering and development of Multiscan Technologies.
She herself insists that "every detail is taken care of on that route". Development is important, but so is technical assistance and its adaptation in each line, an area that is in charge of specific aspects such as changing a valve. "The crops are alive and so are the needs", she points out.
#Multiscan #Technologies #machines #classify #select #food

Source