There are things you don't forget. To swim. Cycle. Search and find places to stay. The target pendulum swung to Greece, and the five motorcyclists who break free are now poking around on a dirt road above Arta. The path scrapes along rock faces, headlight cones fidget over stones and chasms. One might be concerned about finding a place to camp in this terrain. But the routine of the years and trust in a well-rehearsed team bring us a fluffy meadow with a view of the ocher horizon. Big grins on everyone's faces: We're on the road again. Finally! An almost forgotten anticipation spreads and gives no indication that there will be a damper tomorrow.
The MacGyvers of the Touring Party
The next day, midday in the middle of nowhere: Guido's rear tire is punched through by a nail. The MacGyvers of our traveling party smell the morning air. Finally another opportunity to put the otherwise unnecessarily dragged along clutter to an application. All the utensils of the long-distance adventurers are quickly brought to light. Air pump, tire iron from space research, patch kit for all applications. "Uh, who has the vulcanizing compound?" Four faces that wordlessly express "Uh, not me" let the actionism collapse briefly. Now only one Starship Enterprise maneuver can help: assemble an away team! The complete rear wheel rim lands on the passenger of my Ténéré. Klaus accompanies me on the Africa Twin. It should have happened that even the roadside assistance has a breakdown. But now another urgent question: In which direction should we go? Tire dealers are probably as rare here in the foothills of the Pindos Mountains as penguins are in Holland. After all, the survey of the online oracle provides the nearest gas station: 16 kilometers.
Sometimes you're good and sometimes you're lucky: A stack of tires is piling up in front of the gas station! Brand new assembly and balancing systems slumber in the shadow of the large garage door. Better than ordered. "How can we help you?" The friendliness of the action-hungry workshop boss is more than appropriate for the condition of her equipment. "Well, we have a flat tire…" "No problem," she grins, and her colleague who has hurried over hurries to reinforce the overall impression she has gained: "Coffee?" A tinge of bad conscience spreads between Klaus and me. Can we just have a Greek coffee and another here while friends wait for salvation 10 miles away? The friends who – like us – have been starving for months with mediocre weather, working from home and other restrictive living conditions and can now touch up their faded complexions under the sweet Greek sun. We could all be worse off despite flat feet. Those with Greek Coffee fare a little less badly.
Offroad-Strecke Adventure Country Track
The return of the away team boosts the driving mood. Deeply incised river valleys force the road to take pleasurable serpentines. Deep green forests alternate with light-flooded slopes, on which more and more shadows are spreading. dinner time. But where? The next place is Karpenisi. Not a bad choice, because not far from there begins our entry into the so-called Adventure Country Track, an off-road route that leads through large parts of western Greece. With freshly filled tanks and stomachs, we turn south onto a track.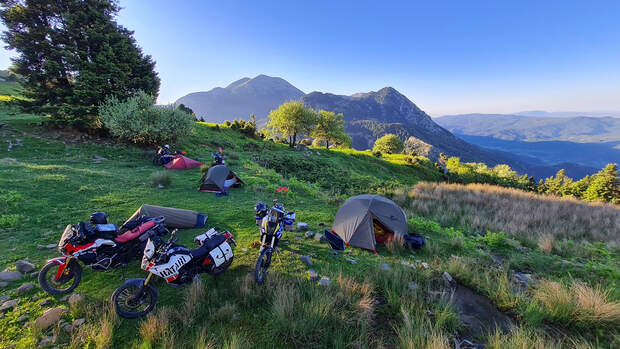 Dirk Schaefer
Fluffy and cozy: Camping close to nature in the mountains of Arta.
We whirl up wisps of dust that dance in the rear-view mirror. And hurry to find a place to sleep before it finally gets dark. The traces of forest work point the way to a clearing surrounded by tall pines. Unknown and kindly, they have set up a fireplace where there are still a lot of logs. Campfire romance with still cool canned beer and the joy of not having done everything wrong today. But that can change. Whether it's a poorly compiled map, incomplete GPS software, or because we left the ACT track, we're on the wrong track to Ano Chora. That was already indicated earlier. A tree that almost completely blocked the road could have been an indication. But the collective "Keep it up!" brought us joyful little adventures. Bumpy creek crossings where one or the other moto horse shied away, slippery grass passages that no vehicle had passed for a long time. But now it's finally the end of the day on the banks of the Evinos. The GPS devices want to go further. We would want too. But even if we manage to traverse the rapids in Romaniacs rally fashion, the rock face opposite is a Gulliver obstacle. What to do? Take a refreshing dip in the rapids. Just let the day slip away. Klaus' Africa-Twin relieved of their on-board bistro. Ano Chora will come within reach tomorrow.
Detour to Ano Chora
The detour there is stately. Actually, only ten kilometers separate us from Ano Chora. In fact, we reel off almost 50 kilometers to the cozy mountain village. Since we had used up our supplies yesterday and breakfast fell into the "lean" chapter, the appetite for a proper meal has swelled so much that the landlady of the tavern in Ano Chora accommodates our wishes with mountains of platters. But maybe it's just Ralf's fault, who tried to overcome the language barrier by gesticulating while ordering and seemed so emaciated that she was motivated to offer particularly lavish hospitality. On the Rio-Antirrio bridge we switch to the Peloponnese. Like a good-natured giant spider, she stretches her legs across the entrance to the Gulf of Corinth. And here everything will be different. Not just because we are turning back to the ACT slope. The buttons with which you set the density of experience and the joy of event are now all at the stop. My goodness, how many times have I been in the area and how many times have I driven past these places. Not suspecting anything! Plump poppies mark the way up a kind of ladder to heaven. Even if we had already turned our backs on the white spider, it reappears deep below us. drone photo? Unnecessary. We are high above the entrance to the Gulf of Corinth. Very high. Very few travelers get lost here. A homestead that crosses our track bears vivid witness to this. Apparently, the farm dogs haven't been busy for months and are playing "Meals on Wheels" with us. With Guido, who is driving in front, they are only rehearsing, with me in second place, my willingness to take risks increases. Then there are three more characters. And, no question, the last character has the most intense gameplay.
1,000 km of motorway, the 17-hour ferry journey
We don't follow the ACT track stoically, leaving it again and again as we see fit. Fast stages alternate with desert-like weathered landscapes and steep scree slopes. They are not difficult to drive. Only one hairpin bend is so tight that you have to approach it from the far end in order to take it in one go. If that doesn't work, ballet-like balance exercises are required. I spread the cloak of piety over the two unfortunates who stood tugging at their carts for minutes. The other three could have helped in all friendship. Only then they would have had to shoot there as well. A lose-lose situation. But reconciliation follows behind Kalavryta. Nine mild gravel bends bring us back to sky level. Can this really be true? We stand open-mouthed on the fluke of a frozen green whale, its huge back with a finely drawn lane ahead. At least that's what this mountain ridge looks like to us. In addition, like in a model railway landscape, little trees are stuck into an aged billiard cloth that stretches over all the surrounding hills.
If only there were one day on this trip: Because of it, the more than 1,000 kilometers of motorway to Ancona, the 17-hour ferry ride, the flat tire and everything else was worth it. The return journey has already begun. We stop at Kato Vasiliki for a stopover. The open sea laps at the pebble beach. In the background, the white spider legs glow against a blue sky. Five hands hold five Freddo cappuccino glasses like champagne flutes towards the open sea. Cheers Greece!
#Motorcycle #tour #western #Greece #motorway #ferry #perfect #day

Source