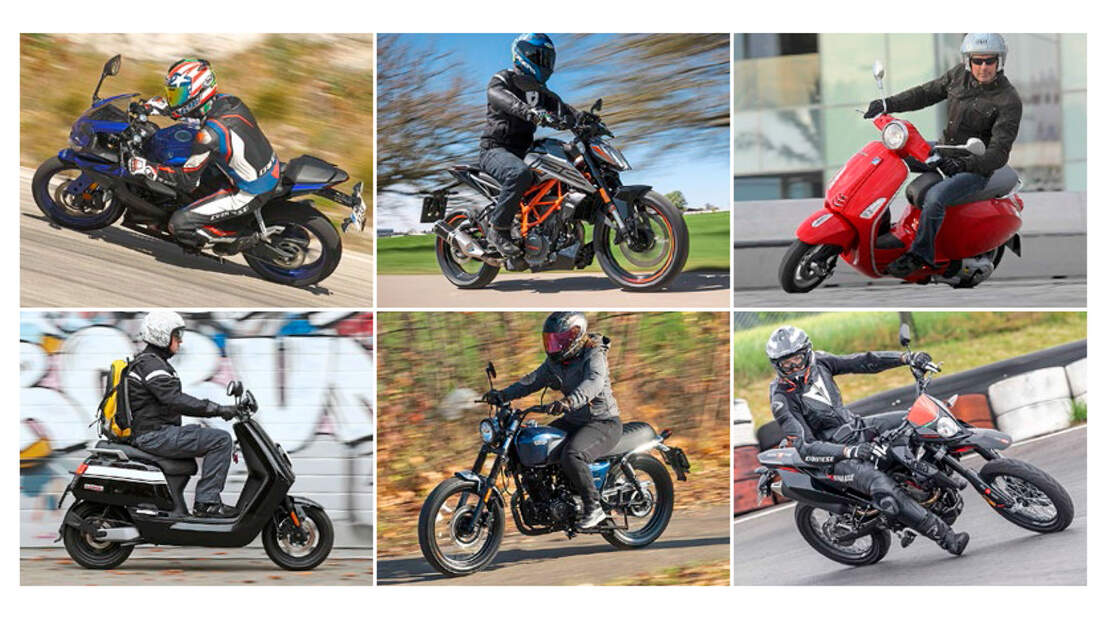 Motorcycles and scooters for A1, class B and B196 125s for drivers, beginners and those switching

Here you will find all information, news and tests for 125cc scooters and motorcycles. The light motorcycles may be driven from driving license class A1 (from the age of 16) or with a car driving license if this has been extended to include the key number B196.
Motorcycles with a displacement of 125 cm³ are now primarily approved as light motorcycles. Then they can deliver a maximum of 11 kW (15 hp). In addition, the power-to-weight ratio must not exceed 0.1 kW/kg.
Who is allowed to drive 125s?
Light motorcycles can be driven with a category A1 driver's license – or with the "old three": the car driver's license if the test was taken before April 1, 1980. The restriction that 16-year-olds are only allowed to drive light motorcycles limited to 80 km/h fell in 2012.
125s drive with a driver's license
Since December 31, 2019, 125cc motorcycles and scooters can also be driven in Germany without an examination and without a driver's license. This option is more for latecomers who, for example, want to switch to a 125cc scooter or motorcycle for their daily commute. Because the following conditions apply:
1. The bike must be in the 125 class, i.e. light motorcycles.
2. The driver must be at least 25 years old.
3. The driver must have held a category B driving license for at least five years.
You still have to go to driving school. At least four double hours of theory and at least five double hours of practical instruction must be completed. There is no exam. However, the driving instructor decides when to issue the certificate for the additional entry of the required key number (196) in the driver's license.
#Motorbikes #scooters #class #B196 #drivers #beginners #switching

Source