Masterchef was attended by Dabiz Muñoz who discovered the secrets of his Dumpling from pulpo a la galega who speaks thai, a recipe that you can easily prepare at home. You just need to go looking for a few known ingredients that can help you enjoy this exceptional appetizer or first dish. One of the stars on the Michelin star menu can be at your house in the blink of an eye whenever you feel like it. A dumpling with an impressive filling of Galician octopus with a Thai touch, is an unprecedented gastronomic experience, dare to try it.
Ingredients:
For the dumpling dough:
525 g boiling water 250 g wheat starch 250 g potato starch 10 g sunflower oil 100 g more potato starch to stretch the dough
For the potato filling:
250 g of Galician potatoes (the smallest) 0.5 g of ground white pepper 17.5 g of base kimchi 100 g of grated San Simón cheese
For the pepper curry:
125 g of curry paste 37.5 g of coconut oil 15 g of sweet paprika 27 g of sugar 10 g of fish sauce 30 g of tomato powder 500 g of chicken broth 500 g of coconut milk
For the white garlic chips:
100 g of minced garlic (very fine in mandolin) 250 g of milk 300 g of sunflower oil For the purple potato slice: 4 units of purple potato paper 300 g of sunflower oil
How to prepare a Galician octopus Dumpling that fala thai by Dabiz Muñoz
The hardest part of this recipe is buy all the ingredients. One by one we will be able to obtain a list of elements that together will create a range of impressive flavors.
We get to work with the dumpling doughwe boil water to create this homemade delight.
Add the wheat starch and mix it, little by little, let it cool down and add the starch. Once we have all the ingredients well integrated, make a ball and let it rest.
We make balls of about 12 grams. Stretch the dough well and cut with a round cookie cutter until you get a base for this dumpling.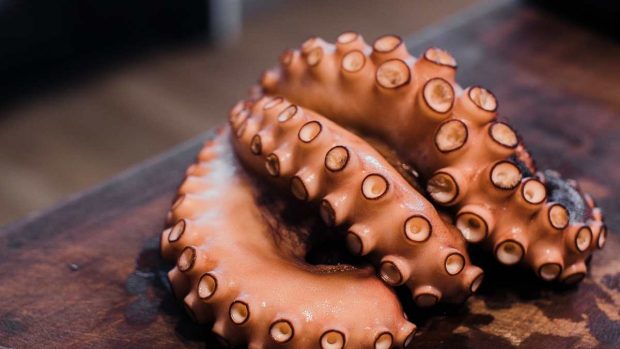 We continue with the potato filling, we cook the potato with the skin included and when it is ready we pass it through the potato masher. Mix all the ingredients on the list and reserve.
We continue with the curry paste, fry the pasta with the coconut oil and paprika, add the rest of the ingredients and reduce. Crush with the hand blender, strain everything and reserve. We continue with the white garlic chips.
Put the garlic in boiling water for 3 seconds, we quickly cut the cooking with ice water. We repeat the process 3 times. The last scalding will be in boiling milk for 15 secondswe cut the cooking and then dry these garlic and fry them with sunflower oil.
The purple potato is cooked in sunflower oil until it is as thin as possible. We will have the octopus. Add espelette pepper oil, espelette powder and an egg yolk.
#Masterchef #Recipe #Galician #Octopus #Dumpling #Fala #Thai #Dabiz #Muñoz

Source