To celebrate its tenth anniversary, in 1984 Thierry Mugler held the first parade open to the public in history. A total of 3,000 attendees, 1,000 invited by the brand and 2,000 who entered the show by paying a ticket of 100 francs at the time. It was the first time that a catwalk, territory of elitism that defines luxury, became a public event similar to a rock concert. Fashion began to prioritize the show over exclusivity. In these almost 40 years, this industry, through social networks, has become another guarantor of entertainment, almost like music and cinema.
But for a couple of seasons live broadcasts have not been enough, more and more brands are opening their stands to those who want to buy a ticket. Pyer Moss did it in 2021, when she debuted at the Paris haute couture fashion week or Marine Serre last June, within the men's fashion week in the French capital. Balmain has been holding a music festival open to the public for three seasons, including his parade as part of the programme. And this Wednesday Glenn Martens, creative director of Diesel, opened Milan fashion week at the Allianz Cloud, the Italian city's sports palace, with 500 house guests, 1,500 accredited students and 3,000 young people (among 17 and 22 years old, according to data provided by the brand) who bought a ticket and crowded into the stands to see the Belgian's second parade, decorated in a grand way, with, they say, the largest inflatable sculpture in the world.
More information
It is curious, and surprising, to see how Martens is able to go from the most niche and conceptual fashion (he is also the creative director of the cult firm Y Project) to the most popular and massive, without contaminating his styles. In the barely year and a half that he has been at the helm of Diesel, he has been able to turn a banner that belonged to the recent past into one of those viral signatures that populate TikTok and Instagram profiles. He has done it precisely by appealing to that recent past. That is to say, to that aesthetic of the first two thousand that now floods everything: in its extensive collection there is, of course, denim treated as tailoring, but also reformulated work clothes in noble colors and fabrics, tracksuits converted into long dresses with several layers and fluorescent pieces next to faded and frayed fabrics.
Parade of the collection for next spring of Diesel, on September 21 in MilanAntonio Calanni (AP)
If Martens and Diesel are pulling on democratic showmanship to try to maintain their newfound relevance, Kim Jones is adept at just the opposite, making the democratic exclusive in his myriad collaborations with popular brands. Since his entry into Fendi in 2020, the British designer has crafted something akin to luxury staples in a house historically tied to opulence. In his collection for next spring, gray and beige were mixed with orange or fluorescent green in garments with a markedly 90s (minimalist) silhouette. There were structured tailored jackets whose backs closed like a Japanese kimono, chiffon sheath dresses and straight skirts that Jones, always with a good nose for business, combined with sandals whose platform is emblazoned with the double F logo that Karl Lagerfeld had designed in the year 2000.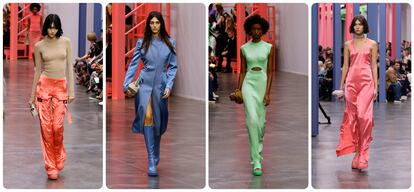 Four of the proposals from the collection for next spring by Kim Jones for Fendi, at his show on September 21 in Milan. EFE/EPA/FENDI PRESS OFFICE / Antonio Calanni (AP)
In contrast, the young Andreadamo, with only two shows behind him, is a faithful (and good) follower of the basic for the new generations: black, white and earth-toned garments that are constructed from an evident deconstruction or, what which is the same thing, knitted dresses full of openings, cords and asymmetries that, despite populating the current collections (especially those signed by the new names) in him have a novel, worked and commercial result.
Max Mara is, essentially, the great Italian brand of luxury essentials. But their creative director, the British Ian Griffiths, always designs them based on the aesthetics and history of a pioneering woman (in fact, portraits of Siouxsie, Patti Smith or Zelda Fitzgerald hang in his office). This time, Griffiths has reimagined the eclectic and very peculiar style of two women whom posterity has considered muses, although they deserve the name of great authors. The artist Renée Perle, partner of the photographer and painter Jacques Henri Lartigue, who defied the conventions of the 1930s with her uniform of wide men's pants with swimsuits and hats; and the architect and designer Eileen Gray, one of the first recognized industrial designers "who, in the face of the straightness of male architects, introduced the curved line and, in a certain way, emotion into the craft," says Griffiths. The connection between the two is the French Riviera, a place they frequented and that works as a spring excuse for a brand specializing in coats.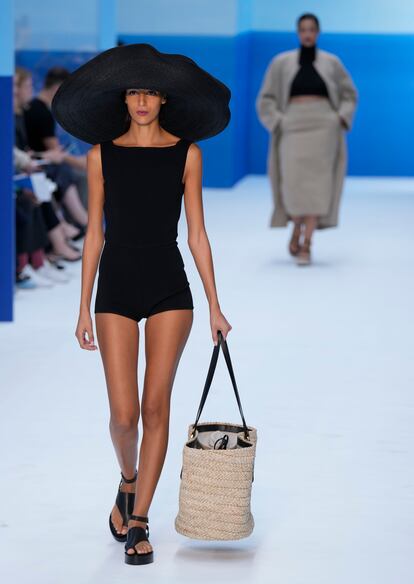 A model at the Max Mara fashion show at Milan Fashion Week, this Thursday, September 22. Antonio Calanni (AP)
And the Prada collection was about basics, this time almost as a theoretical object. Under the title A touch of crudeness, Miuccia Prada and Raf Simons have worked in their own way the zero degree of clothing: "Simple clothing, without unnecessary complications, is what moves us theoretically, aesthetically and politically", says Miuccia Prada, who He has been demonstrating for half a century precisely that these three visions are more united than it seems. Drive director Nicholas Winding Refn designed paper rooms with windows onto an imaginary street for the occasion. A way of combining the domestic, the intimate space, with a collection that sought to delve into the basics in the complex manner of Prada. Trapezoidal coats with a fabric also made of paper (which the models closed by hand, in the iconic Miuccia way). Forties-style square neck jackets that, instead of being tight at the waist, followed a rectilinear pattern. Nylon jumpsuits that evoked the work uniform (one of Prada's obsessions since the arrival of Raf Simons). And tops crowned by long pieces of fabric as a tail, as they did with skirts two seasons ago. Because if something has changed in Prada by Raf Simons, it is the continuity between collections. Before the entry of the Belgian designer, Miuccia used iconoclasm to create collections that were visually eclectic and complex, but recognizable precisely because of their difference. Now, the triangular logo, monochrome nylon and structured shapes have built a recognizable identity that is repeated season after season.
Three of Prada's proposals from its collection for spring 2023, presented on September 22 at Milan Fashion Week. Matteo Corner (EFE/EPA) / Alessandro Garofalo (REUTERS)
Giorgio Armani came out to say hello, this time without Silvana Armani and Leo dell Orco (responsible for the women's and men's lines, respectively), surrounded by the long applause of the hundreds of people invited to the Armani theater to witness the Emporio collection, which once once again it resulted in baggy pants, sock-shoes and baggy jackets, this time in black and white. He, after all, did not invent them, but he did manage to get hundreds of women to adopt them for the first time in the early 1980s as part of a functional and, finally, more egalitarian wardrobe. If fashion pushes social changes, it is almost always through the redefinition of its basics. Something that Armani knew how to see half a century ago and that many, fortunately, are beginning to see now.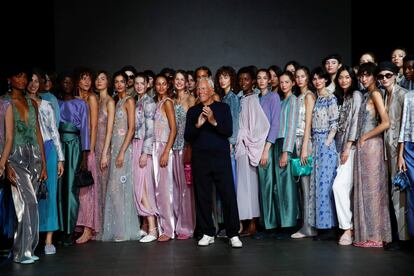 The designer Giorgio Armani, surrounded by the models of his parade in Milan, this September 22.ALESSANDRO GAROFALO (REUTERS)
Subscribe to continue reading
read without limits