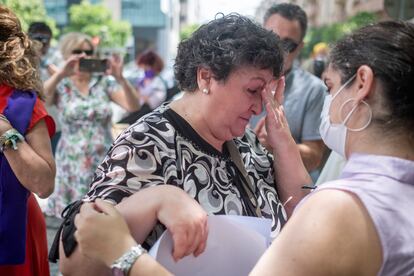 María Salmerón leaving the Seville courts on May 18, where she was informed that she had 15 days to enter prison. PACO PUENTES
María Salmerón was admitted this morning to the Alcalá de Guadaíra prison in Seville. It has been useless to pay the 3,000 euros of civil liability or the appeals filed in extremis in recent days to have his criminal record canceled —necessary conditions to avoid jail—, nor have the signatures collected on the platform been of much use Change.org. Salmerón, who had been pardoned three times by the Government, will have to face the sentence of nine months in prison for having breached the visitation regime of her daughter with her ex-husband. A man sentenced to 21 months in prison for physically and psychologically abusing her, who, unlike her, never set foot in a prison due to the length of the sentence and for lack of a record.
The countdown for Salmerón began when the Government denied him his fourth pardon on April 27 "by legal imperative." On May 18, the judge of the Criminal Court Number 6 notified him of the execution of his sentence and the obligation to enter prison in the following 15 days. She always thought that she could finally put off a moment that she has always claimed she was not ready for. "For me it would be a death sentence and no one prepares for that," she acknowledged to this newspaper.
‼️ MARÍA SALMERÓN ENTERS PRISON‼️Hoy the patriarchal justice of @justiciagob y @pilar_llop imprisons @ Maria_Salmeron8. The Platform in Support of María Salmerón categorically rejects this institutional violence. We will keep fighting. Freedom, Justice and reparation for Maria! pic.twitter.com/z74Ep2GsHe

— Montequinto Feminist Meeting (@mefeminista) June 9, 2022
The news of her admission to prison was advanced on Twitter by the organization Encuentro Feminista Montequinto and was confirmed to this newspaper by Isabel Machado, president of the support platform for María Salmerón. "This is a judicial outrage and we are going to do everything possible to get it out as soon as possible," she assured. Salmerón will keep her job, one of the greatest fears she had of her, because that was her only source of income to be able to pay for her daughter's studies abroad, whom her father has denounced to not pass the pension.
"My worst nightmare has come true"
Miriam Ruiz, Salmerón's daughter, who every time she had to go with her father implored her mother not to take her, has also seen "her worst nightmare come true". She has thus written it in a letter —like the many she wrote to exorcise her pain when she was with her father— in which she shows her anguish, grief and anger at having to see her her mother go to jail. "I have watched paralyzed as the doors of that place were closed behind her that her abuser, despite being convicted, never set foot on. I am broken and full of rage and impotence", says Miriam. "Finally, that person who set out to ruin my mother's life more than 20 years ago and with whom I share a last name, has managed to separate us. She has taken from me the pillar of my life, my protector, the woman who brought me into the world and who since that day has not stopped fighting for my happiness for a single moment".
"I can't help but feel that I am the one who should be in there, because I have always been the one who has refused to see the one who has never behaved like a father to me. I was the one who begged my mother hundreds of times not to take me to that hell. And now she is the one who, at 58 years old and with health problems, is punished and kicked out of her house for protecting me. There is no way to repair this injustice, no one can erase everything that we both have suffered, but they can set my mother free and return her to my side, "she adds, after requesting the resignation of the Minister of Justice. "All the rights of my mother are being violated, who has not even received a resolution of said pardon and whose file is being illegally hidden from her. She is not a criminal, because loving a daughter and putting her before everything is not a crime, "she indicates. "I feel helpless and immersed in immense pain. I ask for justice and urgent measures to return my mother to my side," the letter concludes.
Two decades of vicarious violence
The previous pardons for María were granted by the Executive of Mariano Rajoy, who in 2015 also gave her an award for her fight against sexist violence. Salmerón was confident that on this occasion she would also have the support of the Government, especially when the Minister for Equality, Irene Montero, had spoken in favor of her on several occasions. The reasons of the Ministry of Justice to deny the measure of grace are based on the fact that the law that regulates pardon prevents it from being granted to repeat offenders, unless the sentencing court reports in favor of the measure of grace, something that has not happened in this case. , where he also did not have the support of the Prosecutor's Office. Minister Montero; the Secretary of State for Equality, Ángela Rodríguez; and the Government delegate against Gender Violence, Victoria Rosell, They criticized the denial of pardon on social networks.
Salmerón believed that by divorcing her husband, five months after her daughter Miriam was born, she would escape the physical and psychological abuse to which she was subjected. That, however, was the beginning of a judicial spiral agitated by the girl's father who, supported by the Association of Victims of the Gender Violence Law, has been denouncing the different breaches of the girl's visitation regime. In that time he has turned her daughter's childhood into a nightmare, as Miriam herself details in the letters she wrote as a child to overcome her fear and loneliness, as she recounted in an interview with this daily.
When she divorced it was the year 2000. There were still four years left for the law on gender violence to be approved and 21, Miriam's age, for the comprehensive protection of children and adolescents against violence to go forward, which requires the suspension of the visitation regime for parents who have mistreated the mother. With this legal framework, it would have been much more difficult for Miriam to have had to go through the ordeal of begging at the meeting point not to be taken to her father and encountering the incomprehension of the social workers. Not even Salmerón should have lived two decades under the uncertainty of obtaining a pardon that would free him from going to prison for preventing his daughter from living with an abuser, as the Supreme Court ruled in 2008.
In this time, Salmerón has been convicted of disobedience four times and has been pardoned three times, although the last one was annulled by the Supreme Court. It is a paradigmatic example of the re-victimization to which many women victims of gender-based violence are led due to judicial loopholes. "If the governments had legislated so that this would not have happened, I would not be here," Salmerón said at the last major rally against her imprisonment in April.

#María #Salmerón #mother #convicted #failing #comply #daughters #visits #abusive #father #enters #prison

Source