It will be celebrated shortly World Croissant Day hence Manolo Bakes who sells the famous Manolitos, will make a great gift to your customers. In fact, We are going to be able to enjoy Manolitos for free, but when exactly? Take note and stay tuned because something is coming that you will not want to miss: this is the day you can eat Manolitos for free.
Manolo Bakes gives away his famous manolitos
Los Manolitos from Manolo Bakes has become the most famous croissants in all of Spain. The establishments in which they are sold are mainly in Madrid, and in other cities such as Barcelona or Seville, but everyone in Spain knows them and those who have already tried them understand why they are famous.
If you are a fan of Manolitos and you cannot resist eating them, you are in luck because on the occasion of International Croissant Day that is celebrated This Monday, January 30, we will be able to eat them completely free. Specific, Manolo Bakes is going to give away 10.00 manolitos in all its stores in Spain (with the exception of those found in shopping malls).
The free manolitos can be found at selected points of sale in Madrid, Barcelona, ​​Zaragoza, A Coruña, Seville, Valladolid and Valencia
Free Manolitos on Croissant Day
The gift of the manolitos this January 30 is made to celebrate the aforementioned anniversary dedicated to the croissant which is, in fact, one of the most appreciated pastries or sweets. For now We don't know if Manolo Bakes is going to announce essential requirements to be able to get their manolitos for free, but it is expected that in the next few hours on social networks they will explain how to do it.
The company's press release states that They are going to do "something special" to celebrate this day and although it is not known for sure what it will be, everything indicates that, as has been seen In the latest "stories" of their Instagram account, they will take their manolitos out to the streets to give them away to passers-by while they are being recorded for their reaction.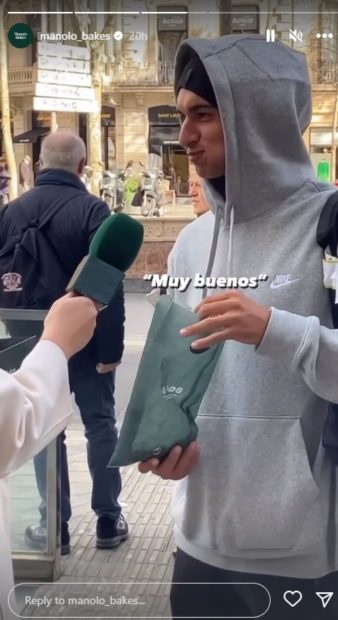 The manolitos are not, on the other hand, the only delight of Manolo Bakes that also sells various pastries and palmeritas despite the fact that they areits tiny croissants are a hit either in the sweet version (chocolate, pistachio or crocanti) or also the salt (salmon, Iberian palette, avocado and chicken or pastrami).