These mango noodles with citrus sauce form a kind of fruit salad that is very refreshing and appropriate for the summer heat. In addition, its appearance is the most colorful and elegant, as if to offer it as a dessert after a succulent meal. The flavor of the mango together with the citrus fruits is so tasty that it makes you want to eat it all.
About the handle, This fruit of tropical origin is extraordinary in aroma and flavor. Above all, for the amount of nutrients and vitamins, where C stands out. In fact, ¾ cups of mango provide 50% of the recommended daily amount of this vitamin. But let's continue: the same amount of mango provides 8% of vitamin A and 8% of B6. In tropical Latin American countries, during the season for this fruit and since it is so abundant, children spend two to three months eating it, and this is what has prevented malnutrition from wreaking more havoc than it does. So an appropriate decision is to include it in the daily diet.
Ingredients:
300 grams of mango 4 tablespoons of sugar 200 ml of water 15 grams of plain gelatin 2 oranges 10 ml of Grand Marnier Ginger to taste 1 natural yogurt with sugar Strawberries to decorate Mint leaves to decorate
How to prepare mango noodles with citrus sauce:
To make the mango juiceput the gelatin to hydrate in 100 ml of cold water.
Blend the mango with the water and 3 tablespoons of sugar (if the mango is very ripe, you can put less).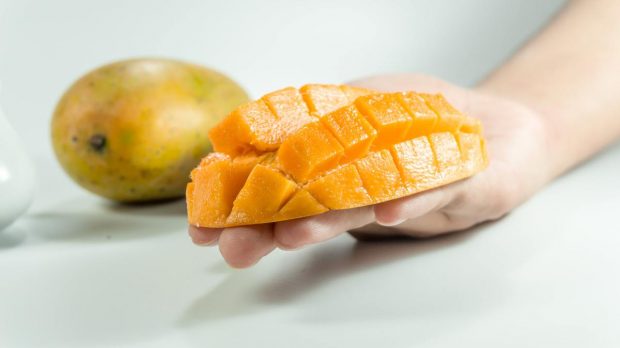 Grate ginger to taste and mix everything. Transfer to a saucepan and bring to the fire. When it boils, add the gelatin and stir until dissolved.
Spread this mango mixture on a flat trayto wait for it to cool down, and then cut, with the help of a knife, wide strips, and peel them off with a spatula. They are then cut into thinner strips. This is how the mango noodles will be made.
For the citrus saucesqueeze the oranges, strain the juice, add the Grand Marnier, 1 tablespoon of sugar, more grated ginger and heat until boiling. Besides, the yogurt sauce is made. Place the yogurt in a bowl, stir, cut the mint leaves very finely and store in the fridge. To mount the plate, place the mango noodles on the bottomaround put strawberries previously cut lengthwise, add orange juice, then yogurt sauce and garnish with a mint leaf.
Prepare these mango noodles with citrus sauce and enjoy a luxurious dessert.