The day of Valentine's Day is stealthily approaching, and although there are still a couple of weeks to go before such a romantic and beautiful celebration arrives, it is undoubtedly a good time to look for that special gift for a person who is also romantic, who later takes time and perhaps not get something that lives up to the occasion. Today we show you a Valentine's gift from Lidl that it is ideal to surprise someone special on that beautiful date and that you can take now for a cheap price… run, fly!
Lidl offers a wide variety of products in its stores that can be ideal for Valentine's Day gifts, in different sections, and it is undoubtedly a date in which originality can be sought in different ways, it is not necessary to resort to to the always sure bets chocolates and flowers.
The Lidl family photo frame that is cheap
Its about 'Family' photo frame, a beautiful frame that offers space to place several photographs and that has the legend "FAMILY" in the middle, in white, which gives it a very attractive aesthetic touch and makes it a very special multi-frame that undoubtedly deserves worth having at home. Its price is currently only €4.99, an incredible bargain that you cannot miss and that means that it is literally sweeping sales in all the German supermarket stores.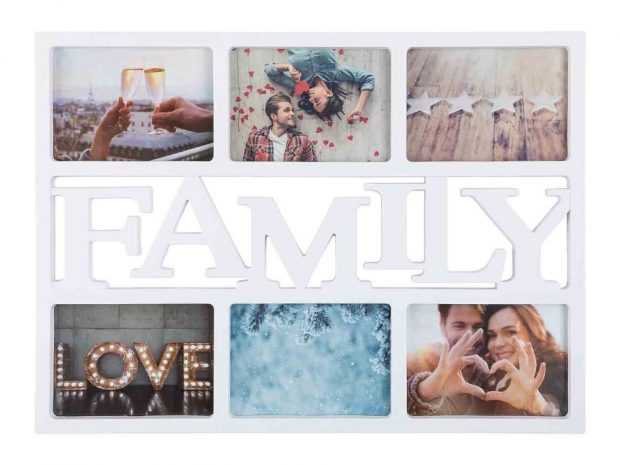 this precious Lidl family photo frame It has space for 6 photos of 15 x 10 cm and has a white frame and a glass cover to guarantee the best protection for your most special photos. The total measurements of the frame are 45.5 x 33.5 x 1 cm, with an approximate weight of 680g, an ideal size to hang it on the wall of the living room, bedroom, hallway… the truth is that its aesthetics are so beautiful that will fit perfectly in any corner of the house.
Regarding the materials used for its manufacture, the frame is made of plastic, while the the cover is glass and the back is cardboardwhich gives extra protection to the photos so that they cannot fall and remain well fixed while they are exposed.
If you want to make a very special Valentine's gift that the whole family can enjoy, this Lidl family photo frame will undoubtedly be perfect for it.