Behind his desk, on a shelf, rests a framed family portrait next to a bust of Simón Bolívar. The life of León Valencia (Andes, 67 years old) has oscillated between these two vital tensions: being a present father or a revolutionary. Thirty-five years ago he said goodbye to his wife and his children to join the ELN guerrillas. In hiding he recorded his voice on some cassettes that he secretly sent home. It was a way for them not to forget him. Over time, he discovered the absurdity of war and tried to convince his comrades-in-arms to seek transformations through peaceful means. Since then he directs a foundation of thought and writes; His latest book is entitled The left to power in Colombia, a curved line from the history of the armed men in the jungle to the arrival of Gustavo Petro to the Presidency.
Ask. When you joined the guerrilla you had two children.
Response. The idealism and romanticism of the 70s and 80s led me to do that. He thought he had an obligation to change the world, a better one for his own children. What weighed me down the most at the time was their absence.
Q. Did you feel guilty?
R. Yes, although after I met them again and they made me feel that there was no such thing. We have always been very close, very close, and they have praised me a lot as a father. I have had no complaints. I spent seven years in the guerrilla.
Q. You met the priest Pérez, the Spaniard who rearmed the ELN. What was that man like?
R. I lived with him in the mountains. He was practical, not a great theoretician. He was from a town called Alfamén, from Zaragoza. He had a Spanish accent when he spoke of Atleti. She defended herself in a world very different from his and adapted enormously. Sociologists say that intelligence is the ability to adapt.
Q. Have Spanish priests been important in the history of the guerrilla?
A. Decisive. There were three important ones: Domingo Laín, Diego Cristóbal Uribe and Manuel Pérez. The first two died in combat. Pérez, old in Cuba. He rebuilt the ELN after a great crisis.
P. They lived an illusion that you, assure in the book, had traces of hallucination. A friend of his appeared on the mountain with a suit saved to be elegant the day the revolution settled in the palace.
R. It was a hallucination. The insurgency had triumphed in Nicaragua and in El Salvador there was a tie between government forces and the FMLN. In Colombia there was a very big crisis of the Government of Virgilio Barco. We thought we could win. And a lot of people played it.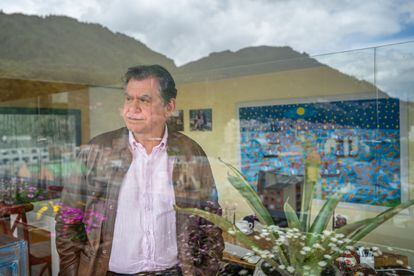 León Valencia presents his latest book: 'The left to power in Colombia'.Diego Cuevas
P. The guerrilla that generated the feeling that victory was close was the M-19, in which Petro was a member.
R. It was the most audacious, the one that brought the war to the city. She was able to get into the heart of Bogotá. Those of us from the ELN felt envy and admiration.
P. There came a time when you advocated laying down arms. What was revealed to him, what was his argument?
R. The war was degrading. We were all going to succumb to that cruelty. And the ones who were going to lose the most were us. The left is always charged more for its cruelty. The guerrillas proclaim a different ethic and a revolutionary dream. Drug trafficking corrupted everything. I saw it more clearly speaking with Pepe Mujica. He told me that they in Uruguay were going to come to power faster than us because they had been imprisoned, tortured, buried alive. It was very difficult for us because the war here had been cruel, heroism was buried.
Q. So what could be the path to that left?
A. Reconciliation was the heroic speech. After having done so much damage, they had to raise their hands and become the apostles of reconciliation. All that speech has been raised by Petro.
P. You met Petro as a defeated, humiliated politician.
R. In 1994 he ran for the Senate and did not get enough votes. My group was signing a peace agreement in a camp and Petro arrived there. He was upset. We got drunk at night with whiskey. He complained and shouted that the peasants had not supported him. He went to Brussels and when he returned he ran for mayor of Bogotá. He Solo got 7,000 votes! imagine.
Q. From defeat to defeat…
R. He later allied himself with another former M-19 guerrilla, Navarro Wolf, and they put together an alternative movement. That was the catapult for him to the Senate and later to the Mayor's Office of Bogotá. He has a special quality: to sell illusions. That's what politics is about. In Colombia the stars had to align for that seller of illusions to reach the presidency. There was a society eager for change.
Q. Although you only won by 700,000 votes.
R. Those votes could have been bought by regional clans (regional politicians and businessmen who buy elections). But they didn't want to put money in because they didn't know how they were going to pay them back. Rodolfo Hernández was unpredictable and nobody wanted to risk it.
Q. Colombian politics is based on mistrust, you say in your book.
A. Álvaro Uribe's negotiation with the paramilitaries was summarized in two pages. It is a monument to trust. The negotiation with the FARC lasted six years, it is a huge tome: it is a monument to mistrust. Everything has to be written, every little step, every comma and period. Still, they failed. This is a country of traitors. It's very much in the culture. Here everyone is betrayed.
Q. On one occasion, when you denounced some paramilitaries, Uribe accused you of treason.
R. In Colombian politics there is a mafia spirit. And betrayal is the worst thing there can be. It is not forgiven. That passion is seen in simple episodes: when Petro and Uribe, two lifelong enemies, met, someone asked me why Uribe had not done the same with Santos. That has a mafia explanation, one does not meet with the one who betrays him, although he does meet with the enemy. That's in The Godfather. Uribe likes Petro's forward position better. Every mafioso wants to intervene in politics, and politicians have a mafia spirit.
Q. Have you ever been surprised that they didn't kill you on the way?
R. Every day I wake up I think: I earned another day. My aspiration for a while was to finish the century. I wanted to get to the turn of the millennium. That was a win. They had defeated me in the war, I had no more. At least he didn't want to let me kill easily. I made it, and here I am 22 years later.
Subscribe here to the EL PAÍS newsletter on Colombia and receive all the key information on the country's current affairs.