Lefties has released its own version of Converse so you can get brand new sneakers for very little. These Lefties sneakers are worth 7 euros and they are the most comfortable for summer. They will give a perfect informal touch for the city and will keep your feet cool during the hot months.
The Lefties Converse-style sneakers that you won't stop wearing
The sneakers are always a success, they give an incredible vibe to all the outfits alreadythey carry comfort like no other shoe. In our closet they are never lacking and the new Lefties sneaker will surely become a star product that we will not stop using.
It is a sneaker style shoe and is available in two colors, red and pale pink. One is ideal for those looking for an intense red that gives personality to all looks and the model in pink more than successful to add color in a more discreet and romantic way.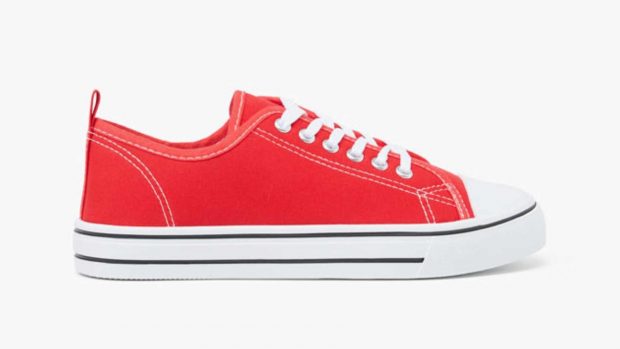 They stand out for their comfort and their price, for only 7 euros you can get a versatile shoe perfect for everyday wear. You can use it with jeans and a t-shirt or give your outfit a more informal look when you have decided to combine it with a shirt. They are perfect for any plan and their wide sole will achieve a comfort that will make you fall in love from the first use.
They have a lace-up Grip, This means that they can be easily adapted to the needs of your foot. The foot will stay secure and not move too much inside the shoe, avoiding discomfort and friction when walking. The lace pins are metallic and the lace is white, matching the seams of the shoe.
The style of this shoe is a timeless classic that has been surviving all fashions, so I'm sure you can wear it year after year until the shoes can't take it anymore. In addition, its rubber toe cap adds a plus of durability to the shoe that will make it look impeccable much longer.
Las cloth shoes They are a very interesting option in summer, they cover and protect the foot, but allow it to breathe perfectly. Also, they are more comfortable than many sandalsTherefore, they are the preferred option of many when they have many steps ahead. You will use them non-stop this season and you can take them home for 7 euros. What more could you ask for? You will be able to give it your all and enjoy the summer without foot discomfort!
Is it so available from size 35 to 41 in both colors, but with the price they have, they are sure to fly off their shelves like no other. Do you dare to get them? They are the perfect fabric sneakers if you are looking to combine comfort, style and an urban vibe for the city.
You can stop by your trusted Lefties store to buy them and take advantage of the trip to find those basics that always have to be renewed in summer. You will start the season strong and you will have everything to go impeccably to all the plans that are to come.
Also, you can get them on their official website, add them to your cart and brand new shoes for only 7 euros. It is the bargain that your wardrobe needs to renew without paying more!
#Lefties #creates #version #Converse #sells #euros

Source