The productions of the couple formed by Javier Ambrosi and Javier Calvo have become synonymous with success. Fictions such as The Call, Paquita Salas, Veneno or Cardo. Now they come back with La Mesías, an original series from Movistar Plus+ in collaboration with Suma Content, written, directed and produced by Javier Ambrossi and Javier Calvo.
Javier Calvo has talked about the shooting: «Since Veneno we had not shot as directors. It is being precious not only to reconnect with directing but also to reconnect with the team, which is like our second family. We had already worked with all the team leaders and it's being amazing again. We believe that La Llamada, Paquita Salas and Veneno found their tone and now La Mesías is finding hers».
The filming of the Movistar Plus+ series began on August 16 and will last for 22 weeks in different locations in Catalonia .In the Movistar Plus+ synopsis, the series El Mesías is defined as "a family thriller that talks about overcoming trauma, faith as a tool to fill the void and art as the only way to escape from terror".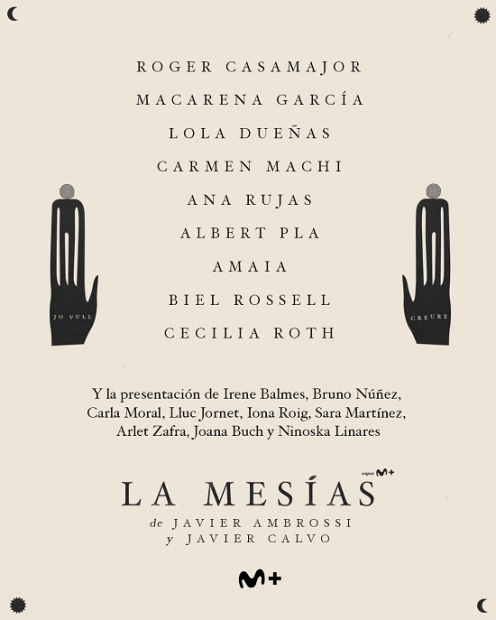 Messiah Poster
A luxury cast
The Messiah series has just unveiled its cast led by such well-known actors as Roger Casamajor, Macarena García, Lola Dueñas, Carmen Machi, Ana Rujas, Albert Pla, Amaia, Biel Rossell and Cecilia Roth.
In addition, the series has a very young cast in which, after passing the castings of Eva Leira and Yolanda Serrano, it will be the first opportunity for actors like Irene Balmes, Bruno Núñez, Carla Moral, Iona Roig, Lluc Jornet, Sara Martínez, Arlet Zafra, Joana Buch and Ninoska Linareswhich give life to children and adolescents
As Javier Ambrossi explained: «The casting process has been intense and exciting. We have always mixed big names with discoveries and in La Mesías we are taking it to the maximum. It is a very diverse casting, which clearly supports young talent and local talent».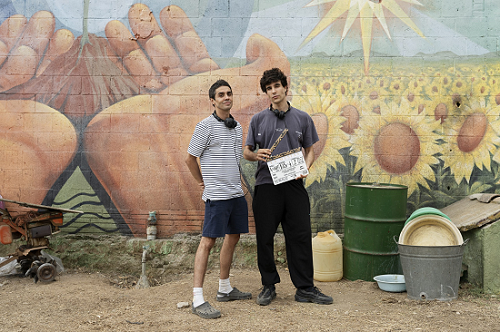 The Messiah @Carla Oset
The influence of a viral video
Messiah begins count a viral video of a Christian pop music group made up of several sisters has an impact on Enric's lifea man tormented by a childhood marked by religious fanaticism and the yoke of a mother with messianic delusions.
The series has had professionals with a career recognized as Gris Jordana, winner of the Gaudí award and nominated for the Goya for Freedom who is the director of photography, Pilar Robla (The Queen of Spain) as production director and Roger Bellés, nominated for Gaudí for The Next Skin is the art director. One of the Movistar Plus + bets on series for the next season.