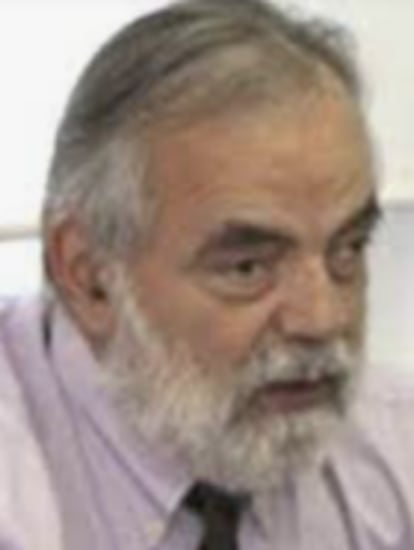 Pepe Oliver Ruiz, cardiologist at the Gregorio Marañón Hospital. Rafael Peinado
On July 2, 2022, Dr. José María Oliver Ruiz, "Pepe Oliver", a cardiologist of recognized national and international prestige, died unexpectedly and prematurely. He always told us our teacher, a wise, humanistic and extraordinary man. Pepe has left a huge void in all of us who had the great fortune to meet him and share with him, to a greater or lesser extent, our lives. At the same time, he has left a transcendent imprint that extends far beyond his family, friends and colleagues.
Pepe Oliver knew how to carve out an excellent formation. He graduated in Medicine and Surgery at the Complutense University in 1971 and did the specialties of Internal Medicine and Cardiology at the Jiménez Díaz Foundation between 1971 and 1976. He furthered his training with stays at the Mayo Clinic, Rochester and at the University of California , The Angels. In 1977 he joined the Hospital Universitario La Paz, where he developed most of his excellent professional activity. He was head of the Echocardiography section, head of the Adult Congenital Heart Disease unit, medical director of the General Hospital and associate professor of Medicine at the Autonomous University of Madrid. A clairvoyant man with a vision of the future, he was a pioneer and expert in the field of echocardiography and, especially, in the field of congenital heart disease in adults, in which he played a fundamental role in its development in our country.
Aware of the importance that medical care would have for a growing population of adult patients with this type of heart disease, he combined his excellence as a clinician with an enormous capacity for work, tenacity, and dedication to patients to create one of the best units in congenital heart disease in adults at a national and international level, becoming a world expert in this field. He did not flaunt it, such was the simplicity and humility of him.
At the same time, he was a great researcher who always tried to find solutions to clinical problems that arose on a day-to-day basis, during the care of his patients. He did so with works that have had great clinical significance. His publications in the most prestigious journals in the field of cardiology and his participation, as an international expert, in the development of clinical practice guidelines for the European Society of Cardiology endorse this.
He knew how to overcome the narrow-mindedness of a service and hospital management that, unfairly and ungratefully, did not prevent his involuntary retirement when he turned 65. After it, he joined the Cardiology Service of the Gregorio Marañón University Hospital as a senior researcher, a place where they were able to recognize and incorporate his magnificent experience and where he continued a brilliant research career.
His profound knowledge, his ability to apply it to the diagnosis and treatment of patients with exceptional clinical reasoning, his ability to transmit it to those of us who learned from him, his holistic vision of medicine and his extraordinary humanity in treating his patients and his disciples were some of his many virtues and qualities admired by all of us around him. Also, Pepe Oliver was a great teacher. As such, beyond transmitting knowledge, he had a great ability to arouse interest and concern for learning and seeking answers to the unknown and, with his example, he transmitted values ​​and teachings that went much further than mere knowledge of the profession. medical. We were many generations of cardiology residents who venerate him for his professional and human qualities and we consider him a role model.
As a wise man, he did not limit his knowledge to the professional field. Pepe was an erudite man, humanist and committed to society, with whom we enjoyed and learned by talking about subjects as varied as philosophy, art, literature, politics or social problems. He was a man who knew how to appreciate and enjoy the great little things that life offers us and to live with passion.
Pepe was also a great family man. He professed a special affection for his family, he was proud of them and he was an exemplary caregiver for those who needed him most. He admired his children and enjoyed his grandchildren and grandchildren. Needless to say, those feelings were mutual.
In simple words, Pepe Oliver was an extraordinary man who gave the best of himself throughout his life.
We miss you very much Pepe, and we deeply regret that you have not continued with us generously giving us your humanity and your wisdom for many years. But at the same time, Master, we carry you in our hearts forever and your memory and teachings help us to try to live intensely and to be better people every day.
Thank you very much for leaving a deep and indelible mark on us.
Rafael Hairstyle Hairstyle He is Head of the Cardiology Section at the La Paz University Hospital and Professor of Medicine at the Autonomous University of Madrid.
#José #María #Oliver #Ruiz #humanist #extraordinary #cardiologist

Source