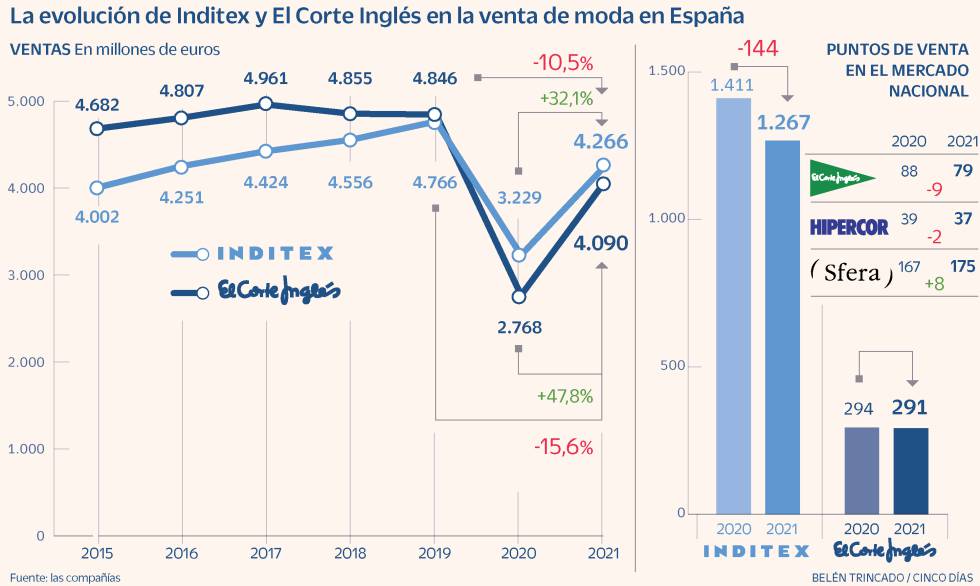 In 2021, Inditex confirmed the trend observed in recent years and, in a market in recovery last year, consolidated its leadership in fashion sales in Spain, ahead of its main rival in the country, El Corte Inglés.
As happened in 2020, although then in a context severely affected by the Covid-19 crisis, the Galician giant surpassed the department store group in the 2021 financial year, with a turnover in its domestic market of 4,266 million. A figure that represents an advantage of 4.3% compared to the 4,090 million that El Corte Inglés announced last Friday in the sale of fashion products. This category is the largest generator of income for the company within its retail activity.
Although the data published by both is not homogeneous, it does allow us to trace a trend in their respective businesses in the domestic market. In the years prior to the pandemic, Inditex had already been closing the gap with El Corte Inglés year after year, until reaching 2019 at a minimum distance.
The incidence of Covid-19 made a dent in both companies, causing Inditex's national income to fall by 32% and El Corte Inglés' fashion sales by 43%. First, due to the forced closure of its shops for almost three months, and then, due to a deep drop in demand in the textile sector, with widespread teleworking and suspended nightlife.
The Galician group was able to withstand the impact better thanks to the direct control it has over its inventory and the operation of the online channel, while the distribution group chaired by Marta Álvarez has its strength in third-party brands, and was forced to prioritize food in online sales during the most critical days of the pandemic.
In the 2021 financial year, the two companies recovered much of the lost ground, although without approaching the pre-Covid figures. Inditex grew 32% in Spain compared to 2020, and its sales of 4,266 million were 10% below those of 2019.
El Corte Inglés, for its part, experienced a strong rebound in fashion sales, with annual growth of almost 48%. Its percentage growth was higher than that of Inditex, but it fell further behind in recovering from 2019 levels, falling 15% below.
The exit from the pandemic leaves Inditex in that leadership, also taking into account various circumstances that mean that the figures communicated by one company and another are not homogeneous.
For example, El Corte Inglés includes in its fashion sales figures what it enters outside of Spain, such as in Portugal, in Mexico with Sfera or in the German stores of Karstad, where it markets its Boomerang sportswear brand. Although most of the income is generated in Spain, there is a non-disaggregated part that originates outside the country, while the Inditex data refer exclusively to national territory.
In parallel, the department store company segments its retail sales into fashion, food, home and household appliances, culture and leisure, intra-group sales and "others". Within fashion, therefore, relevant segments such as accessories, footwear, leather goods or jewelry are also included, in addition to luxury brands, a niche that has no weight in Inditex's offer.
The data of the latter, for its part, includes the Zara Home business, focused on textiles and household items, whose weight in Inditex's turnover in Spain was in recent years below 500 million euros . El Corte Inglés includes this type of item in the "home and electrical appliances" category, which in 2021 generated 1,300 million in sales, but with items that the textile giant chaired by Marta Ortega does not have in its offer.
Gross margin
In a year of recovery in sales after the impact of Covid, both Inditex and El Corte Inglés also registered growth in gross margin, which determines the profitability of the garments they sell. In the case of El Corte Inglés, this reached 38.2% in 2021, three percentage points more than in the previous year, and almost six points more than the average of all its retail activity. In fact, fashion was the category that contributed the most to the recovery of EBITDA. For its part, Inditex's gross margin in 2021 was 57.1%.
Both groups reduce their network of physical stores
cierres. In recent years, both Inditex and, to a lesser extent, El Corte Inglés have undertaken a process of reorganizing their respective commercial networks, which has resulted in the closure of physical stores at a time of growth in the online channel. Thus, the Galician textile company had a total of 1,267 stores at the end of the 2021 financial year, which ended on January 31 of this year, which represented a drop of 144 establishments compared to the same date of the previous year. In the first quarter of the current year, that figure continued to drop, down to 1,254 stores. Inditex has not had such a small network of stores in Spain for more than 20 years. For its part, El Corte Inglés has recently accelerated the closure of those less profitable establishments. As explained in the presentation of the 2021 results, "the company is carrying out a process of reorganizing its commercial footprint, focusing on department stores that offer all categories of products and services." According to the data provided by the company, during the past year, it closed nine department stores and two Hipercor.
#Inditex #consolidates #sorpasso #Corte #Inglés #sale #fashion #Spain

Source