Lighting is one of the most important aspects that you must take into account in your home, both when it comes to making the most of natural light and putting artificial lighting points in the right places so that there is no lack of light anywhere in the room. that you need it Today we show you one LED lamp with charger from Ikea that you will love, one of those products that are really innovative and that tomorrow everyone will have at home, so don't hesitate and be one of the first to have it… you won't regret it!
Ikea has in its lighting section a wide variety of lamps, spotlights and various light sources that will provide you with the necessary lighting in any corner of your home, however large or small, and also with a very careful aesthetic so that decorative level also have much to contribute.
The Ikea LED lamp with charger that you need in your home
It's about the BETTORP LED lamp with charger, a novel lamp that is sweeping sales thanks to its innovation, it is clear that it is one of those elements that really changes the use we give to certain objects and makes our lives easier. The price of this lamp is currently €79, a worthwhile investment since its features are a real hoot.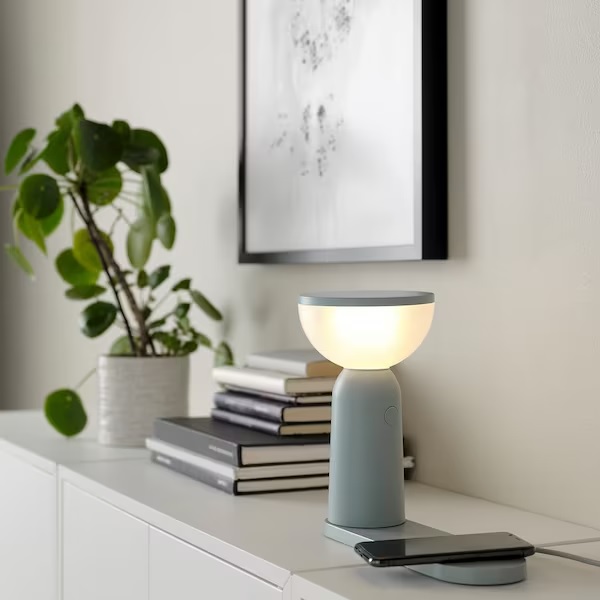 This LED lamp with charger from Ikea stands out mainly with having a wireless charging base that will come in handy anywhere. It also offers the possibility of regulating the light intensity at any time in order to provide you with the desired atmosphere in each corner of your home where you want to place it.
The base allows you to charge comfortably and wirelessly, not only the lamp, but also your mobile phone and Qi-compatible devices. Its modern and attractive design fits perfectly into any decorative environment and in any room. It has a luminous flux of 150 lm, with a color temperature of 2700 K. As for its measurements, it is 23 cm high, 8 cm wide and has a diameter of 13 cm.
Made with at least 20% recycled ABS plastic, it is important that you unplug it before cleaning it to avoid accidents, and that you clean it with a cloth dampened in water and a mild soap and then dry with a dry cloth. If you are looking for an original and multifunctional lighting point, without a doubt this Ikea LED lamp with charger is going to revolutionize your home.