Utensils are essential in the kitchen, very useful to perform different tasks and with which you will undoubtedly be able to do them more comfortably than if you did not have them, so it is very important to have them well organized and tidy. Today we show you a super invention of Ikea It's perfect for keeping kitchen utensils under control and organized and it's going to become essential for you… and it's extremely cheap!
Ikea offers an infinite number of products suitable for maintaining order in any room in your home, and especially for the kitchen it has a wide range of accessories that are of great help to keep everything neater and more organized, as well as making the most of the different spaces available.
The Ikea kitchen rack that you will love
Its about PÅLYCKE coat rack, an accessory that is a super invention specifically designed so that you can hang kitchen utensils and always have them at hand and organized. The price of this wonder is only €2.99, so it will be easy for you to buy several and thus ensure that all your utensils are organized.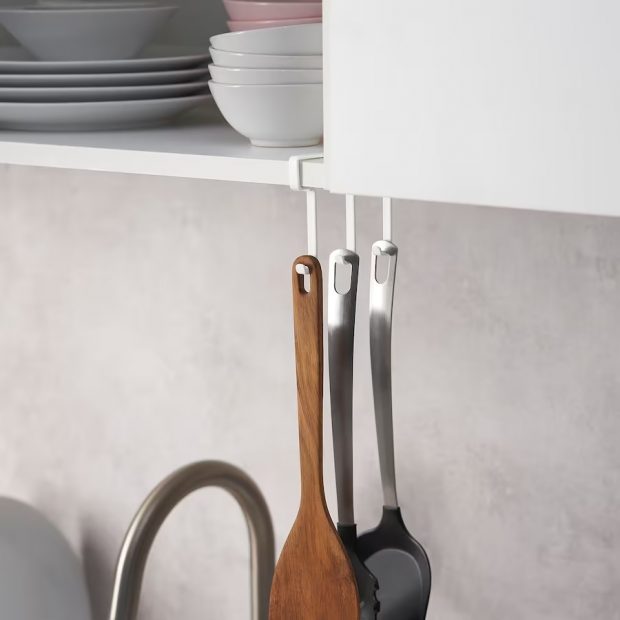 this fantastic kitchen rack from ikea It is easily attached to any shelf on the inside, leaving the hanging part on the outside, so nothing you hang will take up space inside the closet or shelf. It is perfect for both hanging utensils and kitchen towels, among others.
It is important to note that its installation is so simple that no need to drill any holesso you can easily remove it and put it on whenever you need it. Its mounting clip is flexiblewhich makes it fit in the vast majority of shelves that may be on the market, especially in all the furniture or cabinets in the Swedish store.
Designed by Willy Chong, this Ikea kitchen coat rack is only recommended for interior spaces and supports up to 1.5 kg of weight, ideal for shelves with a thickness of 16-20 mm. Its measurements are 12 cm in length, 7 cm in height and 1 cm in width.
Regarding the materials used for its manufacture, the structure is of powder coated steel, while the protector is made of EVA plastic. To always keep it in the best cleaning conditions, it will be enough to wipe it with a damp cloth in a mild detergent, and then dry it with a dry cloth.