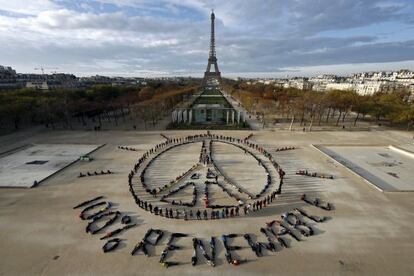 Reducing carbon emissions, decarbonizing, is one of the great challenges that the human species faces, not so much to save the planet, but to save itself. The last World Climate Summit (COP26), held in Glasgow, gave us the last warning: efforts to reduce greenhouse gas emissions and curb Climate Change are not enough, and time is running out. The task is Herculean and affects practically every facet of our life: how we move, how we eat, how we consume, etc. We are facing a change in all orders, not only economic, but also vital and cultural. The system must be changed.
But if you have to change the system, you also have to change the energy that powers the system. One of the most pressing challenges is the increase in the percentage of use of renewable energies compared to old fossil fuels. What will the energy of that future that already have to come be like? "It will be clean, cheaper, and we are debating whether it will be more or less cooperative," says Jorge Morales, director of Próxima Energía, "it remains to be seen whether it will continue to be in the hands of a few or all of us will be co-owners." It is a matter of vital importance, especially considering the economic drama that we have suffered in recent months when we saw how the electricity bill went up without finding a ceiling. For Morales it is important that the regulation is favorable to cooperativism, and there is also a need for a cultural change: in southern European countries, such as Spain, associating and collaborating with others is not as natural as in the countries of Europe. north Europe.
In addition, renewable energy is being produced in large plants that gobble up small towns that, understandably, oppose protest and resistance. These large plants make the decarbonization process faster than putting a photovoltaic panel on each roof (and we have to be fast), but it creates these kinds of social problems. It is a difficult balance. On the economic front, the generation of renewables is becoming less expensive. "What is necessary is that this reduction in costs is reflected in the invoice of consumers, which does not always happen," says Morales, "It is the responsibility of the regulator to make this happen: there is not enough competition."
The good news is that it is becoming more and more feasible to be energetically autonomous, not paying for electricity, not paying for gas for heating, not paying for car gasoline. The increasingly developed photovoltaic panels and batteries, once the so-called sun, aerothermal or geothermal tax has been buried, are an important investment, but one that can be recovered more and more quickly, especially with the help of government subsidies. "Years ago it was unfeasible," says Morales, "today it can be an investment of 50,000 euros, but that saves 5,000 a year, it pays for itself in a reasonable time." Touching the pocket of the citizenry may be a better argument for energy sustainability than environmentalism.
Not only the cut of emissions contributes to the decarbonisation. Also biofuels, electrification, the capture of C02 or green hydrogen. The latter is studied by María Retuerto, a researcher at the CSIC's Institute of Catalysis and Petroleochemistry: "Hydrogen is not a source of energy, but a vector. In hydrogen you can store the surplus renewable energy and then use it as fuel ", explains the scientist. What is "green" means that it is produced without emissions, compared to other hydrogens (gray, brown, blue) that are produced in an unsustainable way and that are responsible for 2% of global C02 emissions.
"It is not only important to generate clean energy, but to know how to store it," adds Retuerto. Green hydrogen has applications in many sectors: steel, fertilizers, chemicals, transport, etc. Producing green hydrogen can be done through processes that separate hydrogen from oxygen in water and involve light, heat or electricity (the one Retuerto investigates). The way to the future is to increase efficiency and reduce the cost of the materials used, which are critical materials. "The development of green hydrogen has to be a short-term bet," says Retuerto, "they have already begun to receive European funds for this type of research and they can be of great help."
The economy of the future will be circular or it will not be. The circular economy is one that does not see waste as garbage to get rid of but as new raw materials to use. A virtuous circle where everything is used. It is what they practice from the Gravity Wave initiative that tries to clean the Mediterranean Sea of ​​plastic waste. "We work with traditional fishermen (the Enaleia network), so that they not only catch fish: we pay them for every kilo of plastic they bring us," explains Amaia Rodríguez Sola, CEO and co-founder of Gravity Wave. In the seas they find plastics, but also washing machines, tractor wheels, shipwrecks, printers, etc. Where others see trash they see opportunity. The challenge is imagination: think about what they can build to give new life to these objects in the form of furniture, accessories, decorative elements, etc. They have already removed almost 10,000 kilos of plastic from the waves.
Each year 260 million tons of plastics reach the sea, according to the consulting firm McKinsey & Company, only 9% are recycled. Much of the rest end up eroding to become microplastics that enter the fish and reach our body, with consequences yet to be fully understood. "The seas are the great forgotten, in COP26 they have hardly been mentioned, they are not being protected, we do not see solutions around us to end plastic in the sea", concludes Rodríguez Sola, "we need real data on the damage of plastic and prevent plastic from entering. Companies should not only think about reducing their emissions but about reusing their waste: this is essential for decarbonisation ".
You can follow EL PAÍS TECNOLOGÍA at Facebook and Twitter or sign up here to receive our newsletter semanal.