Ian is already a category 2 hurricane. The United States National Hurricane Center (NHC) has issued this Monday at 5:00 p.m., from eastern North America, that the storm reaches winds of up to 155 kilometers per hour on its way to Cuba, the Mexican Caribbean and Florida. "Ian continues to intensify rapidly," the agency said, a few hours after announcing that it had already become a hurricane. "Conditions in western Cuba will deteriorate this afternoon and tonight with significant wind and storm surge impacts expected," he said in his alert.
Hurricane Ian is heading towards the western part of the island. This same Monday its effects will be noticed. The trajectory predicted by the National Hurricane Center indicates that Ian will make landfall at 2 a.m. this Tuesday. It will continue its course towards northwestern Florida, which will hit hard mainly between Thursday and Friday. The tropical phenomenon is expected to dump heavy rain on Florida, Georgia, Alabama and South Carolina on Friday and Saturday, although the trajectory is always more uncertain after three or four days.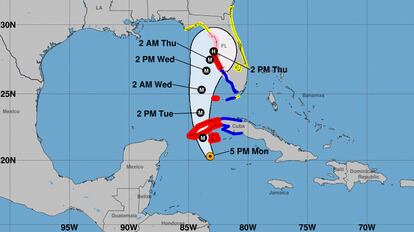 The forecast track of Hurricane Ian as of 5 PM Monday local time.NHC
Analysis of satellite images and data from a reconnaissance plane have officially made Ian the fourth hurricane of the season. Currently, the eye of the hurricane is in the vicinity of Grand Cayman Island, and it is expected to continue moving north in the coming hours. The hurricane is moving at a speed of about 13 miles per hour (20 kilometers per hour), with sustained winds reaching 100 miles per hour (155 kilometers per hour).
Ian will make landfall in western Cuba, where its rains could produce flash floods and mudslides, the NHC has warned. The agency has stated that "there is a danger of life-threatening flooding, due to increased water moving inland from the coastline", "destructive winds" are also expected. The forecast is for the hurricane to strengthen rapidly tomorrow, so it will continue at an intense magnitude when it reaches the southeastern Gulf of Mexico on Wednesday. It is expected to arrive off the coast of Florida between Wednesday and Thursday.
The president of the United States, Joe Biden, has issued an emergency declaration this Saturday that affects numerous counties in Florida. With it, he authorizes the Department of Homeland Security and the Federal Emergency Management Agency (FEMA) to coordinate all disaster relief efforts and provide appropriate assistance. Numerous Florida colleges and universities have suspended classes in anticipation of the arrival of the tropical cyclone. Biden has postponed a trip to Florida that he had planned for this Tuesday because of the storm.
Join EL PAÍS to follow all the news and read without limits.
subscribe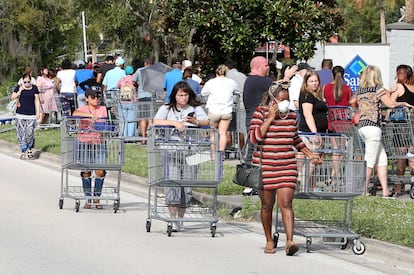 Queues at a supermarket in Kissimmee, Florida, on September 25, 2022, before the arrival of tropical cyclone 'Ian'. GREGG NEWTON (AFP)
Florida Governor Ron De Santis has also declared an emergency situation throughout the state. "There is a continuing risk of dangerous storm surge, heavy rain, flash flooding, high winds, dangerous seas, and isolated tornado activity," he noted in his statement. "Due to the above conditions, which are anticipated to constitute a major disaster, I hereby declare that a state of emergency exists in the State of Florida," he added.
"We are coordinating with all state and local government partners to track the potential impacts of this storm," De Santis said in a statement. The Florida Division of Emergency Management (FDEM) is mobilizing food and water trucks, generators and water pumps, identifying potential logistics storage areas to ensure food and water are available if requested by counties, has put on alert to rescue teams and has mobilized 2,500 Florida National Guard troops, according to an update released Sunday.
The authorities have asked the population to prepare themselves with supplies and water for at least a week. This weekend long queues have been seen in some supermarkets and hypermarkets in the State by people who went to buy food to prepare for the arrival of the tropical cyclone.
Follow all the international information on Facebook and Twitteror in our weekly newsletter.