Today and for many years, glass and crystal form an essential part of our surroundings. We are surrounded by construction elements, decorations, containers, etc., made from these materials, but what is the process of formation of glass and crystal?
Elements used in the manufacture of glass
We have all heard that glass is made from sand, this is because in the sand there is an element known as silica, which is the basis for glass production.
Glass is not made solely from silica, but also contains other substances such as sodium carbonate and limestone. In other words, the glass is made from soda quartz sand and lime.
Silica is also used as a base for glass making, but the difference is that for glass lead is also added to the mix.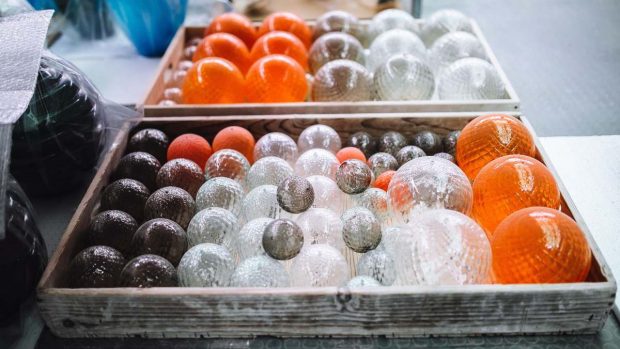 glass formation
The mixture of these three elements (sand, soda and lime) is placed in ovens and melted at a temperature between 1400ºC and 1600ºC.
At the end of melting, the mixture is removed from the ovens and as a result a vitreous paste used to create all glass objects that can occur to us through various techniques to shape them.
How is glass shaped?
There are many methods used since ancient times and that are still used today in some factories, but the most used today are:
rolling forming: the vitreous paste is passed through a system of rolling rollers that cut and flatten to produce glass panels. This technique is used for the manufacture of safety glass.
Automatic blow forming: the molten glass enters a mold with the shape we want the glass to obtain, a glass, a bottle, etc. When the mass is inside the mold, it is closed and compressed air is injected so that the molten glass adapts to the shape of its walls. When the material cools, the final object is extracted.
Formation by flotation on a tin bath: As the name suggests, this process begins by pouring molten glass into a tank of liquid tin. Glass is less dense than tin, so it floats on it creating a sheet. This sheet is pushed by a system of rollers into an annealing furnace, where it cools. When cool, the slices are cut. This system is used to manufacture car windows, windows, etc.
There are more less used methods and more ingredients of other variants of glass, but these are the main and most used.
Did you know any of these processes? Share this text with your contacts so that they also know about these curious processes.