Some homemade potatoes with cod and artichokes are a direct invitation to be part of a tradition that does not need to be part of a particular place in Spain or Europe, but that feels very close and familiar. It is above all because of the cod, that flavor that seems to be the result of endless preparations, generation after generation; but it is also the taste and texture of artichokes and potatoes, which have also played an important role in the kitchens of our mothers and grandmothers.
These homemade potatoes with cod and artichoke will take you a good hour and a half to prepare, perhaps a little more, time that we can dedicate to the memory of all those stews and family meals. On the other hand, if you don't know how to clean and cook artichokes, you can always buy them canned, although there are YouTube tutorials on the internet that show you how to do it.
Ingredients:
400 grams of desalted or fresh cod 6 artichokes 1 red pepper 3 cloves of garlic 1 onion 1 tomato 3 potatoes ½ liter of fish broth 120 ml of white wine Olive oil 2 tablespoons of lemon juice Salt Pepper Sweet paprika powder Parsley
How to prepare homemade potatoes with cod and artichokes:
chop into brunoise bell pepper, garlic and onionremoving the seeds from the pepper. Grate the tomato Heat a large saucepan with a lid. when it's hot add a splash of olive oil. Put the onion and garlic with a pinch of salt and wait for it to be transparent.
Aadd the pepper with another point of saltleave for about 8 minutes and add the grated tomato. Cover and lower the flame to let it poach slowlyfor about 30 minutes.
Peel the artichokes and potatoesand put them to soak in a container with water, juice of lemon and parsley.
Clean the cod of possible bones and scales and, if it is fresh, cook it a little in a pan, without oil, round and round.
After half an hour, add the potatoes and sauté a littlethen add the cod, stir and add the wine. Once the alcohol evaporates pour the fish broth until it covers the preparation.
When the broth boils, lower the flame, cover and cook over low heat. until the potatoes are ready. Add the artichokes cut in half or in quarters. Season and add sweet paprika to taste. Cook for 5 minutes.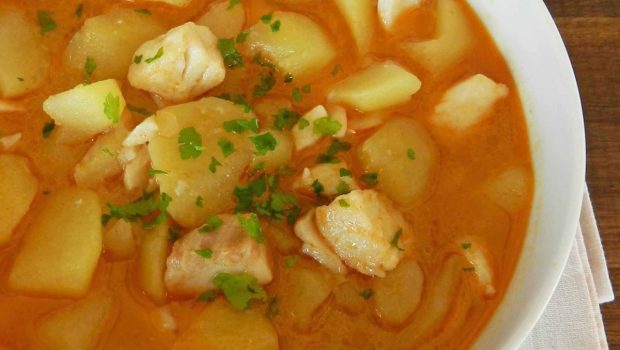 let rest a bit and serve with chopped parsley on top.
Prepare these delicious homemade potatoes with cod and artichokes, and invite your loved ones to share the table. Accompany this dish with a good village bread to soak in the sauce.
#Homemade #potatoes #cod #artichokes

Source