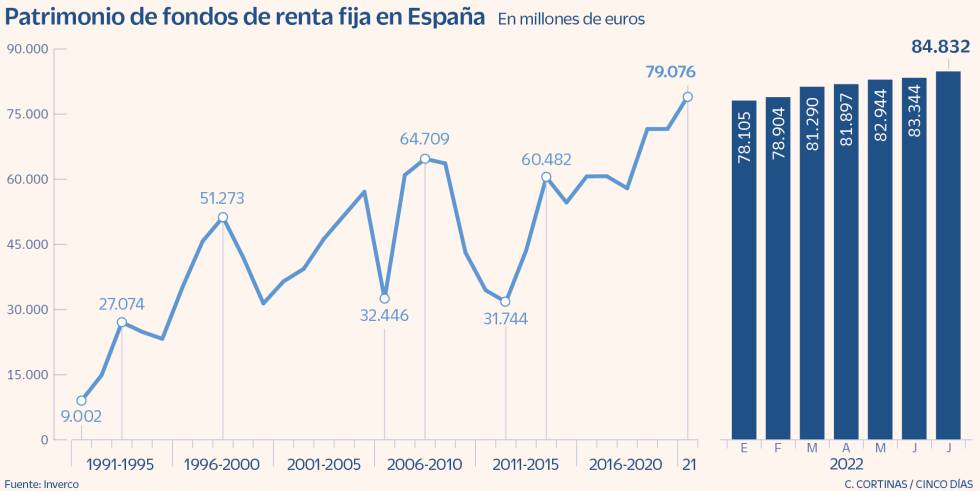 There has never been so much money accumulated in conservative investment funds in Spain as there is now. At the end of July there were 84.3 billion euros in short-term fixed income funds, long-term fixed income funds, and international funds that invest in bonds, according to Inverco data. In the first seven months of the year, 8,640 million euros entered this category of financial products, making it the family of funds that has grown the most by far.
This pull of the most conservative collective investment instruments occurs, curiously, at a time when bonds have been greatly devalued, causing losses to the owners of fixed income funds. Between January and July, the losses were -3.3%. And August will not be a good month either. Taking into account only that of long-term fixed income funds, losses exceed 6%.
The explanation for these falls is in inflation and increases in interest rates. At the end of 2022, prices began to spiral out of control around the world. To try to curb them, central bankers have been raising interest rates. That has caused the price of the bonds to be devalued.
No other category of investment funds (neither of mixed fixed income, nor those of the national stock market, nor those of international variable income…) is at historic maximum assets. Money is coming into the international stock market (especially in equities from the United States), but the corrections in the markets mean that the accumulated wealth is not at its maximum.
For the coming months, the outlook for fixed income is not positive either. Central banks continue to try to anchor inflation expectations and until they succeed, it is likely that the price of public debt and corporate debt will continue to fall.
Eight of the 10 most traded investment funds in Spain so far this year are fixed income. Like the CaixaBank Public Debt Spain Italy 2025; the CaixaBank Master Fixed Income Public Debt 1-3 Advised By; the BBVA Savings Portfolio or the Santander Yield Portfolio.
With the prospect of a difficult autumn and winter in Europe, clients and their advisers are turning to conservative mutual funds. It is a way of getting away from investing in the stock market and trying to get a few tenths of a return to combat rampant price inflation.
#Historical #maximum #conservative #funds

Source