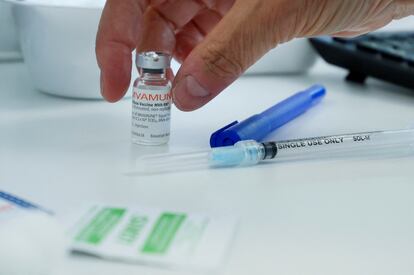 A health worker prepares to administer the monkeypox vaccine to a patient in Montreal, Canada.CHRISTINNE MUSCHI (REUTERS)
The Public Health Commission has approved this Thursday the vaccination protocol against monkeypox to deal with the outbreak of this disease, which already affects more than 300 people in Spain. Given the lack of availability of doses, of which Spain only has 200, the priority will be those immunosuppressed people who have had close contact with a positive case. According to the proposal of the experts of the Conference on Vaccines, the vaccine will also be offered to health personnel who have been exposed to a patient or handled laboratory samples without personal protective equipment (PPE).
At the request of the Community of Madrid, all those people who "have had a risk contact with a positive case in the previous four days" have also been included as a priority, according to health sources. This possibility is highly conditioned by the few doses available and must be decided by public health technicians. The Community of Madrid, which has nine out of 10 cases registered in Spain, calculates that it is necessary to vaccinate between two and four contacts per positive case.
The objective of the Commission is to extend the measure to all close contacts when Spain has more vaccines, for which it expects the European Commission to carry out the centralized purchase of Inmavex doses from the Bavarian Nordic pharmaceutical company. This serum is approved by the European Medicines Agency (EMA) for traditional smallpox, although it is also used off-label for monkeypox, as it has been shown to be effective. The United States does have the drug authorized for both types of smallpox.
The Commission has not yet specified how the distribution of vaccines between the communities will be carried out, something that Madrid has urged. The same goes for the small number of available treatments of the antiviral Tecovirimat.
The Inmavex vaccine, whose efficacy is estimated to be close to 85% (although this percentage is calculated on the basis of old studies), prevents a person exposed to the virus from developing the disease if it is administered in the first four days. After this period of time, and up to 13 days, the appearance of symptoms is not avoided, but they are milder. Incubation of the monkeypox virus lasts between six and 21 days.
The Commission does not recommend, for now, vaccination for people who have not been exposed to the virus, although according to Health "it could be recommended later depending on the evolution of the outbreak and the availability of vaccines."
The Ministry of Health has reported nine positive cases this Thursday, up to 242, according to tests carried out at the National Center for Microbiology. These data, however, suffer from some delay. Madrid has announced today that those diagnosed in the region are already 275, according to the tests carried out in its hospitals, while the rest of the communities have confirmed a further quarantine of positives.
#Health #communities #approve #vaccinating #risk #contact #case #monkeypox #previous #days

Source