Controversial chemsex guides endorsed by the Ministry of Health They include surprising tips for coping with long sessions of sex and drugs, such as planning your practice well so you can "recover" before the start of the "work week."
This is reflected in one of the manuals that Health makes available to citizens through its own website. The easily accessible guide in question is titled Chemsex: Everything You Wanted to Know (But Didn't Know Who to Ask). Contrary to others, financed directly by the Ministry, this one has not been paid for with public money, but it is easily accessible on the website of this department, under the specific heading of "guides".
The manual includes "harm reduction strategies" and that is where it is recommended to "schedule a session at the beginning of the weekend to have enough recovery time before the work week starts."
"Alternate Substances" "agree on a maximum dose per occasion" or "pay attention when eating", are other tips.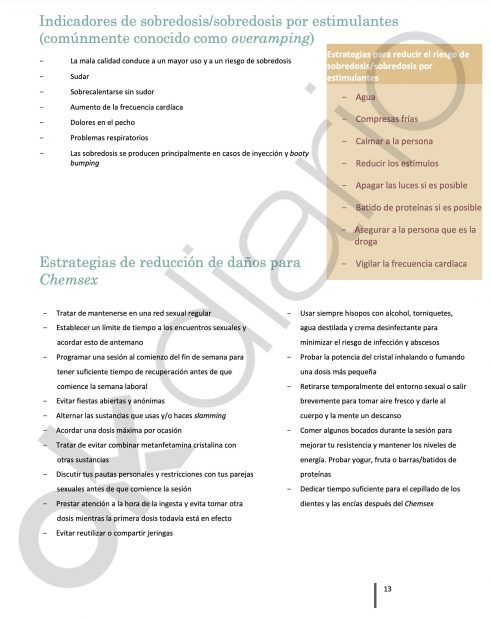 The Ministry of Health defines chemsex as "a particular type of sexualized consumption of substances, linked to gay sexual culture" and that "is especially characterized by the consumption of drugs for sexual purposes, giving rise to long sessions of sex, which they can go on for hours, or even several days. The practice has received more public attention in recent weeks as it has been linked to cases of monkey pox registered in Spain.
With absolute naturalness, Health offers different manuals -some financed by the Ministry itself, as revealed by OKDIARIO- with advice for practicing sex with drugs.
«Kit»
In the latter, the administration of substances is even facilitated, planning in detail the "kit" necessary to inject or inhale the drug, with all the necessary supplies to enjoy the practice.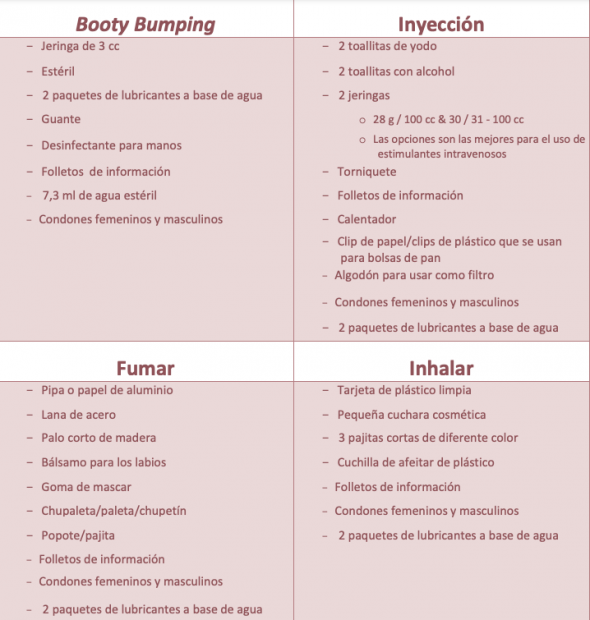 Likewise, the effects of the drug consumed and the time it will take for each substance to take effect are reported, with the injection being the "most intense". "Crystal methamphetamine does not need to be dissolved in acid; It dissolves easily in water, ketamine comes in liquid forms and can be injected intramuscularly, "is collected in the guide.
The "benefits of use" of these drugs are also collected. Methamphetamine, for example, is used to "increase energy and have sex longer"; MDMA allows you to "experience extra pleasure, be freer and have an adventurous spirit" and "amplifies feelings of love"; mephedrone, "allows you to temporarily feel like nothing is going to go wrong."
risks
The report also warns of the risks associated with the practice of chemsex, such as "risky sexual behavior", the increase in transmitted diseases, "psychosis" or dependence. But also "socioeconomic risk" or "job loss".
To minimize these risks, it is advised, for example, to "test the potency of the crystal by inhaling or smoking a smaller dose", "temporarily withdraw from the sexual environment or briefly go out for fresh air and give the body and mind a break" or " eat a few bites during the session to improve endurance and maintain energy levels." Regarding the latter, it is recommended to "try yogurt, fruit or protein bars/shakes", in addition to "devoting enough time to brushing your teeth and gums".
Health finances several brochures with characteristics of each drug. For example, the manual Smoked Methamphetamine: Be informed and reduce risks! recommends "start with a test dose to assess its effect and decide on the rhythm of use that you are going to have in the session».
#Health #advises #planning #sex #drug #sessions #recover #work #week

Source