This is an urbanization of large houses, with their brown bricks, their gardens and swimming pools. But unlike the rest of the houses, the number 10 of the street does not welcome a family. A basketball rests at the entrance, where there is a barbecue ready to act as soon as this suffocating heat subsides. After half past ten in the morning, everyone is on the move. Each one has chosen when he took a shower, at what time he ate breakfast and what he ate. Nothing special, it might seem. The reality is that it is for these eight tenants, people with autism who have great support needs, most of them with behavioral disorders. A group unfortunately accustomed to being decided for them. Three of the eight come from residences, there were shared rooms, rigid schedules, pre-established menus and activities, and many more people. Now they live as roommates, always with support staff.
From the street, on the other side of the fence, you can hear. "Where are we going? To home. Where are we going? To home". With the same intonation, almost musical, Mario Monsálvez repeats this phrase over and over again from the garden. When visitors enter the plot, the 27-year-old greets and quickly enters the house. A stone path leads to the door. Inside, the lowered blinds in the living room protect from the sun. Yago Arnesto, 41, is the veteran. He prefers to be here, she ditches as he shrugs. A little over a year ago he lived in a residence. In April 2021 he made the opposite path to the one that so many people walk: from a center he went to this house, which is now his. He answers with short phrases, and in this way he slips the keys to his new life. "Now I am going to do the shopping", he explains, "I choose my food", "I buy myself Neapolitan ham and cheese". He loves to eat them for breakfast. In this way he also says, without saying so, that if before he ate a menu designed for a hundred people, now it is they, together with the workers, who prepare the food.
Yago Arnesto, resting in his bed, at his home in San Sebastián de los Reyes, part of the 'Mi casa' project. DAVID EXPOSITO
In Spain there are some 32,000 people with intellectual and developmental disabilities who live in residences, according to an estimate by the Plena Inclusion federation, which brings together 950 entities of family members and members of this group throughout the country. An estimate is used because there is no official figure. In 2017, after carrying out a study, they verified the few possibilities of social inclusion of those who most need support and the high tendency to live in centers, "often far from the community, without making their own decisions", explains Sofía Reyes, responsible for the Mi casa project. Yago and Mario's home, in a wealthy area of ​​San Sebastián de los Reyes, in Madrid, is part of this initiative, one of the 20 deinstitutionalization pilot projects that the Ministry of Social Rights finances with European funds to test new ways of long-term care. That services are promoted in the home environment, that independent living be promoted.
In the house, managed by Apadis, a member of Full Inclusion, Pablo Posada is sitting in the living room. He wears a t-shirt with small hamburgers and is 37 years old. A colleague sits on the floor, in a corner, and covers his head with his shirt. Pablo hits Cristina Barroso, the occupational therapist, who is standing next to him, several times with the palm of his hand. She responds with kisses on the forehead. "It's good, it's his way of communicating," she explains. For his work to bear fruit, the interaction "has to be direct", not in the typical room that is in the centers, he adds. "If I want a guy to dress himself, I'll have to step in at that point," he says. So he's usually there in the mornings, along with two other professionals. There are another three in the afternoon and another two at night.
Cristina Barroso, occupational therapist, speaks with Pablo Posada, in the living room of the house. DAVID EXPOSITO
The project transcends the building itself, with individual rooms (Yago shares, but soon, when a partner leaves and they become seven, each one will have their own room). It is because of the way of working, of adapting to what they really want.
Here practically everyone has behavior alterations, which are due to adaptive difficulties and to communicate. Progress is high, says the person in charge of the project at the national level, Sofía Reyes: "We are seeing how people who arrived with big problems are reducing them. There was a very important budget item in breakages, which has decreased a lot. The medication has also gone down, and they have improved their quality of life, their emotional and physical well-being, their development and interpersonal relationships."
In addition to Yago, Raúl Pérez, 19, also lived in a residence. Pablo did it on weekends. The rest came directly from his houses. Rafael Ballester, 39, has recreated his room, as in his family home. With his blue chair, his stuffed animals, photos on the walls and a rug on the floor. His closet has no doors, nor does the furniture in the living room, and the one in the bathroom is broken. Again, this is not your typical neighborhood house. A net protects the stairwell, and the somewhat swollen wood of the corridor reminds us that the showers that the residents take independently more than once end in a small flood. But, although things have to be adapted here and there, the project is flowing more and more, according to those responsible. Nothing to do with the beginnings.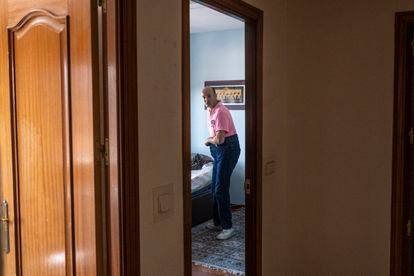 Rafael Ballester adjusts his pants, in his room, in San Sebastián de los Reyes. DAVID EXPOSITO
Miguel Ángel Jiménez, CEO of Apadis, remembers the landing. He had a hard time finding a house. Either they didn't have enough rooms or the owners simply refused to rent it to them. Until they found this one, for 2,800 euros per month. The entity's headquarters is just one and a half kilometers away, in case there is an emergency. They arrived in January 2020 and shortly after the pandemic broke out. "The beginning was tough. Now we are not heard, at first yes, "he says. "They have very repetitive behaviors and sounds. It is better understood that the neighbor has a barbecue until two in the morning than that I go out at five in the afternoon and make sounds. But it is everyone's job to be more inclusive." Cristina, the occupational therapist, seconded him. "We came here two months before the covid and suddenly they couldn't go out on the street, and on top of that the neighbors complained. Rafa was used to going out every weekend with his family and having a hamburger. How do you explain to him that he can't? The confinement was a long adaptation."
At first the house went ahead thanks to the push of the families, who paid the cost privately. Now all squares have a concert with the Community of Madrid. Families can visit whenever they want. The person in charge of the project at the national level insists that they wanted to give "an opportunity to the most invisible, give all the support they need so that they can have a chosen life." And, in addition, achieve more inclusive communities and neighborhoods. Despite the funding from the ministry (about 25 million euros in total) and the pilot project as such starting this year, its program started earlier, in 2018. Then a cultural change began in entities that are part of Full Inclusion.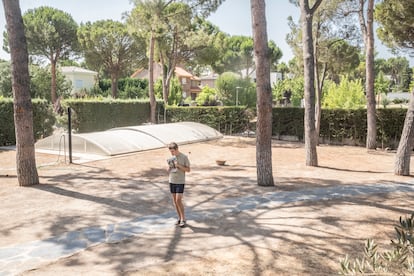 One of the tenants of the house in San Sebastián de los Reyes, Alfonso Abelarra, walks through the garden. DAVID EXPOSITO
Currently, there are 15 houses like this in six autonomous communities. The idea is that within two years they will have 66 homes up and running, in seven autonomous communities, and to systematize the collection of data to provide evidence of operation, to carry out a study on the residents, on life in the neighbourhoods. "We are going to accompany 284 people to move from residences to community life, and 291 people with great support needs who go to a day center," continues Sofía Reyes.
Iago lists the activities for each day. "Monday, buy; Tuesday, horses; Wednesday I go home by subway; On Thursday I go with Inma for a walk and on Friday I go mailing". On Thursdays he goes for a walk because he doesn't like going to the pool, so while the rest take a dip, he comes up with an alternative. "We look for activities so that they can participate. As much as possible, here we cook together, and some set the table, others serve pitchers of water… Maybe Pablo can't beat an egg, but he can pour the milk into a bowl," says Laura Garrido, responsible for this house. She explains that they need an adjustment period. They had very complex months, with more moments of shouting than silence. But that was a long time ago. Now, Fito and Fitipaldis plays in the living room. Cristina, the occupational therapist, wakes Raúl up on the couch. "Upstairs," she tells him, as she dances. They must decide what to do. Maybe they'll go for the aperitif. The plan just depends on what you feel like.
50% off
Subscribe to continue reading
read without limits
#autism #independent #life #choose #food #buy #Neapolitan #ham #cheese

Source