"I want to store forever everything I have seen, heard or done." This is how computer scientist Gordon Bell summed up his project to CBS in 2005. He was 71 years old and, after a long career as a computer engineer, was leading a research group in Microsoft's experimental laboratory. He set out to show that you could digitize a lifetime when video stores still existed and the Blackberry was the latest in mobile. Having a kind of backup of our experience, he argued, would help us develop as fuller people. He played the guinea pig himself in the experiment MyLifeBits, active between 1998 and 2009.
"My computer is my main memory; My biological memory is only metadata of the real memory ", he tells EL PAÍS by phone at the age of 87 from his home in San Francisco. For more than a decade he dedicated himself to recording practically everything possible. At first, the purpose was to digitize all of Bell's personal documents: correspondence, notes, invoices, articles and books written and read, movies seen, CDs listened to, photos, posters, paintings … He hired a team that helped them digitize everything . The 21st century was approaching and Microsoft wanted to lead the paperless world that was already beginning to be seen.
The project did not stop there. After processing all the documents that were part of Bell's past, his team decided to turn to the present. They developed a program that recorded and saved everything he did on the computer (visited websites, emails read and sent, used programs …). They made a small, portable camera the size of a cigarette case that Bell always wore as a necklace and took pictures every 30 seconds. Baptized as SenseCam, Microsoft ended up marketing it and it is said that it is capable of delay the effects of Alzheimer's. Along with the SenseCam, a recorder to capture all your conversations. And on your wrist, various devices to capture your pulse, your body heat, relative humidity or your location (GPS).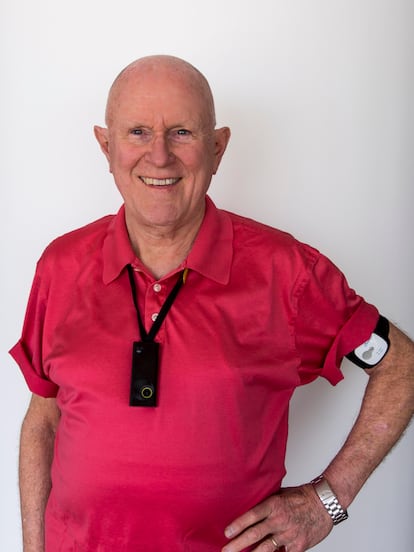 Bell doesn't carry all that gear anymore. Today you just need your Apple Watch and your mobile. "Every week I check the evolution of my heart rate to see if I have to scare myself or not," he says with a laugh. Speak slowly, but without hesitation. His pleasant voice lives up to his reputation as an affable man. He has not lost the lucidity that made him an eminence in computing. Colleague of the late Marvin Minsky, one of the fathers of artificial intelligence, or Bill Gates, who prologues his book Total Recall (2009), in which he recounts his MyLifeBits experiment, Bell still lectures on supercomputing at some universities. Every year the Association for Computing Machinery (ACM) gives an award named after the scientist for the most important contribution of the course in that discipline.
"When we started there weren't even smartphones. Today, everyone has the possibility, if they want to, to store a lot of information about their life. So we had to figure out how to collect data; today they are so abundant that the task is rather to choose which ones you want to analyze ". Bell and his collaborators, Jim Gemmell and Roger Lueder, looked forward two decades to what was to come. Today almost everything we do leaves a digital trail that we can store. The first years of this century were those of the transition from the era of paper to that of cyberspace. The internet was still booting up, smartphones didn't exist, no one knew what a wearable (wearable technology) and people were buying digital cameras or mp3 players.
The MyLifeBits project ended in 2009 without a translation into any specific product. Still, some of the computer program that Bell and his colleagues developed to process the information in his life was incorporated into various Microsoft programs and their cloud search tools. It was demonstrated, yes, that it was feasible to collect large amounts of data from people. Although Bell always conceived that task from a strictly private point of view. "It seems that a lot of the work that we did now is covered by social networks. People do not realize the enormity of giving such relevant data about your life to others. I think that's a disaster, "he says.
The dream of eternal memory
Engineer Vannevar Bush went down in history as one of the directors of the Manhattan Program, which gave the first atomic bomb to the United States. In the computer world, Bush is also known for his article As We May Think, from 1945, in which he ventured the creation of a device, the Memex, capable of finding information stored in a database at high speed. For that, the data had to be stored in an interconnected way. His ideas influenced the creation half a century after hypertext.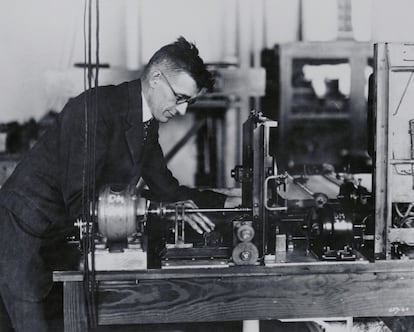 Bush also believed that the development of Memex, a contraction of memory index (memory index), it would change our way of thinking. By being able to draw on knowledge so easily, we could dedicate the mind to more creative tasks. Gordon Bell is a huge Bush fan. "My experiment changed the way I relate to the information that comes to me. I felt the urge to register it and then I would not worry about it, knowing that I could retrieve it at any time ", says the engineer. "In that sense, recording everything is very liberating."
Bell is losing his sight. You have advanced macular degeneration. It has a program that reads the documents to you. "Thanks to the fact that I took the trouble to digitize my whole life, my loss of vision does not prevent me from reading any file or document of all those who have passed through my hands. Whoever has the slightest indication that their vision is going to worsen, as it has happened to me, should start digitizing everything now ".
What will become of the archive of his life when he is gone? He has it more than decided. He has donated a large part of his documents to Computer Histoy Museum of Boston, an institution that he founded. Until then, he plans to continue using his large digital archive as much as he can. Memories make our life richer. And I can access them without problem ".
You can follow EL PAÍS TECNOLOGÍA at Facebook and Twitter or sign up here to receive our newsletter semanal.
Sign in to continue reading
Just by having an account you can read this article, it's free
Thanks for reading EL PAÍS