The GARCÍA CARRIÓN group, the largest winery in Europe, fourth in the world and leader in the juice sector, has chosen Endesa and its subsidiary Endesa X to support them in the decarbonization process in which this Spanish business group with more than 130 years of history behind them.
The commitment of the GARCÍA CARRIÓN family is to bet on a sustainable production model, offering the best products to consumers using the best raw material from its own plantations and long-term agreements with more than 40,000 local farmers. For GARCÍA CARRIÓN and its DON SIMÓN brand, the use of renewable energies and the fight against climate change are fundamental pillars within its 360º Sustainability Strategy.
This strategy has recently been awarded by the Community #PorElClima, as a benchmark in innovation and for the use of the latest technology to reduce and neutralize its carbon footprint throughout the entire value chain. With this objective and thanks to the trust placed in Endesa after 20 years of commercial relationship, they have signed an important agreement on 2 fronts:
Long-term supply contract
The instability of the energy markets that we are experiencing in recent months has caused many large consumers to choose to change their operations in the management of their energy expenses and decide to close longer-term energy contracts. In the case of GARCÍA CARRIÓN, a long-term PPA has been signed until 2032 with 100% renewable energy and with a flexible contract modality, an option that is increasingly appreciated by industrial clients, which will help them diversify the risk since they do not fix the price of the contract in a single moment (as is usual in many large industrial contracts) but in several.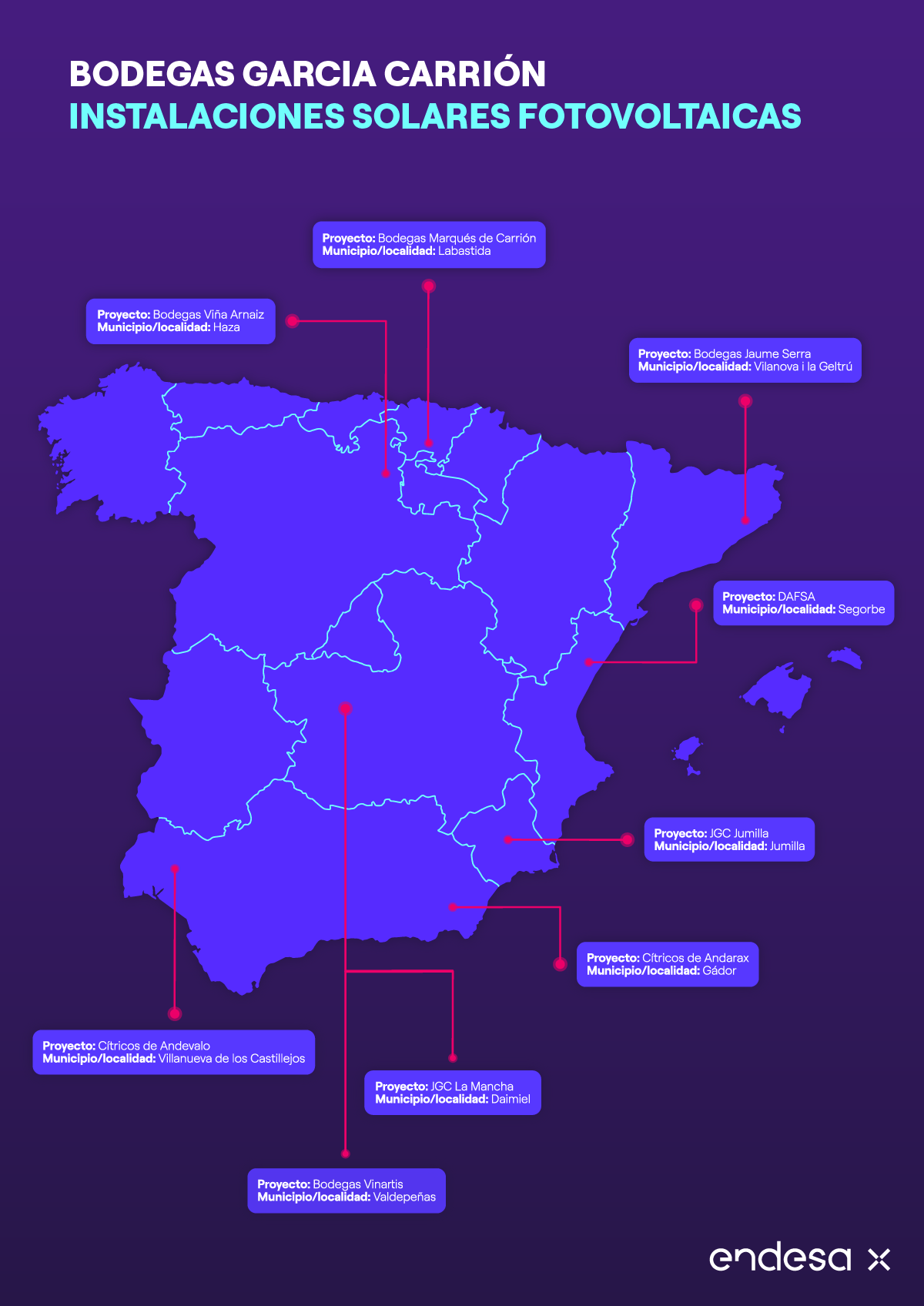 Self-consumption facilities
On the other hand, with the aim of continuing to comply with its environmental commitments, but also to be more competitive, GARCÍA CARRIÓN has entrusted Endesa X, Endesa's energy services subsidiary, to carry out one of the most relevant self-consumption projects in our country.
Each of its 9 production centers will have its own photovoltaic solar installation at the end of the year. In total, 33,637 photovoltaic modules will be installed, which will occupy an area equivalent to 13 soccer fields. They will have a total power of 18,164 kWp, which will allow them to cover 30% of the energy they need for their production processes with clean and renewable energy.
Thanks to this commitment to sustainability and energy efficiency, GARCÍA CARRIÓN manages to make a qualitative leap with Endesa X and join the energy revolution: it will be able to reduce its carbon footprint by nearly 8,300 tons of CO2/year, thereby advancing in its own decarbonization process.
smart monitoring
The self-consumption project carried out for the GARCÍA CARRIÓN group also includes Endesa X's Energy Management Service (SGE), which will allow it to monitor the energy produced by the photovoltaic installations, the self-consumed energy and the savings produced in a simple way once to come into operation. This service also allows consumption to be viewed in real time, detecting anomalies, cost overruns or deviations, studying their causes, and with this information, designing the necessary measures to resolve them, which translates into direct savings. SGE is not just about giving the customer the data and having him interpret it, but also doing an analysis so that he can make informed decisions.
In addition, Endesa X offers complete support to companies throughout the process of managing the existing aid for self-consumption installations, with which the costs involved in installing panels are significantly reduced and the returns on investment are even greater. attractive. Endesa X manages these grants for its clients, in addition to advising them on the best photovoltaic installation option.
#García #Carrión #signs #agreement #Endesa #longterm #supply #clean #energy

Source