Garazi Sánchez (Getxo, Bizkaia, 30 years old) discovered a sensory fascination for the sea as a child. "I always came out of the water happier than I came in", he recalls when reviewing the album of those days on the Barinatxe beach, La Salvaje, next to the family home. A few steps from the sand he discovered his "center", the ecosystem in which he found "peace and passion", "friends and the excuse to travel the world on a board". The middle daughter of Ainhoa ​​and Ángel, the "junk" of the ikastola, started surfing when she was just seven years old and her intrepid sports career took on an international dimension at 14. But she discovered the vertigo she did not feel as a child at the age of 26 , when she was already champion of Spain and runner-up in Europe. A serious accident in the summer of 2018, while she was training in Los Casernes, on the French south-western coast, near Hossegor, changed her life, leading her to a tortuous 10-month convalescence. "I didn't know if I would even walk again and fear made me mature at a forced pace", she tells about that trip from the crest of the waves to the depths. The stage in which she had "an awakening of consciousness" regarding her natural environment.
While recovering from his back injury, he discovered the wounds of the sea: the nine million tons of waste that are thrown into the oceans every year —in seven decades, human beings have polluted aquatic ecosystems with more than 140 million tons of plastic, according to data from the OECD—, the more than 1,000 marine species threatened by these plastics, 50% of the coral reefs destroyed… From the blush due to the ignorance of that reality before which "almost always look the other way" was born the impulse to launch the documentary Shame, with which two years ago he proposed to raise awareness about the conservation of the seas —"he had been surfing for almost 20 years and was unaware of the marine ecosystem"—. And, two years later, coinciding this Wednesday with World Oceans Day promoted by the United Nations, Garazi presents Removing Shame, a six-part docuseries in which he goes from denouncing to searching for answers and solutions to reverse the damage of climate change. A reflection on the habits of life and consumption in which he surrounds himself with experts from different fields, to activate small levers and prevent overwhelming and pessimistic perspectives from leading to general inaction.
"Sustainability involves accepting many contradictions in our life habits, but not for that stopping paddling in the right direction. If I train three days a week instead of five, it does not mean that everything I have done previously is useless", explains Garazi. Her new project, directed, produced and financed by herself, with the support of the Surf Federation and the CSD Youth Sports Foundation, shows the problems that nature has to face and proposes alternatives to correct the drift growing. "A path of learning through awareness of our way of being and being on the planet. An evolution to take action". A tour of "thousands of questions" that Garazi successively launches to experts such as Elisa Sainz, doctor in geology and researcher of the socioeconomic impacts of climate change, who in the first chapter tells that dealing with global warming, with mitigation and adaptation policies, It is much cheaper than waiting to receive all its impacts (from 2% of global GDP now to 20% in a few decades). A gap that makes its way between heat waves, floods, destabilization of ecosystems and rain cycles…
In her role as a disseminator, touring schools with the first documentary to spread the message, as she hopes to do with this one, Garazi has found a way to channel her passion for the sea, get to know herself, and ventilate a stressful competitive schedule. In April she managed to qualify for the Challenger (the World Surf Championship) among the 64 best in the world, a milestone that no Spanish surfer had reached. In a month she leaves for South Africa, in August she will go to California and then her trip will take her consecutively to France, Portugal and Brazil until she ends up in Hawaii in December. "I want to keep making noise and be at the 2024 Paris Games ″, she says, as she laments the "barbarity of flights" that she has to take at the end of the year. One of those contradictions in the face of which she shows "compassion, but also compensation with other positive actions."
Ruminations when getting off the adrenaline of the waves. "It takes pause, planning and reflection so that the current of the capitalist and consumerist world does not drag us. Pause to decipher what we need and resolve the paradoxes in which we move. The more chaotic our lives are, the greater impact we have on the environment", continues Garazi. "The emotional effects of the pandemic will begin to be seen from now on. In consumption habits, food, mobility… Whoever has been able to reflect has discovered the importance of nature and health, care and enjoying the little things. But immediately fear and survival prevail, and when fear is so high it is difficult to stop the chaos, "says the Biscayan surfer, before launching examples of encompassable actions. "There is an overload of information that makes it very difficult for us to discern and make decisions between organic, biodegradable, ecological, national product labels. But in fashion, for example, before looking at the labels, you have to look at the wardrobe, see if you really need to buy what you have in your hand. A garment can be very sustainable, but if you are not going to use it… You still buy a less sustainable one but you use it for many years and it is better, "she points out.
Information is the first tool against climate change. Subscribe to it.
subscribe
His documentary presents a set of interviews to stir consciences in different fields, "with a more humanistic than technical perspective", to which are added Marije Goikoetxea, doctor in human rights, psychologist and professor of ethics and bioethics at the University of Deusto; Nuria Nubiola, environmentalist and co-founder of an association dedicated to the recycling and reuse of clothing; Daniel Trurán, director of a company that explores how to build the future of business through the application of values ​​(Ethical Business Building the Future); Emilio Froján, expert in sustainable mobility; and Álex Boisset, founder of a brand of healthy and vegan products (B3tterFoods) that aims to take the spotlight away from the ultra-processed industry. "If there is a small percentage of those who watch the episodes who click on it, the goal will be met," explains Garazi. "It's about integrating small changes and daring to go in the right direction, without fear of being wrong, without the comfort of inaction. There is an awakening in the belief that change is possible and that energy has to mark our meaning of life. Just like in sports, the only way to win is by training. The only way to be sustainable is to try it", completes Garazi, before his final message, the one he thinks about while watching the sunset on the beach: "That wonder that we have in front of us, one day it may not be there".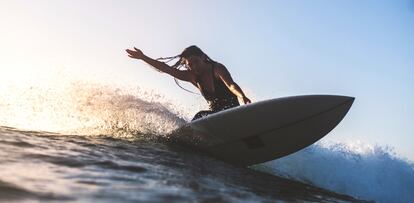 Garazi Sánchez surfing
You can follow CLIMA Y MEDIO AMBIENTE on Facebook and Twitteror sign up here to receive our weekly newsletter
Exclusive content for subscribers
read without limits

#Garazi #Sánchez #surfs #wave #climate #awareness

Source