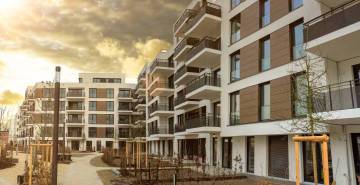 The mortgage firm continues to grow, but with less intensity. The number of mortgages constituted on dwellings It increased in April by 4.5% compared to the same month of 2021 and stood at 33,423 registrations, according to what the National Institute of Statistics (INE) reported this Friday. The year-on-year rise is much more moderate than the 18% registered in March, when 43,378 headings were reached, the highest volume since 2011, and the lowest since February 2021. All in all, it is the highest figure in a month of April since 2010, when more than 50,000 mortgages were signed.
With the advance of April, the home mortgage firm chains 14 months of consecutive year-on-year increases. In the accumulated figure for the first quarter, registrations increased by 16.3% compared to January-April of the previous year.
The average amount of mortgages constituted on homes increased by 2.2% year-on-year in the fourth month of the year, to 142,253 euros, while the borrowed capital grew by 6.8%, to 4,754.5 million euros.
Historical maximum in the fixed rate
The new all-time high marked by the fixed rate mortgages, which already represent 75.3% of the total compared to 24.7% for variable-rate loans. The greater preference for the fixed rate coincides with the climb of the Euribor and its positive entry last April for the first time in more than six years. The indicator used to calculate the installments of the bulk of variable loans began its upward climb in February and came out of negative territory on April 12. Thus, the month ended with the first positive rate (0.013%, almost half a point more than a year earlier) since 2016, causing an increase in the price of mortgages referenced to the index. Since then, the 12-month Euribor has not stopped rising and is already above 1% in the daily rate.
In April, the average interest rate on home mortgages was 2.52%, up from 2.51% a year earlier, with an average term of 25 years. The average interest at the beginning was 2.16% for home mortgages at a variable rate and 2.65% for those at a fixed rate.
By autonomous communities, those that registered the highest number of mortgages constituted on homes in April 2022 were Andalusia (6,688), Catalonia (6,141) and Madrid (5,598).
Month-on-month (April over March), home mortgages fell 22.9%, while borrowed capital sank 24.8%. In both cases, they are their biggest decreases in a month of April since 2018.
#Fixedrate #mortgages #exceed #April #set #record #full #escalation #Euribor

Source