The first day of free subscription on Cercanías and medium-distance trains has started without any incident in Barcelona and, contrary to what some sectors had warned, there have been no crowds. Not even in the main stations such as Sants or Plaza Catalunya. "It's like a normal day, but with the free train," explains Paulina Cataño, 46, who took a train to Mollet del Vallès first thing in the morning to go to work.
This pass is one of the anti-crisis measures approved by the Government of Pedro Sánchez to deal with inflation and rising prices, and Renfe calculates that up to now it has issued close to 100,000 free passes for Rodalies in Barcelona and 17,000 for Media Distancia in all of Catalonia. "I think it's great, but I wish it wasn't just until December," says Laura Guerrero, 27 and a regular user of Rodalies, the Cercanías network in Catalonia. The new free subscriptions are valid for four months, until December 31 of this year, although the Minister of Transport, Mobility and Urban Agenda, Raquel Sánchez, has indicated that the Government will extend the measure "if necessary".
More information
When a few weeks ago the Government announced that the population could purchase tickets to travel by train for free, doubts arose. Some warned that the train cars would be full and the stations flooded with people. However, the first day of this new measure got off to a smooth start at Sants and Plaza Cataluña stations, the main stations in Barcelona, ​​and the presence of users was similar to normal. Paulina Cataño, 46, from Granollers, has to take the train every day to go to work in Mollet del Vallès, for which she is grateful that from now on it is free. "And more like we are now, everything has gone up in price and it's hard to make ends meet," she says. Her children and her husband have also taken out the free subscription, but she explains that if one day they come to spend the day with their family in Barcelona they will travel by car: "Not because it is free, I will always come by train. When you go with the family, the car is much more comfortable".
Carmen Sanz, 54, is another regular user of the railways. She lives in Vilanova i la Geltrú, but has been working in Barcelona for years. Although as a result of the pandemic she was able to telework several days a week, when she works in person she has to take a train of almost 40 minutes to the city of Barcelona. And buy a T-casual (10 trips) with four zones for the high price of 39.20 euros. Now, this journey will be free.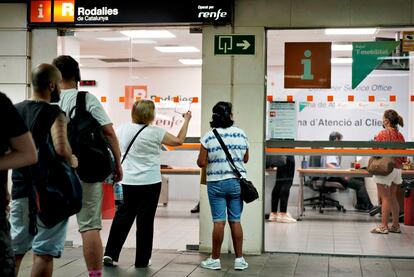 In the image, Plaça Catalunya station. Gianluca Battista
What affects the most is what happens closest. To not miss anything, subscribe.
subscribe
The new free passes for Rodalies and medium-distance trains can be obtained on the Renfe app or website, as well as at self-service machines and ticket offices, where workers have been answering passengers' queries for weeks. They will be valid only for four months, until December 31 of this year, something that many users do not like. "My pocket will appreciate it, but in the end it is something temporary. You don't save almost anything", says Oriol Falguera, 29 years old. Likewise, these tickets are only valid for trains, although for the metro and the bus, Barcelona Metropolitan Transport has offered up to a 50% discount.
The price of the T-Casual card (10 trips) will go from 11.35 to 7.95 euros for one zone. The T-Casual card (one month of unlimited travel) from 40 to 20 euros. The T-Jove card (three months of unlimited travel for those under 26) will go from 80 to 40 euros and, finally, the single ticket from 2.40 to 1.20 euros.
You can follow EL PAÍS Catalunya on Facebook and Twitteror sign up here to receive our weekly newsletter

#day #free #transport #pass #Cercanías #mediumdistance #trains #wasnt #December

Source