The People's Partylead by Alberto Núñez Feijóowill carry out this Monday a battery of fifty appointments in the new deputy secretaries. Noteworthy is the commitment to three key people in the management of the pandemic in the Community and the Madrid City Council.
As OKDIARIO has been able to confirm, Genoa is going to award new positions in the party to Antonio Zapatero, Deputy Minister of Health Care and Public Health and brain of the management of the health crisis together with Enrique Ruiz Escudero; a Alejo Miranda de Larra, general director of Investments and Local Development of the region, who collaborated in tripling the number of respirators for those infected and in lifting the Isabel Zendal Emergency Hospital in 100 days; Y Elena Collado, coordinator of Budgets and Human Resources at the Madrid City Council who obtained thousands of masks in the worst days of the pandemic, including those from the controversy of Luis Medina and Alberto Luceño. Podemos and PSOE requested her imputation, but the Provincial Court has flatly rejected it.
These three close collaborators of Isabel Díaz Ayuso and José Luis Martínez-Almeida will be, respectively, the new heads of the secretariats of Healthcare and Public Health, of Analysis and Strategic Planning, and of Efficiency and Modernization of the Public Sector.
The objective of the PP is, according to Genoa, to "strengthen" the organization chart for the coming months and "in a moment of special importance for the country". In this way, the National Executive Committee of the PP, chaired by Feijóo, will foreseeably give its approval to the proposals that the national leadership of the center-right organization will make.
The fine print of the appointments sends a clear message: full support for the PP in Madrid. Twenty of the fifty appointments are assigned to the region chaired by Ayuso. Among others: European Funds, Foreign Action, Heritage, Self-Employed, Education, Universities, Equality, Electoral Agents, Campaigns and Public Acts, Training and Political Action, Participation, Mancomunidades and Comarcas, and Autonomous Governments.
With these signings, the PP wants to recompose its structure "alive and constantly updated, to offer a better response to the problems and concerns of citizens in a scenario of serious economic crisis.
Complete list
Other planned designations are:
General Coordination Area (Elías Bendodo)
Javier Campoy (Aragón): Secretary of Electoral Evolution and Trends
Alejo Miranda de Larra (Madrid): Analysis and Strategic Planning.
Institutional Vice-Secretariat and International Relations (Esteban González Pons)
María Jesús Moro (Castilla y León): Institutional Regeneration
Paloma Sobrini (Madrid): Heritage
José Herrera (Madrid): External Action
Isabel Benjumea (Madrid): European Funds.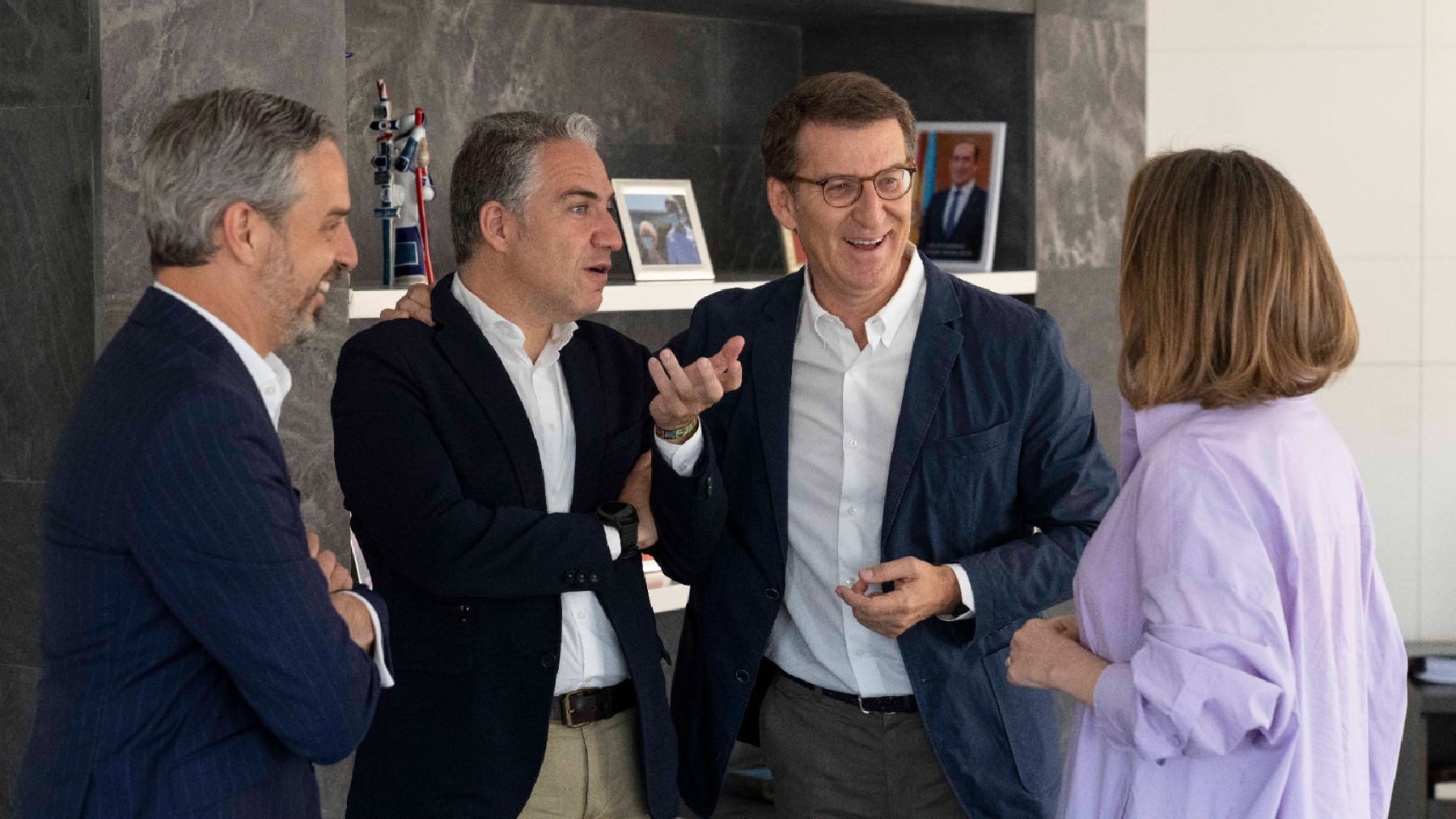 Feijóo with Bendodo, Bravo and Gamarra. (Photo: Tarek)
Deputy Secretary of Economy (Juan Bravo)
Marta Fernández Currás (Galicia): Treasury and Budget
Mario Garcés (Aragón): Regional and Local Financing System
Elena Collado (Madrid): Efficiency and Modernization of the Public Sector
Paco Conde (Galicia): Innovation and R+D+i
Mario Cortés (Andalusia): Digitization
Pilar Más Rodríguez: Reforms and Boosting Competitiveness
Joaquín Gómez (Murcia): Entrepreneurship
Esther Brio (Castilla y León): Economic Analysis
Mercedes Morán (Extremadura): Agriculture and CAP
José González (Galicia): Rural Development
Rosa Quintana (Galicia): Fishing
Luisma Beamonte (Aragon): Agricultural Impulse
Javier Márquez (Andalusia): Food.
Tristana Moraleja (Galicia): Industry
Agustín Almodóbar (Valencian Community): Tourism
Miguel Castellón (Andalusia): Companies and Commerce
Vicente Martínez Mus (Valencian Community): Circular Economy
Ethel Vázquez (Galicia): Infrastructures
Rocío Dívar: Pensions
Ángel Jurado (Madrid): Self-Employed and Social Economy
Tomás Burgos Gallego (Andalusia): Social Dialogue
Rocío Blanco (Andalusia): Work
Sagrario Pérez (Galicia): Middle Environment
Juan Diego Requena (Andalusia): Energy
María González (Castilla y León): Water and Biodiversity
Antonio Silván (Castilla y León): Sustainable Mobility
Ana Zurita (Canary Islands): Housing
Deputy Secretary of Social Policies (Carmen Navarro)
Lorena de las Heras (Madrid): Education
Jorge Sáinz González (Madrid): Universities.
Julio García Comesaña (Galicia): Innovation Management
Antonio Zapatero (Madrid): Healthcare and Public Health
Silvia Valmaña (Madrid): Equality
Luis Calderón Nágera (Castilla y León): Demographic Challenge
Daniel Aníbal García-Diego (Cantabria): Disability
Welcome from Above (Castilla y León): Active Aging and Care Policies
Gerardo Camps (Valencian Community): Social Sustainability
Deputy Secretary of Territorial Organization (Miguel Tellado)
Chema Arribas (Madrid)
Alvaro Moraga (Madrid)
Adrian Pardo (Galicia)
Eduardo Carazo (Castile and Leon)
Tomás Burgos (Madrid): Coordinator of Public Charges
María Delgado (Madrid): Internal Analysis and Regulations.
Sergio Ramos (Canary Islands): Political Marketing
José Enrique Núñez (Madrid): Electoral Agents
Paula Gómez Angulo (Madrid): Campaigns and Public Events
Asier Antona (Canary Islands): Electoral Training
Edurne Uriarte (Madrid): Political Action Training
Belén Hoyo (Valencian Community): Affiliations.
Carmen Diaz de Bustamante (Madrid): Participation
Joaquín Calvo Basarán (Belgium): Europe
Juan José Núñez (Miami): USA
Leaving Lopez Dobarro (Argentina): Latin America.
Deputy Secretary of Autonomic and Local Coordination (Pedro Rollán)
José María Bellido (Andalusia): Big Cities
Gema Igual (Cantabria): Municipalities
Mariano Zapata (Canary Islands): Cabildos and Consells
Natalia Rey (Madrid): Associations, Consortiums and Regions
Carlos García (Castilla y Léon): Provincial Councils
Cristina Teniente (Extremadura): Parliamentary Groups
Javier Ruiz Santiago (Madrid): Autonomous Governments