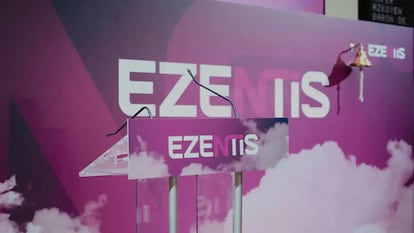 Ezentis logo.
Ezentis has requested this Thursday the pre-bankruptcy of creditors before a court in Seville due to the critical financial situation it is going through after the State Industrial Participation Company (SEPI) rejected last June the ransom request for an amount of 70 million euros. euros charged to the fund of strategic companies.
The engineering firm has justified the pre-contest request by "the treasury tensions that Ezentis has been suffering in recent months. It is in a situation of imminent insolvency, which could become current in the coming weeks", as reported to the CNMV.
The company has reported that its subsidiary of the company in Germany has filed a declaration of insolvency with the corresponding body. Likewise, it has reported that the board of directors has requested the pre-contest after spending several months preparing a viability plan that can ensure the continuity of the company and its subsidiaries, having received support from both its main client (Telefónica) and from financial entities, "to the extent that the necessary premises for the viability of the company today have not been guaranteed (especially the relevant cash inflow)".
More information
Among the creditor entities are the Arcano and Muzinich funds, as well as a group of banks formed by BBVA, Banco Pichincha, Banco Santander, CaixaBank and EBN.
The company now has four months to try to renegotiate with creditors the payment of its debt, which amounted to 157 million euros at the end of the first quarter, of which it has already begun to default on around six million. At stake are also around 8,000 jobs, between permanent and temporary, which are part of the group's workforce.
Ezentis recorded a net loss of 139.6 million euros last year, more than tripling the negative result of 43.1 million euros in 2020, mainly due to the provisions made for the deterioration of its assets in Latin American countries, due to non-recurring results and the impairment of deferred tax assets. After these losses, it entered negative equity (-163 million) but was saved from pre-bankruptcy due to the bankruptcy moratorium approved by the Government at the beginning of the pandemic in March 2020 and which expired on June 30.
The group, specialized in the deployment, operation and maintenance of telecommunications and energy infrastructures of large multinationals, made the decision to cease its activity in Chile, Peru and Mexico after the sale of the assets it had in these countries was frustrated. Now it wants to focus its commercial activity on Europe, where half of its current portfolio of 470 million euros is concentrated, and participate in fiber deployments in Germany and Brazil, as Telefónica's main supplier.
The main shareholder of the company is the businessman José Elías Navarro, with 28% of the capital, and also owner of Audax, with which he promoted a merger that stopped the CNMV, and the supermarket chain La Sirena.
#Ezentis #presents #prebankruptcy #creditors #due #risk #imminent #insolvency

Source