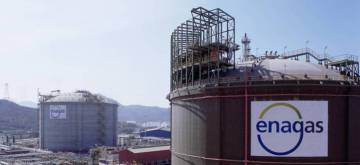 Enagás expects to close the year 2022 with a profit of between 380 and 390 million euros, according to the company's strategic plan published today and which covers until 2026. This result takes into account both the positive impact of asset sales and the negative of the deterioration of the investment in the American Tallgrass Energy. The ordinary result will be around 360 million.
The firm expects an average ordinary profit growth of 1% from 2022 to 2026 and 4% in the period 2026 to 2030. The strategic plan is marked by the strong investments that the company will undertake. Enagás calculates 1,300 million until 2026 and another 1,475 until 2030, to add 2,775 million in eight years. These calculations, in any case, do not take into account the European RePower plan to guarantee energy security and which includes, among many other aspects, heavy investments in interconnections.
The investments linked to RePower will be another 1,680 million until 2026 and 1,300 between 2026 and 2030 for a total of 4,775 million. The company clarifies, in any case, that "these projects are in the proposal and approval phase by European regulators. When the process concludes, the company will incorporate them into its projections." The RePower investments are the interconnections with France (225 million until 2026 and 145 more until 2030), Italy (365 and 1,135 million, respectively) and Portugal (90 and 20 million).
Likewise, without having the European plan, Enagás will invest 850 million in gas infrastructures until 2030, within the regulated business in Spain, and another 690 million in green hydrogen. In addition, it plans to invest 240 million in infrastructure linked to regulated business, 105 in digitization and 600 million abroad. Within renewable energy, it plans to invest 205 million in 20 renewable hydrogen projects and 85 in biomethane.
#Enagás #expects #earn #million #year #invest #million

Source