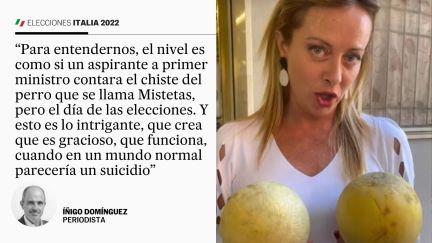 Meloni and two melons: this is the level
By Inigo Dominguez. On the Italian election afternoon, a video of Giorgia Meloni broke out and quickly went viral. A Spaniard can see him astonished and think that he is missing something, because it is unlikely, perhaps an idiomatic turn, an unknown political nuance. Well no, it is exactly what it seems. As in a bad joke, the curtain opens, Meloni appears with two melons at the height of her breasts, shows them to the camera and says: "September 25, and I've said everything." "Melons" in Italian is "meloni" and, finally, she is asking for the vote. To understand us, the level is as if an aspiring prime minister told the joke about the dog called Mistetas, but on the same day as the elections. And this is the intriguing thing, that he thinks it's funny, that it works, when in a normal world it would look like suicide.
The interesting thing is to see how, in a meeting of his team, one of those stupid things that can be blurted out at the beginning of a talk and discarded with laughter when you start talking seriously, passes all the filters until it is considered, not just a good idea, but until it is carried out.
As a message to the undecided, in a normal world, I repeat, it should be of withering effectiveness in many cases: it is automatically decided that this lady cannot represent Italy. But here is the key, that at worst, perhaps Meloni knows better than anyone, that this is really the level, because it is a risky move: either he is consecrated or he crashes. If he doesn't achieve the expected result, a landslide, those two melons may come up quite a bit in the tests. If not, it will be the last genius of the day of the great victory, to laugh at everyone, at someone who is left over.
The video has so many levels of meaning, and all of them so cheesy, in just six seconds, that it's enough to drive anyone crazy. The first and most obvious is that he is breaking the law, since a candidate cannot ask for a vote on election day. It's the so-called electoral silence, and that's precisely the second thing he gets pissed off about, because it's a video in which he doesn't say anything, he does it with a visual game. But the mockery of institutions and rules goes much further, it is a visual game with an erotic joke in which, in the end, he even winks at the camera. This really is a real call to the values ​​of tradition, specifically Jaimito's films (they were Italian, he was called Pierino there), a cult of several generations and the most politically incorrect thing that can exist. This allows him to then dismiss criticism as feminist nonsense, lack of humor, or even machismo, who knows. In Brussels they will be laughing a lot, you have to circulate with gestures of admiration, if not those elite bureaucrats so far from the people are stiff.
The ultimate meaning of this micro-video is that it is a perfect metaphor for a political style of a leader who manages four ideas, with a minimum level of understanding (God, country, family…) and, in fact, in the end, she doesn't even speak anymore, just makes visual jokes of a few seconds on Tik Tok.
Since Meloni is campaigning with the polls open, who do you think that video can convince to vote for her? To young people? To the young? To adults? To the adults? To all? Of course, if she wins, she knows hidden variables that we humans are unaware of and she still has a lot to see, learn and freak out about. In other words, the world is definitely no longer the one we knew. It's just that she still has a hard time believing it, with two melons, she comes out with two melons.