In front of the kitchen, Adrián Collantes. And in the Nagore Arregui room, which manages a winery in training from which notable improvements can be expected. "I am the wine list", she replied with a smile when asked for the menu a few days after its opening. A casual, noisy and busy place, between a neighborhood bar and an eatery, where everything is reasonably good and the prices are moderate, although the portions are smaller than usual.
More information
Dishes to share, some pending their preparation, that go through a recipe book that is no stranger to stews and cooking formulas that are regressing or already half-forgotten, such as Russian steaks, stewed omelettes or some spoon dishes with legumes as watchword.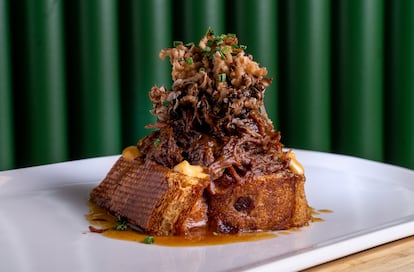 Croissant brioche with cheek, portoblello mushroom and spicy mayonnaise.
The appetizer that arrives at the table along with the bread, a hard-boiled egg covered in bechamel and stuffed with old clothes, marks the style of the house. The cecina croquettes are notable, with a soft dough and fine batter; the "dove" of Russian salad on crunchy toast is pleasant; the stewed potato omelette with tripe sauce is succulent, and the stewed lentils with pickled Iberian pork tongue are more than successful.
El Lince6Bread7Coffee7,5Winery4Atmosphere5,5Service5,5Kitchen6Desserts5,5Toilets6
Recipes that evoke tradition, light and with measured cooking points that Estévez and his team interpret with the knowledge that haute cuisine brings them.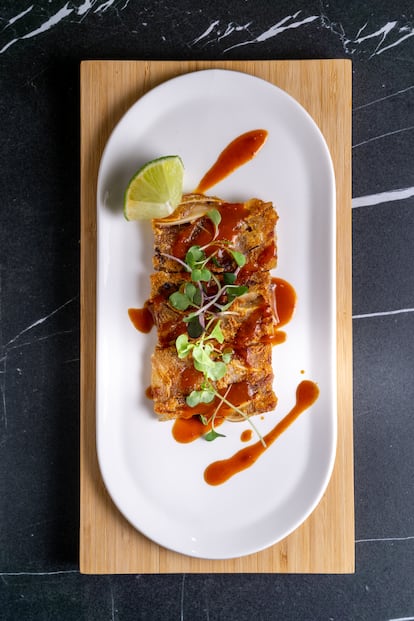 Grilled confit and pressed pork ear with brava sauce.
Among the desserts, the markedly traditional ones alternate with more current ones, such as the fluid chocolate cake: the brioche French toast with a lemon ice cream with which nothing harmonizes is greedy, and the cheese flan with liquorice and beetroot is acceptable. The artisan bread from John Torres and the magnificent coffee from Supracafé put the icing on the cake of a promising place that anticipates the openings of the fall.
The Lynx: 6
Prince of Vergara 289
Madrid
Phone: 911 372 658
Closed: Monday and Tuesday
—
Price: between 35 and 45 euros per person
Russian salad pigeon: 4
Potato omelette with tripe stew: 10
Battered cod tacos: 18
Boneless pig trotters: 15.50
French toast with ice cream: 7.5
50% off
Subscribe to continue reading
read without limits