There is no doubt that this summer is one of the hottest in recent decades. That we have experienced different and consecutive heat waves, either. But the really important thing is to avoid heat stroke and that, as we have seen so far, have caused dozens of deaths In our country. Thus, what we should know as a main rule is that heat stroke requires emergency treatment, because left untreated, it can rapidly damage the brain, heart, kidneys, or muscles. The damage gets worse the longer treatment is delayed, increasing the risk of serious complications or death.
Heat stroke is a disorder caused by excess heat in the body, usually as a result of prolonged exposure to high temperatures or from physical exertion in high temperatures. As they refer to it, from the Mayo Clinic, heat is the most serious form of heat injury and can occur if the body temperature reaches 104°F (40°C) or higher. This condition, as it is logical to think, is more frequent in the summer months.
sports heat stroke
Doctor Marco Antonio Strocchiaorthopedic surgeon at Hospital Nuestra Señora del Rosario, has highlighted the importance of anticipating heat stroke while practicing sports, and has warned of the main symptoms: tiredness, headache, dizziness, nausea and vomiting, instability, redness and dryness of the skin.
"One of the first symptoms of dehydration can be nausea, which can be confused with gastrointestinal problems," warns the doctor. In these cases, he advises trying to continue drinking and eating in small doses to prevent further dehydration and the stomach from closing, «making food and drink intake more and more difficult».
"This would cause an aggravation of dehydration," adds the specialist, who adds that "the greatest danger is to underestimate these symptoms and let the syndrome progress to coma and even death», he expresses.
That's the way it is, doctor strocchia suggests taking certain measures to avoid heat stroke during sports practice. «We must hydrate ourselves perfectly before, during and after exercising with water and also with mineral salts in the event that the duration is estimated to be greater than one hour or the exercise is going to be very intense»advise.
In addition, he insists that fluid intake has to be «gradual» and in small doses, never in sudden large amounts, and "without waiting to be thirsty."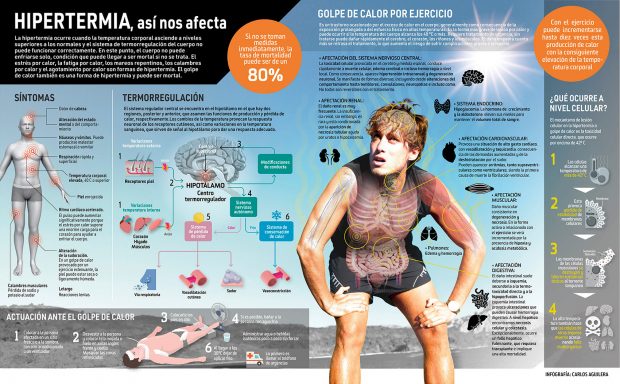 Infographic by Carlos Aguilera.
action guidelines
According to the doctor, when faced with heat stroke, it is necessary to act "as soon as the first symptoms (tiredness, headache, nausea)». "If we react in time, we can reverse the situation, so it is important to know what to do in the face of heat stroke."
For this reason, it recommends placing the affected person in a cool place, in the shade and where the air flows, lying down with their feet up; cool the skin, especially the head, with moist compresses; drink water little by little, adding salts or isotonic drinksto also recover electrolyte losses with sweat, such as sodium and potassium, essential for cellular processes.
"On the other hand, we should not drink very cold liquids, quickly and in excess, because we could suffer hydrocution or differential thermal collapse, that is, a sudden change in body temperaturewhich can trigger a reflex of inhibition of breathing and circulation, generating cardiac overload that could cause cardiorespiratory arrest, "he details.
Finally, removing clothing and massaging to stimulate skin circulation also contribute to thermoregulation; as well as rest between 20 and 30 minutes, at least, to recover the situation.
"If there is no notable recovery and the progression towards more serious symptoms continues or we do not have the means to lower the temperature, we have to notify the emergency services immediately," he concludes.