Basil, saffron, curry, cayenne pepper, anise, thyme and an endless number of scents permeate the nave of Crespí spices in the Son Castelló estate. The company, founded in 1945 by the Crespí familybegan its journey with the sale of paprika and spices for the elaboration of sobrassada through all the towns of Mallorca.
This company, which already has 77 years of historyis committed to local products and organic production and its trajectory is reflected in the book Entrepreneurs with Value II, edited by ASIMA.
Currently, the third generation of the family Crespí manages the company, which has inherited the traditions of yesteryear and has been renewed to market spices from all over the world.
Coloma Crespí represents this third generation that is at the forefront of Especias Crespí. She tells in the book that when she was eight years old she already went with her father to the factory and, while he worked, she played. "I climbed up the sacks," she remembers. Since then she has been involved in this world of spices, but she explains that entering the family business was not an obligation, but seeing that their parents, Juan and Isabel, needed support: «They have never told us that we had to be in the business, we finished studying and started to come, take practice and to this day here we are».
It refers to her, her siblings, and her cousins. Her grandparents built the company and then her children, Juan, father of Coloma, and his uncle Jorge CrespíThey carried on the family legacy.
Going into the business, Coloma wanted to learn everything. Therefore, he recounts in the book, he spent about five years behind his father«looking, learning, making my notes, packaging…».
Years later, he started running the whole manufacturing part, but when he had his children, he couldn't go to the factory in the afternoon. "I felt overwhelmed and had to make other schedules to make it compatible," she says. It also coincided that one of her cousins ​​left the company and changes took place. «My father and my uncle were getting older, a decision had to be made and my husband, Juan Velasco, came in. He is a computer engineer, he used to work in a large company in a very important managerial position, but he decided to leave everything and come to help me », he recounts with great satisfaction.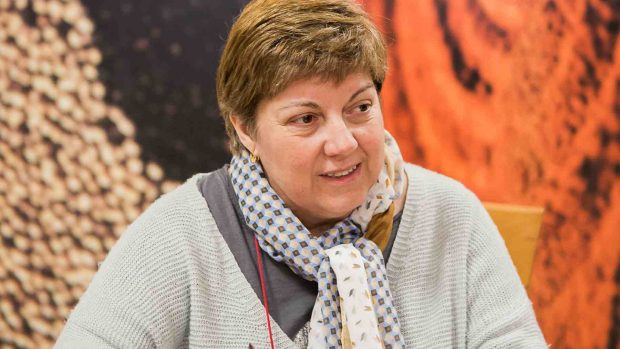 Coloma represents the third generation of this family business founded by his grandfather. ASIMA
Coloma points out that her husband had a different approach because in the company everything was very mechanical. «I explained the four most important points of the manufacturing part and with what you know about computers we start again. We started and said: We are going to open a store in Santa Catalina, another in Olivar. And I thought: Oh my goodness! We are going to innovate, we are going to go organic, we are going to start planting ourselves instead of buying the aromatics from the Peninsula that brought them from other countries."
It was the year 2006 and they began to take care of everything: local production, km.0, ecological. Coloma and her husband knew how to turn the company around. They changed the format of the products and now they sell "what can be done without plastic, in cardboard boxes."
Make the 'tap de cortí' known outside of Mallorca
In addition, they have made the tap de cortí known outside of Mallorca. "Everyone thinks that there are only tourists and that we are on the beach all day. And it makes me angry! », He explains to add that they visit the ecological markets and fairs throughout Spain. «We leave with our products, we set up the beach bar and we make our products known. We have had clients who buy from us from the Peninsula for a long time"affirms this businesswoman.
Coloma is in charge of making all the mixtures and points out that foreigners also want spices from their countries. To achieve them, she has been looking for the formulas in old books that her father had and that she keeps.
they had to do a large investment in machinery, such as the acquisition of a labeling machine to put the labels on the products with all the necessary information for the consumer. In addition, they are expanding new products and one of the latest to hit the market is a mixture of spices with algae and nuts, as a natural flavor enhancer, together with the renowned chef Andreu Genestra.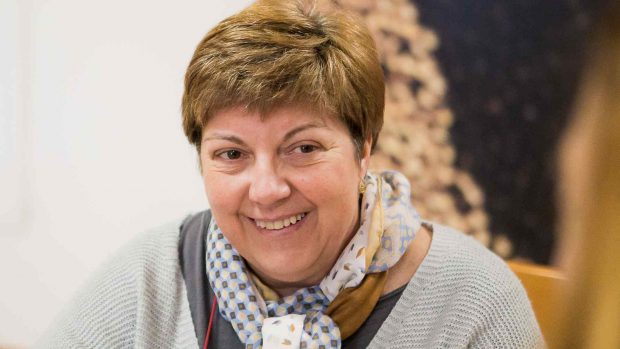 This businesswoman is a person committed to workers and customers. ASIMA
Coloma Crespí recalls in the book that the 2008 crisis was very hard: "Many people stopped paying, restaurants closed, but we were able to cope with it because people kept cooking." The most recent coronavirus health crisis has forced the company to restructure in the processes and dimension in number of workers. However, he highlights that they have continued to work "both in the field, as well as in the factory, as well as in the commercial and marketing part to leave as soon as possible and pick up the pace of production again."
A committed businesswoman
And it is that this businesswoman, committed to her work, knows that "working for oneself is not the same as working for others. Is different, You know that if you don't take it out, they (employees) won't have a job and the stores won't have your products, it's a chain».
Crespí Spices has twenty workers on staff, including her sister Isabel, who handles all the accounting. Coloma is in charge of the manufacturing part and her husband handles the management and orders.
Asked if she would like there to be a fourth generation at the helm of the family business, she replies: "I don't think so. Our work is day to day, we live from this.
She defines herself first as a worker and then as a businesswoman. «In the end you have the company, but it is more difficult to have the company than to work in the company. You go home, but you don't disconnect », she says. And he admits that empathy is essential for a business to work: "If you want to have a business and that people like to come, you have to be empathic". For this reason, he talks to customers, tells them recipes and involves them.
In Spices Crespí they do the manual harvesting, the product is natural, local and ecological. "Our mission is to deal only with products of the highest quality and freshnessbeing demanding and rigorous to guarantee the best selection to the client", he adds.
#Crespí #Spices #years #offering #products #highest #quality #freshness

Source