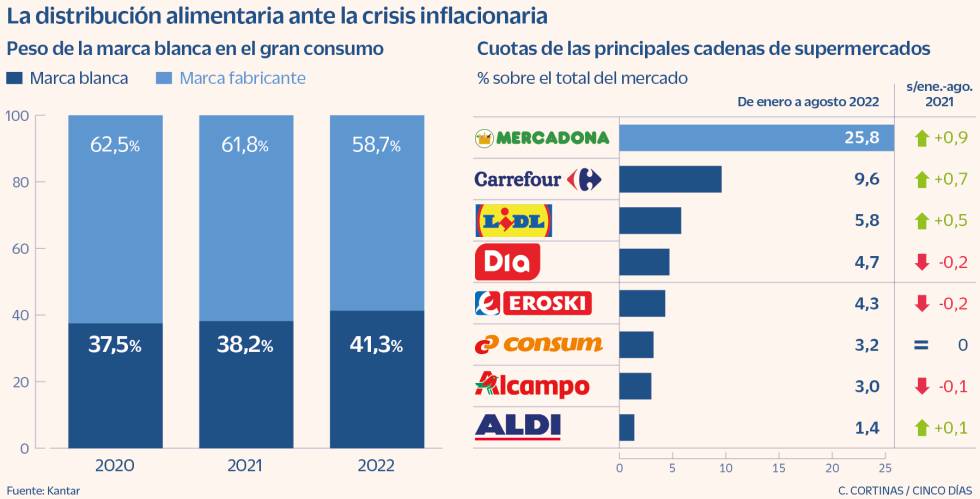 In an environment of general food price rises, the private or private label has become the main element of distribution to offer products that are more contained in terms of cost. The sale of these products already exceeds 40% of the total and the trend will continue to be growth.
In that context, Carrefour goes a step further and gives rise to the beginning of a price battle in white brands. The French retailer has announced this Thursday a battery of measures with which, it says, it will allow its customers to save 15% on fresh food, and which are added to the basket of 30 products for 30 euros announced a few weeks ago.
The main measure is "to guarantee the lowest price in its Carrefour brand". Specifically, "if a customer finds it cheaper in another establishment, the company returns 10 times the difference." A big blow to its great rivals, starting with Mercadona and continuing with Lidl, who base their model on a majority presence of their own brands, or continuing with Dia, which has also been promoting this type of product. A significant step considering that Carrefour is one of the operators that gives more space to manufacturer brands.
According to Kantar data presented this Thursday, the private label reached a share of 41.3% in the first eight months of the year, with growth of 80% in consumer packaged products and 83.3% in large distribution chains. That 41.3% represents a growth of 3.1 points compared to the same period of the previous year.
The consultant explains that these brands "are being used to offset price increases." "All retailers have raised prices, although they maintain an affordable basket discourse thanks, in part, to the commitment to the private label," she explains in her latest report. Bernardo Rodilla, Kantar's retail expert, confirms that Carrefour's move, together with the changes in assortment that the large chains are undertaking to make room for white brands, could lead to a price war in this segment.
"It is one of the ways they have to promote the discourse of an affordable basket. Carrefour has two different elements: more sales area and a very wide assortment." Of course, Rodilla believes that the growth of private labels does not respond so much to greater consumer demand as to the impulse of the chains to make them a preferred option. "The movements that we see in assortment are very focused on reinforcing the own brand."
Other measures announced by Carrefour include a 10% discount on refueling at its gas stations on the last weekend of each month; increase by 50% references with prices between 0.99 and 1.99 euros; more discounts through your loyalty program; or promotions between 30% and 50% on items with upcoming expirations.
The top 3 grows

In this inflationary environment, the Kantar data shows how organized distribution is gaining weight compared to specialized stores, which are losing 1.7 share points.
In addition, within distribution, the ones that come out stronger are the three main operators: Mercadona, Carrefour and Lidl, the only ones in the top 5 that gained share until August. The first boosted its leadership to 25.8%, 0.9 points more; Carrefour grew to 9.6% (+0.7pp), and Lidl reached 5.8% (+0.5'pp).
However, as the Kantar data shows, it was Lidl that grew most strongly between May and August, followed by Carrefour and Mercadona. The latter has slowed down the pace due to the comparison with 2021 and also due to a certain search for alternatives by its clients. "Mercadona is the chain with the reference prices for many households. When these go up, alternatives are sought, especially in large baskets." says Knee. This refers to a movement in the assortment of the company chaired by Juan Roig to promote, also, his own brands.
#Carrefour #opens #price #war #white #label #guarantee #cheapest

Source