Carioca, the Italian brand of markers and school supplies, is going from strength to strength. It registered a turnover growth of 14% in 2021, obtaining 33.6 million euros, as reported to Five days the company. As for its Spanish subsidiary, Carioca Iberia had a turnover of 10.1 million euros, which represents a growth of 34% in 2021, after a 41% increase in the sale of markers, which represent 45% of turnover. "In 2021 Carioca Iberia reached the highest sales figure in its history," he emphasizes Borja Milans del Boschgeneral director of Carioca Iberia.
On the other hand, Carioca maintained its profitability levels with an EBITDA ratio of 11%. The group also highlights the "good performance in the 85 countries in which it exports", which account for more than 75% of turnover. Likewise, it highlights the "great acceptance" of the brand in the new markets where it began its activity, highlighting the "good" results harvested in Scandinavia, South America and Brazil.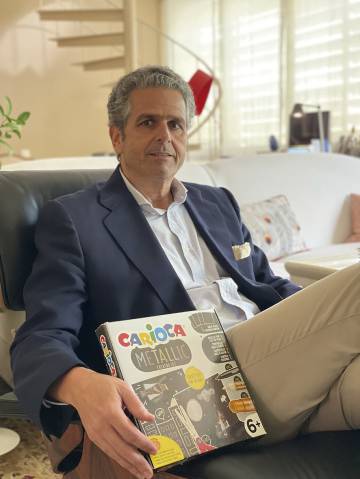 Borja Milans del Bosch, general manager of Carioca.
All this drives the group to continue growing abroad. Carioca remembers his recent participation in the Namta in Orlando (Florida), the main event in the United States for companies that develop and manufacture products related to the world of design, art and creativity. In this event the brand received the award for best brand of children's products. After these good results, the Italian brand intends to land in the United States, as indicated to this newspaper.
Regarding the digital section, since 2020 Carioca has been working with Witailer, a digital agency that provides consulting, technology and business intelligence solutions, to "expand its business volume through Amazon." Witailer helped the Italian company implement a logistics plan that allows companies to sell in all of Amazon's European markets, locating their inventory close to customers. Since the start of the collaboration between Carioca and Witailer in 2020, the company's sales on Amazon grew by 733% year-on-year.
"This collaboration was a challenge for us due to the peculiarity of the circumstances in which we had to operate," highlights, for his part, Ignacio Hurtado, general manager of Witailer in Spain.
New products
Enrico Toledo, president and CEO of Carioca highlighted the "growth supported by various factors such as the great ability to combine heritage and innovation, maintaining special attention to sustainability". "We are a consumer-oriented company focused on new products to establish ourselves as a leader in creative education for children," he added.
#Carioca #markers #paint #United #States

Source