In recent years, an increase in the life expectancy of domestic animals has been observed, thanks to advances in veterinary medicine, nutrition and specific care for elderly dogs and cats. Between the ages of 7 and 10, dogs and cats are considered to have entered their senior stage and can reach more than 15 years if they have had a healthy life.
According to the study Aging, Immunosenescence, and Inflammation in Dogs and Cats, published in the Journal of Comparative Pathology, "the most consistent findings from recent research indicate that cell-mediated immune function declines with age." Immunosenescence is defined as the series of changes that occur in the immune system of pets due to aging, which will imply different physical and psychological needs in their senior stage. This is a natural process that involves adapting your diet to your peculiarities, allowing more time to rest and guaranteeing physical and emotional stimulation adapted to your biorhythms. These are some of the specific care that dogs and cats require in their maturity.
Adapted food. Canine and feline companions require different nutrition at each stage of life. And when they are older, those needs change. Older dogs move less, tend to lose muscle mass and water, while fat gains. For this reason, the Advance Senior food range contains the necessary nutrients adapted to different dog sizes, with high-quality proteins that help maintain muscle tissue, Omega 3 fatty acids, polyphenols and vitamins with antioxidant properties.
From a certain age, dogs and cats need a diet adapted to their pace of life and size. The Advance Senior range contains the necessary nutrients.Getty Images/iStock
Senior cats, meanwhile, will also need specific nutrition, such as the Advance range for senior cats, which contributes to proper kidney function, helps metabolize fat, maintain muscle and joint cartilage.
Exercise in the senior stage. Like humans, dogs and cats that reach old age can also have discomfort in their muscles and joints, so it is important to pay attention to their physical condition to adapt the exercises they can do. Maintaining moderate physical activity will preserve your muscle mass and improve blood circulation. However, in older dogs it may be convenient to reduce the time of the walk and avoid long walks that can tire them.
In the case of older cats, it is possible that they spend more time dozing, but time should be spent interacting with them through soft games that encourage movement, to avoid being overweight and associated diseases. In both animals, it is advisable to adapt the home to their mobility, preventing dogs from slipping on slippery floors -with the use of rugs or special shoes for them- and providing cats with a low litter tray or ramps to their resting places, to can access without problems.
Emotional well-being and veterinary control. To keep dogs and cats healthy for longer and with a better quality of life, it is necessary to understand what changes could occur in their behavior, normal and associated with age, and consult the veterinarian in case of doubt. Loss of sight, hearing and even smell in older dogs and cats can cause them to become disoriented in the home, develop fears, anxiety or even become more vocal.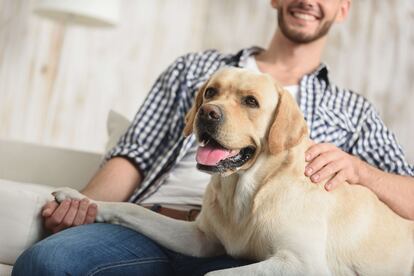 Not altering their routines or changing meal or rest times allows these animals to maintain a peaceful life in the company of their family. Getty Images/iStock
Environmental stimulation, such as identifying each space in the house with aromatic candles and music, placing relaxing pheromone diffusers or proposing olfactory games, can not only contribute to their mental well-being, but also improve their adaptation in this new stage. Maintaining routines, eating, playing and resting times and avoiding changes in the distribution of the house allow that, even with some sense impaired by their age, dogs and cats continue with a peaceful life, interacting, playing and resting in the company of his family.
#Care #dogs #cats #senior #stage

Source