This delicious recipe canned sardine pate It is the easiest appetizer to prepare in the world. If you have guests and you want to quickly prepare a snack dinner, this pâté on some toasted bread, a little Iberian ham and national cheese will give any table the touch it needs. You can buy and leave in your pantry these two ingredients that together are wonderful. Some canned sardines are a most versatile food, by themselves with some microwave potatoes and a good olive oil they are addictive. The black olives will give you the finish that this delicacy needs, ready in 5 minutes.
Ingredients:
1 can of sardines in olive oil 3 cheeses 1 jar of pitted black olives 1 tablespoon of mayonnaise or aioli
How to prepare a canned sardine pate
Is canned sardine pate recipe ready in the blink of an eye. Its success depends on the quality of the ingredients. We will use some good canned sardinesif possible they are in olive oil, their flavor is different.
The olives are the element that will give it color and also taste of a delicious pâté in every way. The recipe for the simplest appetizer in the worldbegins to prepare in the bowl of the blender that will be the tool we will use to create a luxurious pâté.
We put the sardinesremoving the bone so that we have a smoother pate, we will include the olive oil.
It will be the base of this patewe add the olives, we can save a few to decorate.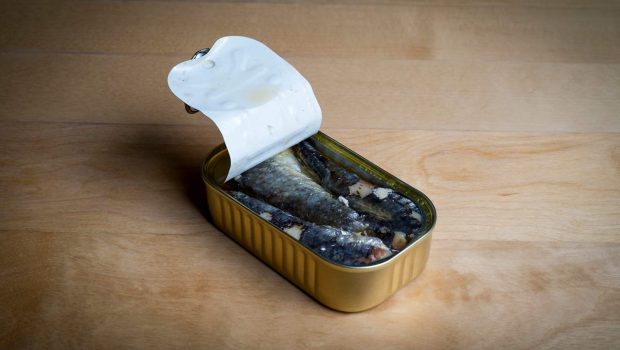 We will add the cheese that will give it a creaminess of the most special, it is really worth trying this flavor.
mayonnaise or aioli They start from the same base, it is important to balance the flavors, with a little garlic, the fish will be spectacular.
We shred everything until we have left one of those recipes that impress, with the creamy touch that we need. Nope you need to add salt or pepperthe sardines are already seasoned and it will be spectacular.
The black olives will give it color and flavor of sardines that will be incredible in a spreadable cream.
We prepare toast and we are putting a little of this cream on top, decorate with some olives and some sprouts.
Will you have an aperitif ready? of survival with what you have in the pantry in the blink of an eye.
You will only have to try this exquisite canned sardine pate, a basic low cost that will be a vice.


Source