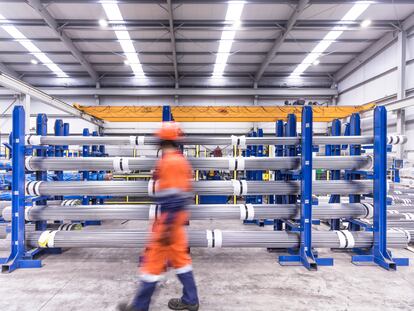 An operator in a Celsa factory. Celsa
The production of companies was reduced in September, forced by a drop in demand due to inflation. This trend has manifested itself in the slowdown in the European rate of job creation, which has reached its lowest level in 18 months, according to the PMI, an indicator published by S&P Global and which is considered a thermometer of the behavior of economic activity in the private sector. In September it registered 48.1 points —below 50 it is considered that the activity goes back—, eight tenths less than in August. The composite figure for total activity in September is the lowest in the last 20 months.
According to the report, the increase in energy costs, inflation and the contraction in demand, adds uncertainty for fear of a recession. This causes business confidence to plummet in September to levels similar to those of the first wave of covid in 2020. Chris Williamson, economic director of S&P Global Market Intelligence, clarified: "Any hope that the eurozone avoids a recession has been dashed. further frustrated by the increasing drop in business activity signaled by the PMI."
In the case of Spain, the index does not provide good news either. The reasons for the setback are similar to those in the European context. Inflation stands as the main concern. Prices in September increased at the steepest rate in three months due to higher energy and utility bills.
In the manufacturing sector, the PMI fell to 49 points from 49.9 in August. New orders fell in a context of low demand and high inflation. In addition, the scarcity of raw materials and transportation difficulties compromise production capacity, despite the drop in demand.
The services sector fell below the key figure of 50 points for the first time since January, with a reading of 48.5 points, compared to 50.6 in August. According to Paul Smith, an economist at S&P Global Market Intelligence: "September was a difficult month for companies in the Spanish services sector". The reduction in demand contributed to completing the pending orders, a circumstance that, however, had a negative impact on hiring levels, causing slight job cuts.
Negative trend in Europe
The rest of the countries of the European Union are also suffering a setback in the behavior of the economic activity of their companies. In Germany (45.7) the level of total private sector activity fell at a rate that, excluding the months affected by the pandemic, was the steepest since the 2008 financial crisis.
In France (51.2), on the other hand, there was a slight improvement in the levels of total activity, although its growth rate has become significantly slower. Italy also suffers a slowdown and remains at 47.6 points. Only Ireland, whose PMI index stood at 52.2 points, slightly increased its rate of expansion.
#Business #activity #falls #lowest #level #months #pushes #euro #zone #recession

Source