bottle and dirt in palm beach night and day, and almost every hour, a situation that hoteliers and restaurateurs in the largest tourist area of ​​the Balearic Islands denounced two weeks ago, crying out against the permissiveness of the City Council of Palma and the Balearic Government with the consumption massive amount of alcohol and lack of maintenance without anything having changed to date.
Young people with dozens of cans of beer and all kinds of spirits are concentrated on the front line, where in theory it is prohibited to be this tourist space cataloged as a Special Intervention Zone (ZIE). Therefore, holding large bottles or unauthorized gatherings of people are conduct classified as very serious.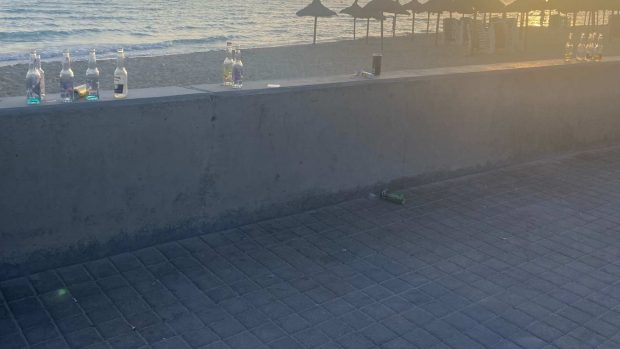 First line of Playa de Palma for the day.
But although it is so provided and approved by the Palma City Council, the deployment of law enforcement agents is scarce – at dawn almost nil – due to the lack of police officers.
In fact, this week the regional coordinator of Ciudadanos Baleares and spokesperson for the parliamentary group, Patricia Guasphas denounced «The situation that Playa de Palma is experiencingwith big bottles in the front line that litter the streets and beaches and even the sale of alcohol to minors».
From Cs they remembered that at the time they warned that the so-called decree against excess tourism of the Government of the Socialist Francina Armengol it was difficult to apply without sufficient human and economic resources to guarantee compliance.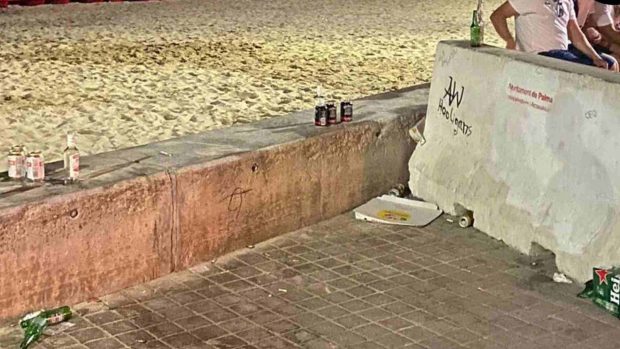 First line of Playa de Palma at night.
For this reason, the orange formation has registered a package of control questions to the regional Executive to find out the real situation regarding the number of inspectors who are deployed in the areas regulated by decree-law 1/2020 during the summer season 202.2 and the disciplinary proceedings what have been opened with this legal regulation, specifying the reported infractions: balconing and similar practices, advertising, exhibition and sale of alcoholic beverages, denigrating practices, boat parties, etc.
Another of the questions that the party led by Guasp in the Balearic Islands wants to resolve is when and how many times the commission and subcommission for the promotion of civility in tourist areasas well as having access to the minutes and knowing the rest of the actions that the Government is carrying out to contain a tourism of excesses triggered.
#Bottles #dirt #hours #line #Playa #Palma

Source