It rains in Milan and everyone talks about the traffic. On Sunday it seems that it will not rain, but there are elections in Italy. More traffic. Fashion is often accused of turning its back on reality, and this week it's happening again. Tomorrow there is a vote in Italy and, if nothing changes, the extreme right can return to the government of the country. The silence of a large part of the designers can be read as indifference, but also as a response. Fashion is a language and it is not necessary to be explicitly political to be anti-establishment.
When Domenico Dolce and Stephano Gabbana dressed Kourtney Kardashian and her sisters for their viral wedding in Portofino (Sicily), Mario Draghi had not yet resigned and no elections had been called. It was impossible for them to know then, when they saw the "enormous impact that the collaboration had", as they explained at a press conference before the parade this Saturday, that today we would find ourselves on the eve of elections that could change the future of their country and all of Europe.
More information
What they have presented at Milan fashion week is precisely a transmutation of their Italy. A review of 20 years of history that was forged at the wedding and began with the sending of the brand's archive from 1987 to 2007 to Kim Kardashian's Los Angeles home. "It's not a collaboration, she's been more of a curator. We have only changed 20% of the pieces, the rest have remained the same, although in white, black, beige, gray and some maroon", said Dolce with a laugh, alluding to the almost obsessive preference of the businesswoman, celebrity, businesswoman and reality star for neutral tones. There were also no prints, although Gabbana managed to get Kim to design for the first time with an animal print, as she herself confessed.
The parade started with the intermezzo of Caballería Rusticana interrupted by the sound of the arrival of a car, flashes, lights, someone going up to the shouts of fans and ordering: "A Dolce & Gabbana". Any day in Kim's life. Her passion for the Sicilian flag comes from a child, "when she saw my mother put on her dresses to go on her dates with my stepfather. Then she worked in a clothing store that sold Dolce & Gabbana and I spent my salary on her clothes, "she said. In fact, she and her sisters had two dogs as teenagers named after the Italian duo. They were the ones who made her wedding dress for her first and very controversial cover in American Vogue in 2014, and now she has kimized the brand with absolute success. It was all there, passed through her vision. The Catholic imagery in veils, capes, lace and crucifixes, but without the usual Latin exuberance; lingerie and boudoir in the minimalist version of her in rigorous black; glitter always in silver and animal print (only leopard) used as a neutral in the total look.
Four of Dolce&Gabbana's proposals for next spring, at the parade this September 24 in Milan.MATTEO BAZZI (EFE/EPA) / Miguel MEDINA (AFP) / Antonio Calanni (AP)
To help understand the collection, the looks had a label sewn on the outside with the date of the original. Meanwhile, in the background a short was projected in which she appeared eating a plate of spaghetti, bread with butter, wine, cake in a trattoria. At the moment when she is putting the accent on Kim's new figure, much slimmer, she eats with joy. "I would like to be reminded in fashion that I design for all bodies, my work for the diversity of bodies," she said before the show. The truth is that with this revival of the 2000s and her skinny bodies it seems that designers are forgetting, at least this week shows it, her commitment to showing bodies of all sizes. This was not the case at Dolce & Gabbana, which did show a diversity of sizes.
Kim Kardashian, who said that she is herself a collector of vintage clothing from major brands, assured that one of the motivations for this alliance was the vindication of the original. "I see the archive clothing and it is how we dress now. Designers see everyone emulating what you did and I thought, let's reimagine it."
Donatella Versace used the same argument, revisit another time, but went to the original source, Paris Hilton. We must not forget, or at least she does not want us to forget, that the undisputed queen of the 2000s was Paris with very pink, very short, very bright dresses and that Kim Kardashian comes from Paris, like a beige sublimation of the millionaire star. Dressed as a bride, and exercising the barbiecore that she herself created, she closed a perfect parade. A trip to the early 2000s with a gothic proposal. Interview with the Vampire meets Prodigy.
Paris Hilton wears a creation as part of the Versace women's Spring Summer 2023 collection presented in Milan, Italy, Friday, Sept. 23, 2022. (AP Photo/Alberto Pezzali)Alberto Pezzali (AP)
Platforms anchored in the rave culture, very mini black leather miniskirts, the ubiquitous version of the perfect jacket or the very low shots of the pants transported at the beginning of the century. The exit of seven brides, each in a different color, immediately reminded one of 1994 and the legendary campaign of supermodels dressed in metallic miniskirts and knitted sweaters of a different color photographed by Richard Avedon. It is no coincidence: last September 20, Relationships, a retrospective of the photographer sponsored by Versace, was inaugurated at the Palazzo Reale in Milan.
The debut of Maximilian Davis at Ferragamo filled the almost centenary Florentine company's proposal with modernity. The Briton of Caribbean origin used house codes at will, freed them from gravity, brought them into the 21st century without breaking ties, but without nostalgic looks, which is appreciated, if only for changing. After more than six years with Paul Andrew, Ferragamo replaced him with Davis last March. A surprising bet, because the designer is only 26 years old, but he was well received by the industry. Until now, Davis had only paraded under the umbrella of Fashion East, the British platform that works as an incubator for talent. However, his three collections, based on a renewed idea of ​​tailoring, had received acclaim from the specialized press. The commitment to Davis came from the brand's new CEO, Marco Gobetti, who left Burberry this year and who has achievements on his resume such as signing Phoebe Philo at Céline or Riccardo Tisci at Givenchy. Barely a week ago, Ferragamo changed its logo to signify this new stage. Now it is part of that long list of luxury firms that use a sans serif typeface.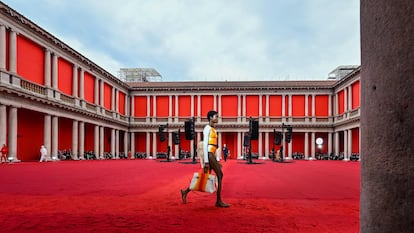 A model at the Salvatore Ferragamo parade, held on September 24 at the Archbishop's seminary in Milan. FILIPPO MONTEFORTE (AFP)
In the cloister of the Milan archiepiscopal seminary, built in the 12th century, wrapped in the new official red color, nods to classic Hollywood could be seen with almost fetishistic details: vinyl, micro shorts and fabrics that hugged the silhouette; classic contemporary tailoring, everyday garments taken out of their context such as tank tops or parkas and, in addition, delicate fabrics that floated around the body in warm colors inspired by the Sunsets series by the American artist Rachel Harrison or with animal prints, but in a entire animal drawn on silk. The house logo converted into a heel or the reissue of the Wanda bag, created by Ferragamo himself in 1988 with the name of his wife, were some of the nods to the continuity of a legacy. The sand, also red, appealed to "what the sea means in Caribbean culture, a place where you can go to reflect on yourself and feel in communion. I wanted to show that perspective, but through Ferragamo's lens," Davis explained in a press release.
At a time when Europe is dying, leaving an American queen Midas or a young British man with Caribbean roots free rein to interpret an essential part of Italy's history through its banners seems to be just what is needed.