Students of the Torre Roja de Viladecans Institute (Barcelona), an example of good practices in student orientation. CRISTÓBAL CASTRO
Eva Bajén has been a teacher of Spanish language and literature for 36 years, she has spent nine in managerial team positions at her institute in Zaragoza and has chaired the association of directors of public institutes of Aragon for another four. She has experienced first-hand one of the processes that the school undergoes: in addition to continuing to do her central job, that is, giving classes so that students acquire knowledge and skills, she is increasingly asked to attend to more fronts effectively . But the centers not only lack the necessary hands but, frequently, the appropriate profiles for it.
Colleges and institutes are asked to play a guiding role to prevent many students from being lost and to help all students to better decide their academic or professional paths. But the number of counselors is usually so low (one or two per center) that it is impossible for them to fulfill that task. A more personalized educational attention is proposed, but teachers are regularly in the classroom with students who experience social or psychological situations for which teachers have not been prepared and for which they generally do not have time. Digitization is considered a priority objective, especially after the covid has revealed how much remains to be done, but the means are scarce. "In our center we have a technology coordinator teacher (ICT), but with four hours of reduced teaching hours per week, he cannot, on the one hand, be aware of all the things that can fail in a center, such as connections and , on the other, to give the impulse that is wanted to be given to digitization", affirms Bajén.
Directors, experts and entities warn that the school – which is now also being asked to have a welfare coordinator without the majority of communities having properly regulated its functions or provided additional resources for it – needs to reinforce profiles that in certain cases teachers themselves could assume it if they were provided with the specialization and sufficient time for it, and in other cases they should probably cover another class of professionals.
What most influences a student's school career is the educational level of his family. Improving this factor is very difficult, but the system can redouble its efforts to compensate for this initial inequality. A tool that the head of projects at the Bofill Foundation, Miquel Àngel Alegre, considers especially useful to achieve this are the individualized guidance plans for kids with the greatest risk of underachieving and ending up dropping out. "That they have, for example, an extra hour and a half a week throughout high school to be alone with someone from the high school guidance team, to work on their learning process. The skills range from knowing how to mobilize knowledge, knowing how to regulate oneself, knowing how to organize time, knowing how to work in a group. Some issues that are very workable from orientation, as well as others such as really discovering what interests them". In some cases, continues the sociologist, the best thing would be for their families to also participate in this orientation work, to learn how to accompany them better, to know the meaning of one or another training path and the extraordinary resources that they can request inside and outside the educational system. .
There are exceptions, but the normal thing, says Alegre, is that the institutes do not carry out a true orientation function, but only "specific, atomized and disconnected activities." "It is very sad when you see what is done in most of the institutes in the fourth year of ESO to accompany the kids. Some talks with people from outside, a visit to an information point that may be here or there, and one or two sessions with their tutor, in which they take a test, ask them what their interests are and tell them: 'well You can still do this." With the resources available to them, schools cannot offer students coherent guidance to increase their chances of being successful in choosing their educational path. And what little there is, moreover, is usually given to everyone equally. "All students need a plan, but this function must be guaranteed especially for those students with a higher risk of becoming disoriented", says Alegre.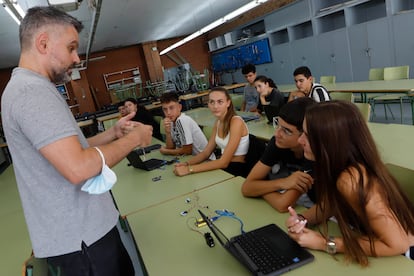 A teacher chats with several students from the Torre Roja de Viladecans Institute (Barcelona).CRISTÓBAL CASTRO
The Torre Roja public institute, in Viladecans, very close to Barcelona, ​​is one of the exceptions to the general picture. It has a counselor per level (one for the first ESO groups, another for the second…) who, in order to get to know the students better, accompanies them, passing through the course with them from the time they enter the center until they finish Baccalaureate ( there are also counselors responsible for the Vocational Training cycles offered by the institute). The level counselors work "side by side with the tutors of each group", explains Manel Merino, who was director of the institute until last year and has been appointed head of the educational innovation service of the Generalitat de Catalunya. The Torre Roja has a thousand students and has a guidance team made up of a dozen people (to train it, its management has allocated all the available hours and has requested all possible help). "The objective is to carry out preventive work at a pedagogical, academic, professional and social level so that the students remain hooked," says Merino.
Counselor positions are generally assumed by teachers and educational psychologists. But care for socioeconomic reasons, an area in which the school shows great shortcomings, would perhaps be better assumed by other types of professionals, such as social workers or educators, says Álvaro Ferrer, an educational specialist at Save the Children. There are centers where they do it, but much less than would be necessary, says Ferrer, given the magnitude of the problem: Spain has 30% child poverty, and poverty has a great educational impact. "It is a dimension that does not have so much to do with the purely pedagogical, but with the social difficulties that boys and girls face, working with their families, resources that they do not have at home, access to help."
find a balance
Ferrer considers it important, at the same time, to find a balance. "It is not about the school having a professional for everything. We have to be aware that there are some community services that already exist. For example, with clinical psychology, it is necessary to be clear in which case it may make sense to have a professional in the center, but it is also necessary to improve coordination with the health system, and strengthen the health system for mental health care " .
The ideal thing to respond to the new functions that are being asked of it, sociologist Mariano Fernández Enguita believes, would be for more decisions to be made at the center level, such as a greater margin in defining the profile of the reinforcements that it considers it needs. "But that brings us to the issue of how staff are assigned," he says. The education secretary of CC OO, Francisco García, agrees that attention to diversity requires, among other things, to "provide more and new professional profiles to the centers", but he is skeptical about the possibility raised by Fernandez Enguita. "The recruitment of officials must be done through procedures that guarantee the principles of equality, merit, capacity and publicity," he warns.
You can follow EL PAÍS EDUCACIÓN on facebook and Twitteror sign up here to receive our weekly newsletter.
Subscribe to continue reading
read without limits

#school #giving #means #sad #institutes #accompany #kids

Source