The movies As bestas and Cinco lobitos and the series La ruta and I don't like driving tied three statuettes at the tenth Feroz awards gala which took place last night at the Zaragoza Auditorium. these series being awarded as the best of the year.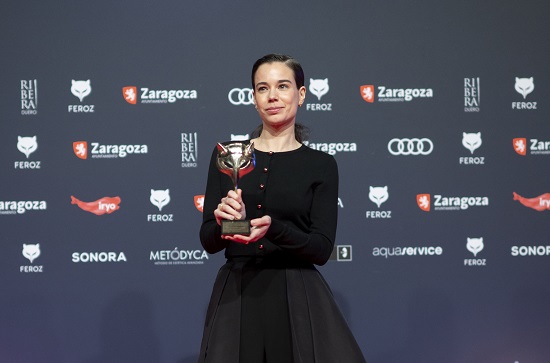 Laia Costa
The awards in the film category
In the film category of the Feroz 2023 awards the winners have been As bestas as best dramatic film and Official Comedy Competition. In addition, As bestas has won the prizes for best supporting actor in a film for Luis Zahera and for best original music for Oliver Arson.
Carla Simón for Alcarràs has won the Feroz Award for best director and the actresses Laia Costa and Susi Sánchez have won the award for best leading actress and supporting actress in cinema for their performance in Cinco Lobitos. For her part, Alauda Ruiz de Azúa won the Feroz DAMA Award for best screenplay for a film.
The film Manticore has won two awards: the best leading actor in a film for Nacho Sánchez and the best poster for the director of the film, Carlos Vermut. The best trailer is the final version of the one made for the film Cerdita by Marta Longás.
Lastly, the films La piedad by Eduardo Casanova and La visita y un jardín secreto by Irene M. Borrego have received the Arrebato Awards, for fiction and non-fiction. and the director Pedro Almodóvar received his Feroz Audi de Honor Award by the actresses Julieta Serrano, Rossy de Palma, Bibiana Fernández, Aitana Sánchez-Gijón, Leonor Watling and Milena Smit.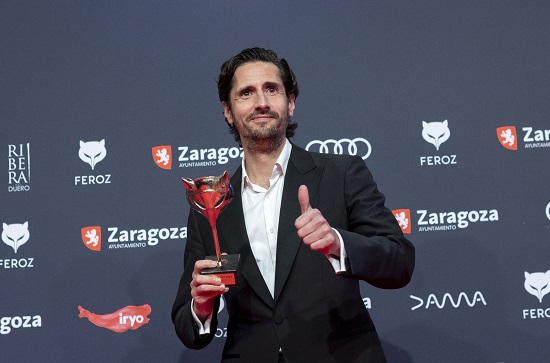 Juan Diego Botto
The awards in the series category
The prize for Best Drama Series has been taken by The Route and Best Comedy Series I don't like to drive. In addition, the scriptwriters of La ruta, Borja Soler, Roberto Martín Maiztegui, Clara Botas and Silvia Herreros de Tejada have been the first winners of the Feroz DAMA award for best script for a series, which is the last category that has joined the awards.
The Best Leading Actress award went to Claudia Salas in La ruta and the Best Supporting Actress award went to Patricia López Arnaiz. The actors Juan Diego Botto and David Lorente have won the Best Leading and Supporting Actor awards for their fun roles in I don't like to drive, the big surprise of the night.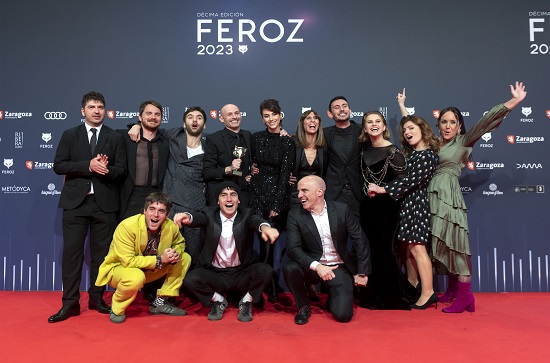 Feroz 2023
List of winners of the Feroz Awards 2023
● Best dramatic film: As bestas
● Best Comedy Film: Official Competition
● Best Director: Carla Simón for Alcarràs
● Best leading actress in a film: Laia Costa for Cinco lobitos
● Best leading actor in a film: Nacho Sánchez for Manticora
● Best supporting actress in a film: Susi Sánchez for Cinco lobitos
● Best supporting actor in a film: Luis Zahera for As bestas
● Feroz DAMA Award for Best Film Screenplay: Alauda Ruiz de Azúa for Cinco lobitos
● Best original music: Oliver Arson for As bestas
● Best trailer: Marta Longás for the final trailer for Cerdita
● Best poster: Carlos Vermut for Manticora
● Best dramatic series: The route
● Best comedy series: I don't like driving
● Best leading actress in a series: Claudia Salas for La ruta
● Best leading actor in a series: Juan Diego Botto for I don't like driving
● Best Supporting Actress in a Series: Patricia López Arnaiz for Intimacy
● Best Supporting Actor in a Series: David Lorente for I Don't Like Driving
● Feroz DAMA for the best screenplay for a series: Borja Soler, Roberto Martín Maiztegui, Clara Botas and Silvia Herreros de Tejada for La ruta
● Feroz Arrebato de Fiction Award for La piedad, by Eduardo Casanova
● Feroz Arrebato Non-Fiction Award for The Visit and a Secret Garden, by Irene M. Borrego